Personal Loan | 07 July 2018-13 July 2018
Exciting deals on Personal Loan/Financing-i on Hong Leong Digital Day
---
Apply for a Personal Loan/Financing-i anytime, anywhere
Low rates from 3.70% p.a. to 7.70% p.a. depending on your facility amount
Maximum facility amount of RM250,000
What's more? We have made application simplified for you!
You can now apply anytime, anywhere via Hong Leong Connect!
Fast approval in 48 hours
No guarantor & collateral
| Special Rates (p.a.) | Facility Amount (RM) |
| --- | --- |
| 7.70% | RM5,000 – RM19,000 |
| 5.70% | RM20,000 – RM99,000 |
| 3.70% | RM100,000 – RM250,000 |
Assuming you borrow RM5,000 and wish to pay over 5 years:


Note:
The effective interest/profit rates vary from 6.89% p.a. to 14.15% p.a. for loan/financing-i tenure from 2-5 years.
The maximum facility amount for Personal Financing-i is RM150,000.
Actual monthly instalment will be rounded up to the nearest RM5
0.5% of the Facility Amount will be deducted for stamp duty.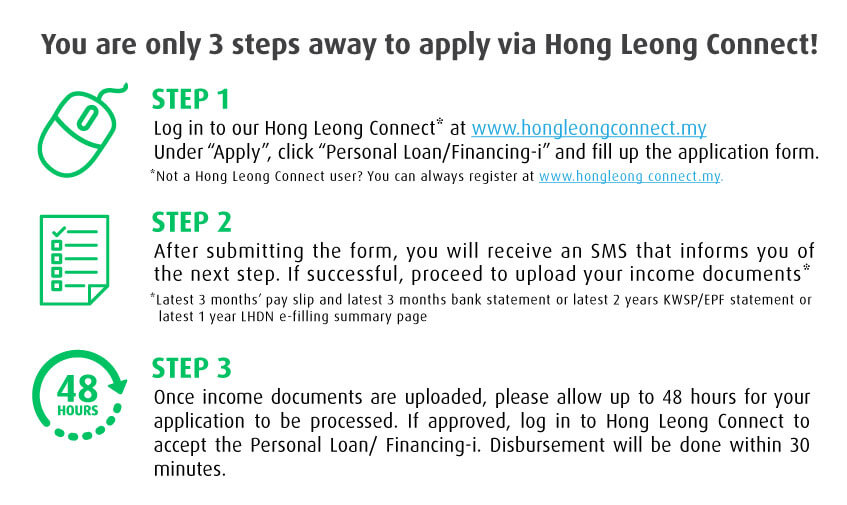 Alternatively, you may walk in and apply at our branches or click "Apply Now" to leave your contact details for us to call you!
For enquiries, connect with us online or drop by your nearest Hong Leong Bank Branch.