Kad Kredit | 01 October 2017-31 December 2017
8x Reward Points + 'Priceless' Bali Trip for 2 on overseas spend in foreign currencies with your Hong Leong Mastercard Credit Cards
---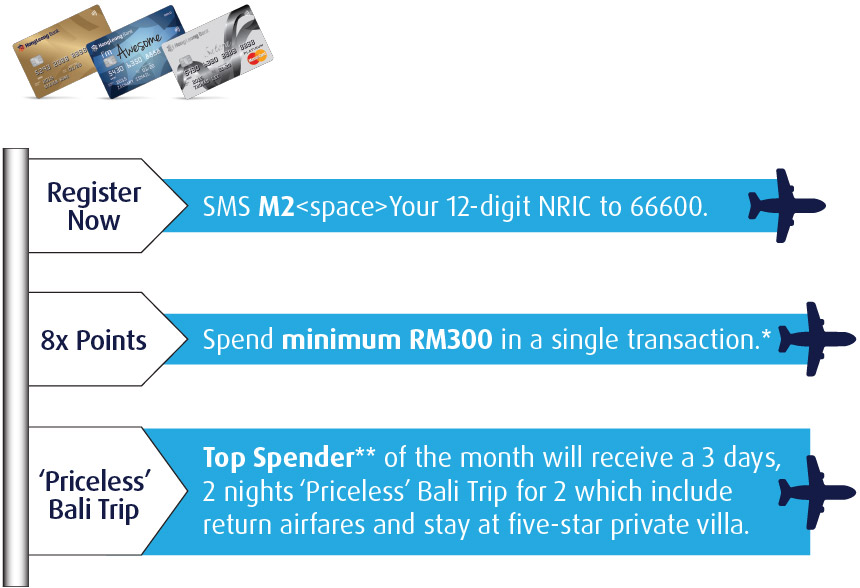 Campaign terms and conditions apply. Picture shown is for illustration purpose only.
* Applicable to selected Reward Points Mastercard Credit Cards.
** Total overseas spend with a minimum of RM1,000 for the month will be eligible.
None of Hong Leong Bank, ASEAN and Mastercard assume any responsibility for the products and services offered under this promotion. The products sold and services are provided solely by the relevant vendors, under such terms and conditions as determined by such vendors, and none of Hong Leong Bank, ASEAN or Mastercard accept any liability whatsoever in connection with such products and services. The products and services have not been certified by Hong Leong Bank, ASEAN or Mastercard and under no circumstances shall the inclusion of any product or service in this promotion be construed as an endorsement or recommendation of such product or service by Hong Leong Bank, ASEAN or Mastercard.

Untuk pertanyaan hubungi kami dalam talian atau singgah ke cawangan Bank Hong Leong yang terdekat.