Hong Leong Bank New Mobile Banking App

Kuala Lumpur, 21 July 2017

Hong Leong Bank ("HLB" or "the Bank") refreshed and relaunched their Hong Leong Connect App, its mobile banking application, allowing customers to experience a more secure and seamless mobile banking experience.
The user-friendly Connect App comes with a new interface which carries a cleaner and simpler layout, with a straightforward navigation tool. The App now allows customers the ease of Connect registration, anytime, anywhere.
Hong Leong Connect App now offers 3-language options; Bahasa Malaysia, English, and Chinese. Security, data safety and privacy have also been given a boost with a secure biometric fingerprint authentication feature. Previously only available for selected mobile banking functions, this feature is now offered for login and transactions within the App. Biometric fingerprint authentication is made available for smartphone models with factory-fitted biometric scanning capabilities such as Apple devices (iPhone 5s & above running on iOS 8.0 & above) and Android devices (Samsung Galaxy S6 & above running on OS 5.1.1 & above). This feature will be extended to more smartphone models in the near future.
A key new feature is the '3-word banking' function. Customers can now bank with just three words, by typing keywords stating the desired Action, Name and Amount. With this, transferring funds and paying bills can be as easy as typing in 'Pay WiFi 250' or 'Transfer Mom 500'.
Another new feature on the App is for one-click bulk bill payments. Paying bills is now much simpler. Multiple payments of up to 5 bills are completed hassle-free and in shorter time.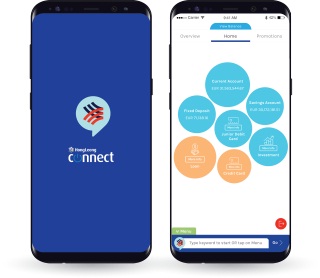 Up-close photo of the new Hong Leong Connect interface which offers a cleaner, simpler, and straightforward navigation experience.
"Enhancements make the Hong Leong Connect App more intuitive and hence easier to use, yet at the same time does not compromise on security," said Domenic Fuda, Group Managing Director and Chief Executive Officer of HLB.
He added that HLB is expecting about 40% y-o-y growth in its total digital banking user base, led by 65%+ growth in new Hong Leong Connect App users as well as a strong increase in new user registrations for internet banking.
This initiative is in line with the Bank's 'Digital at the Core' strategy which aims to deliver enhanced end-to-end digital customer experience via continuous products & services innovation, and digitisation of conventional processes and traditional products & services. It seeks to simplify complex and lengthy processes, taking the hassle out of banking.
Favourite functionalities such as PEx (now known as Pay Mobile), Card-less ATM Withdrawal (now known as ATM Withdrawal), PEx+ (now known as Scan & Pay) remain available through the enhanced user experience.
To download or update to the new Hong Leong Connect App, please visit Apple® App Store or Google Play™.
For more information, please log on to www.hlb.com.my or call our Customer Service Centre at +603-76268899.
For enquiries connect with us online or drop by your nearest Hong Leong Bank Branch.