Priority | 01 August 2017-25 August 2017
Enjoy an exquisite dining experience with Chef James Won!
---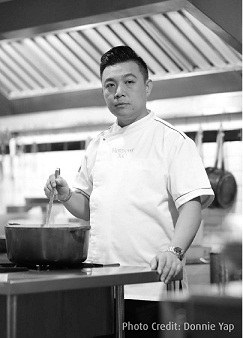 Chef James Won has garnered accolades for his creative and inspirational food throughout the world. The Malaysian-born chef had worked alongside one of the most celebrated, Michelin-starred chef throughout his career.
Now you can stand a chance to win an exclusive invitation to a dining experience* with the renowned Chef Won on a first-come, first-served basis only.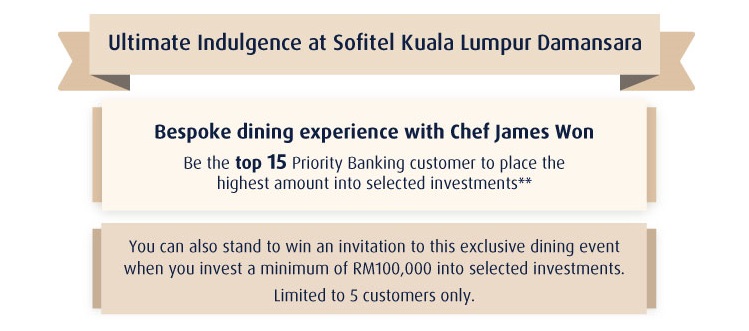 To find out more details about this dining event, you can contact your Relationship Manager or call the Priority Banking hotline at 1-800-18-900.
Congratulations to the Winners as stipulated in the table below:
I/C Number
5708xx-xx-55xx
xxxxx600E
4502xx-xx-51xx
7507xx-xx-55xx
2609xx-xx-54xx
6312xx-xx-60xx
5203xx-xx-53xx
6211xx-xx-81xx
xxxxx0084
5401xx-xx-50xx
7605xx-xx-50xx
5211xx-xx-57xx
6211xx-xx-55xx
5309xx-xx-58xx
xxxxx1471
6401xx-xx-52xx
7109xx-xx-52xx
4205xx-xx-50xx
7510xx-xx-59xx
6410xx-xx-50xx
For more details, please contact your dedicated Relationship Managers.
Terms & Conditions apply.
* Eligible customers are entitled to 2-pax per invitation. The event will be held at Sofitel Kuala Lumpur, Damansara on 14th September 2017.
** Selected Investments refers to selected Unit Trust funds and Floating Rate Negotiable Instrument of Deposit (FRNID)
Pictures shown are for illustration purposes only.
Unit Trust and FRNID Investment Accounts are NOT eligible for protection by PIDM.
Untuk pertanyaan hubungi kami dalam talian atau singgah ke cawangan Bank Hong Leong yang terdekat.