Take advantage of even more month-long special shopping & dining deals from our partners to reboot your 2020!

We want to hear what YOU are doing to reboot your 2020 whether it's exercising, changing your diet, or learning a new skill!! Share your stories with us with #HLBREBOOTYOUR2020. 50 lucky winners will stand to take home e-vouchers worth RM100 each!
Step 2
Tell us what you're doing to reboot your 2020 by posting your photo & caption on Instagram (remember to hashtag #HLBREBOOTYOUR2020)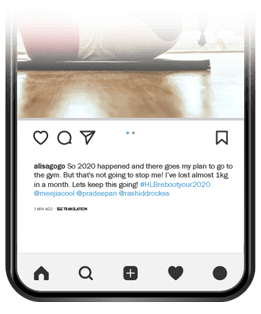 Step 3
Tag @hongleongbankmy & 3 other friends and challenge them to share their stories too. Remember to set your profile to "Public" so we can see your post!
Member of PIDM Deposit/Deposit-i are protected by PIDM up to RM250,000 for each depositor. Term Investment Account-i is not protected by PIDM. Terms & conditions apply.