Personal Loan | 01 January 2022-30 June 2022
Grab a loan with repayments from as low as RM105 a month.
Furthermore, no penalty for early settlement!*
---

* Applicable when the facility is settled within twenty (20) days from disbursement date. A Convenience Fee of Ringgit Malaysia Seventy (RM70) is applicable.
**Based on a loan amount of Ringgit Malaysia Five Hundred (RM500) with a six (6) months tenure at a flat rate of 22.00% p.a.
Interest Rate
Our rate is based on a flat rate basis, depending on the Facility Amount:
| Facility Amount | Flat Interest | Facility Tenure |
| --- | --- | --- |
| RM500 – RM3,000 | 22.00% p.a. | 6 months |
Note: The approved Facility Amount will be in multiples of Ringgit Malaysia Five Hundred (RM500) subject to the specified range above.
The effective interest rate is 36.79% p.a. for six (6) months facility tenure.
---
Illustration of Instalments
Assuming your total approved facility amount is RM500 with 6 months loan tenure: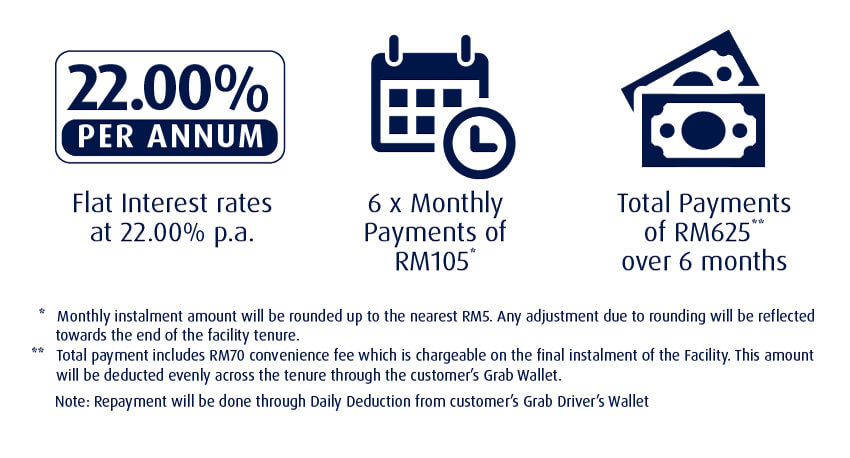 Malaysians aged between 21 and 65 years old.
Participate in the Campaign during the Campaign Period from 1 January 2022 to 30 June 2022.
Registered as a driver and/or delivery partner with Grab with a minimum annual earning of RM12,000.
Minimum loan amount is RM500.
Maximum loan amount is RM3,000.
Received an invitation to participate in the Campaign from Grab.
For enquiries, connect with us online or drop by your nearest Hong Leong Bank Branch.