Hong Leong Bank Introduces First-In-Market, All-In-One Smart Point-Of-Sales Payment Terminal
Hong Leong Bank has rolled out the first all-in-one revolutionary smart point-of-sales (POS) payment solution in Malaysia that is able to integrate and accept all cards and e-payment transactions in a single device.
This first-in-market smart POS offered by the Bank is a game-changer that will greatly benefit merchants and empower consumers, who can now choose their mode of payment according to their preferences.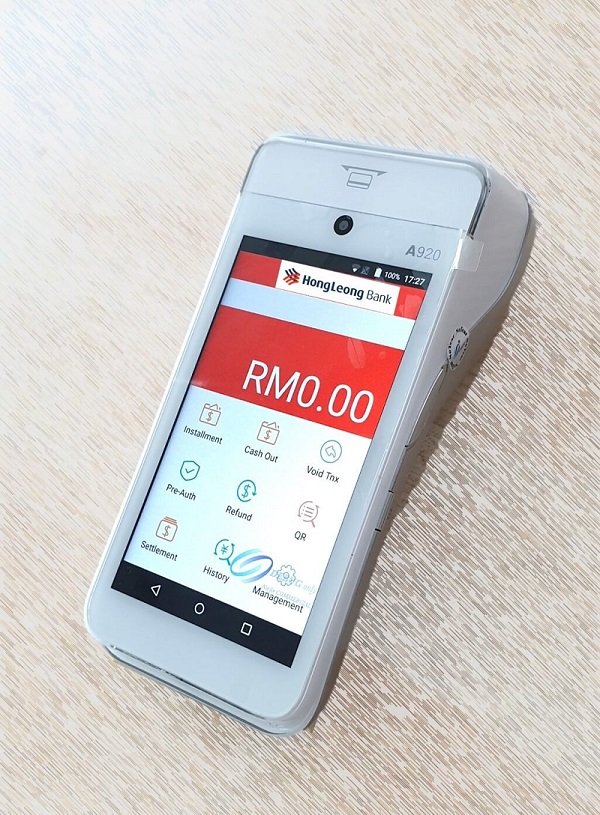 Sleek and compact all-in-one revolutionary smart point-of-sales (POS) payment solution for merchants is a game changer in the payment solution, introduced by Hong Leong Bank

Kuala Lumpur, 29 October 2018

In another first-to-market achievement, Hong Leong Bank Berhad ('HLB' or 'the Bank') today announced that it has introduced a new generation of integrated and innovative all-in-one smart Point-of-Sales (POS) terminal for merchants that is able to integrate and accept all cards and e-payment transactions in a single device for the first time in Malaysia.
The sleek and compact smart POS terminal which resembles a smart mobile phone is digital touch screen enabled, wireless and portable using Wi-Fi or mobile data networks (4G), allowing for fast transaction response. This makes it one of the most effective, seamless and easy payment solution for merchants and consumers to use, pay and manage. Its other features include:
Simple and user friendly 2-step payment interface
Over-the-air system /application upgrade with remote monitoring and maintenance features
QR codes & NFC payments enabled
Accept all e-wallets e.g. WeChat Pay, AliPay, Boost and more
Visa/ MasterCard/ MCCS/ UnionPay
Strong system security, with location base services (LBS)
Domenic Fuda, Group Managing Director and Chief Executive Officer of HLB said, "Cashless payments have steadily increased year-on-year in Malaysia and we are seeing more consumers, especially the younger generation adopting e-payments. However, there is still a gap in meeting consumers' demand for e-payments in the market. The current traditional payment solution is simply unsustainable for merchants who have to manage and maintain multiple payment machines for each payment solution as well as add more machines as the number of payment providers grows."
"At HLB, we seek to empower our merchants and customers with simple and innovative solution that not only solves their challenges today, but is also able to help them adapt to the new innovation of tomorrow. With this innovative all-in-one smart POS payment solution, multiple payment machines are a thing of the past. Merchants can now accept all payment method in a more reliable, easy, effective and seamless way. More importantly, the terminal is future payment ready as it is able to accept new payment providers or upgrade at any time with over-the-air technology. Not only is this simple and cost effective, it also greatly benefits the customers and ultimately encourages more cashless payments usage in Malaysia."
Merchants signing up to HLB's all-in-one smart POS terminal will be able to accept all card schemes and mobile payments, including major e-wallet operators with optional on-the-spot reward point redemption features, all integrated within the same terminal.
Group Corporate Affairs & Public Relations
Hong Leong Bank Berhad
DID: 03-2081 8888 ext 61916
Email: capr@hongleong.com.my
For enquiries, connect with us online or drop by your nearest Hong Leong Bank Branch.