Hong Leong Bank Announces Full Year Results: Achieves Record-Breaking Net Profit Of RM2,638 Million Up 23% Year-On-Year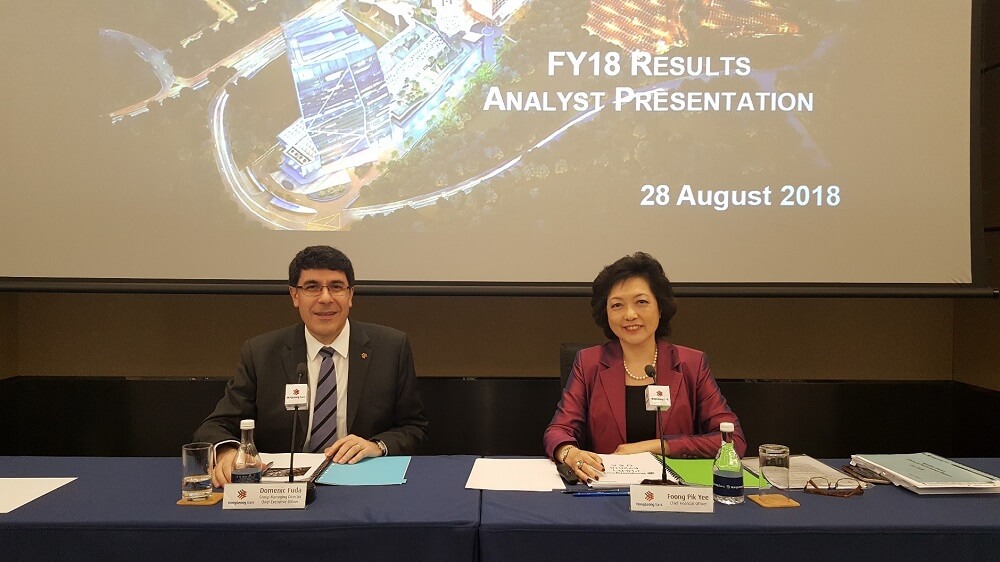 Kuala Lumpur, 28 August 2018
Hong Leong Bank Berhad ("Bank" or "HLB"), (BM: HLBANK) today announced its results for the financial year ended 30 June 2018.
Net profit after tax for the full year ended 30 June 2018 ("FY18") expanded by 23.0% year-on-year ("y-o-y") to RM2,638 million, compared to the corresponding period last year.
Gross Loans & Financing grew to RM129.1 billion; with a stable Gross Impaired Loan ("GIL") ratio of 0.87%.
Robust capital position with CET-1, Tier-1 and Total Capital ratios at 12.6%, 13.3% and 16.3% respectively.
Domenic Fuda, the Group Managing Director and Chief Executive Officer of HLB commented, "FY18 has been a remarkable year, as pre-tax profit and total assets crossed the RM3 billion and RM200 billion mark, respectively. Net profit for the year grew an impressive 23.0% y-o-y to a record high of RM2,638 million."
"Return-on-equity ("ROE") also improved to 11.3% compared to 9.8% last year, backed by robust top-line performance, prudent cost management along with strong contribution from our associate company. With these strong achievements, we are encouraged that this will set the pace for a continuing solid performance in the forthcoming year."
In addition to the strong financial performance, HLB has also continued to deliver on its vision of becoming a highly digital and innovative bank, living up to its digital-at-the-core ethos. Domenic Fuda added, "We are mindful that our customers are at the forefront of everything we do and their growing expectations for improved banking experience continue to drive our goals of meeting their banking and financial needs in simpler, better and intuitive ways."
"Our latest digital innovations in Retail, SME and Business and Corporate banking segments are showcased constantly through various platforms including our Digital Day campaign which takes place annually in July. We recently introduced a one-stop integrated SMElite Digital Business Solution suite to empower the local businesses and SMEs in an increasingly digital driven market place. We also continued our effort to grow and nurture fintech startups with the return of HLB LaunchPad, our highly successful fintech and technology mentorship programme which is now open for both Malaysian and ASEAN-based fintech and technology startups."
Solid Profit Growth
Total income for FY18 sustained its strong growth momentum, improving by 6.3% y-o-y to RM4,840 million, underpinned by a combination of prudent loan pricing and funding cost management coupled with strong growth in non-interest income contribution.
Net interest income for FY18 continued to grow at a healthy pace of 4.2% y-o-y to RM3,495 million, which in turn corresponded to an improved net interest margin ("NIM") of 2.10%.
Non-interest income for FY18 saw a solid acceleration of 12.5% y-o-y to RM1,344 million to a higher non-interest income ratio of 27.8%, complemented by stronger wealth management income and higher gains from treasury operations.
A new milestone was achieved with an all-time low cost-to-income ratio ("CIR") of 42.6% for FY18 while confirming positive JAWS for eight consecutive quarters as we continue to strive for efficiencies from our digitization and strategic cost management initiatives.
Consequently, operating profit for FY18 expanded 9.3% y-o-y to RM2,779 million versus RM2,543 million in the same period last year.
Loan Growth Driven by Key Segments of Mortgages and SME
Gross loans, advances and financing grew 3.1% y-o-y to RM129.1 billion, predominantly led by growth in our key segments of mortgages and SME, albeit still operating in a relatively cautious consumer and business environment.
Domestic loans to the retail segment continued to be a driver of the Bank's loan growth, expanding 3.3% y-o-y. Residential mortgages grew 7.9% y-o-y to RM61.4 billion, supported by a healthy loan pipeline whilst transport vehicle loans were lower at RM16.9 billion, as a result of softer industry growth during the year.
Loans and financing to SME was higher at RM20.5 billion, representing 15.9% of the Bank's loan base. This was mainly driven by a 22.4% growth in the Bank's Group SME Banking ("GSME") portfolio, a new community banking initiative focusing solely on the SME market segment.
Prudent Funding and Liquidity Position
Our funding and liquidity positions remain healthy and prudent, with loans-to-deposits ratio of 82.0%. Liquidity coverage ratio for the same period stood at 126%, well exceeding regulatory requirements.
Customer deposits for FY18 increased by 1.4% y-o-y to RM157.4 billion, supported by strong CASA expansion of 6.3% y-o-y to RM41.2 billion, resulting in an improved CASA ratio of 26.2%.
The Bank continued to maintain a stable funding base on the back of a strong individual deposit base, represented by an industry leading mix of 56.0%.
Robust Asset Quality and Capital Position
Maintaining the Bank's strong asset quality remains a key emphasis as gross impaired loan ratio remained solid at 0.87%. Inclusive of the regulatory reserve set aside as at 30 June 2018, the Bank's loan impairment coverage ratio is at 155%.
The Bank's capital position remains robust with Common Equity Tier 1, Tier 1 and Total Capital Ratios at 12.6%, 13.3% and 16.3% respectively.
Regional Contribution
International operations accounted for 18.2% of the Bank's pre-tax profit in FY18, led by strong contributions from Bank of Chengdu ("BOCD"). Profit contribution from BOCD improved 50.5% y-o-y to RM516 million in FY18, representing 15.9% of the Bank's pre-tax profit.
Dividend
The Board has proposed a final dividend of 32.0 sen per share, bringing the total dividend to 48.0 sen for FY18, a 3.0 sen increase over last year.
Business Outlook
Mr. Domenic Fuda commented, "Growth prospects of the Malaysian economy is expected to remain moderate amid continued support from domestic economic activities and still favourable external demand. Domestically, any short-term pullback in business and government investments is expected to be offset by potential boost in private consumption. Resumption of consumers', businesses and investors' confidence going forward shall bode well for the Malaysian economy".
"Being digital at the core, executing our digital strategy remains our key priority in strengthening our digital offerings and transforming our products and services. We will continue to grow our domestic franchise and regional businesses by entrenching ourselves in the communities that we operate in, leveraging on our branch footprint and digital capabilities. We strive to continue to lead the digital and innovation space to provide best-in-class experiences and to engage existing and new customers through reimagined customer journeys."
Group Corporate Affairs & Public Relations
Hong Leong Bank Berhad
DID: 03-2081 8888 ext 61916
Email: capr@hongleong.com.my
For enquiries, connect with us online or drop by your nearest Hong Leong Bank Branch.