Hong Leong Bank Assists Social Enterprise SURI with Social Procurement to Support Single Mothers Producing PPE for Medical Frontliners
Hong Leong Bank Assists Social Enterprise SURI with Social Procurement to Support Single Mothers Producing PPE for Medical Frontliners
Interbank Cash Withdrawal Transaction RM 1 Fee at HLB/HLISB's SSTs Waived Until April 14, 2020

Interbank Cash Withdrawal Transaction RM 1 Fee at HLB/HLISB's SSTs Waived Until April 14, 2020

Interbank Cash Withdrawal Transaction RM 1 Fee at HLB/HLISB's SSTs Waived Until April 14, 2020

HLB is committed in continuing its social impact efforts during COVID-19 to uplift and strengthen communities in-need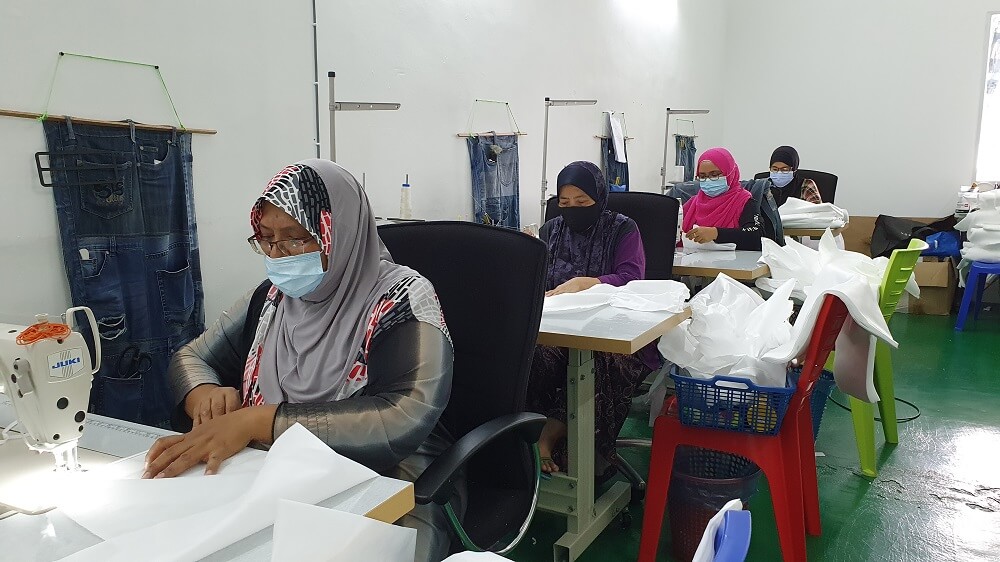 Kuala Lumpur, 19 May 2020

The COVID-19 pandemic has adversely affected almost every individual and business locally, and to help smaller businesses like social enterprises support their social missions during this health crisis and Conditional Movement Control Order (CMCO) Hong Leong Bank ("HLB" or the "Bank") will be assisting SURI lifestyle (SURI), a denim upcycling social enterprise with social procurement to produce Personal Protective Equipment (PPE) suits for medical frontliners at Klang hospital. The Bank will be subsidising labour costs to enable SURI to continue generating a sustainable income for their beneficiaries who are underprivileged and single mothers, so that they can weather the pandemic.
SURI is an alumni of HLB Jumpstart, the Bank's CSR platform that aims to help Malaysian social enterprises build long term businesses by extending and sharing financial knowledge, tools and digitization of operations, branding and marketing, commercialization of products and volunteerism. Just like many small businesses and social enterprises, SURI has also been severely impacted by the COVID-19 crisis. Ever since the implementation of the Movement Control Order ("MCO"), SURI has not received any new orders for its denim products and this has affected the income stream of the single mothers. In order to continue providing a sustainable livelihood for them, SURI adapted to the situation by leveraging on their sewing skills to produce PPE suits for medical frontliners.
Domenic Fuda, Group Managing Director and Chief Executive Officer of HLB said, "Times are tough for everyone during this health crisis and both businesses and individuals are forced to adapt to the situation or risk putting up the shutters. Social enterprises like SURI, whose core business model revolves around the social mission of giving back to the community and generating income opportunities for the B40 groups are especially suffering during these times as social procurement from corporate companies have come to a halt. As a community bank, we see helping SURI with their social procurement by subsidising their labour costs as a great opportunity to strengthen communities in-need during these unprecedented times."
SURI plans to produce 600 pieces of gowns, 800 pieces of hoods and 800 pairs of boots. The labour cost subsidy HLB is providing will enable them to grow their team from three to 10 single mothers which will enable them to ramp up production of the PPE suits, considering that hospitals across the country are quickly running out of supply.
Zalman Zainal, Chief Marketing and Communication Officer of Hong Leong Bank said, "The health of the community is something we have to pay more attention to during this very challenging period. It is even more important right now that we collectively come together and contribute to meet the needs of the local community and support each other through this outbreak. HLB remains committed in continuing social impact efforts by supporting social enterprises such as SURI to stay afloat."
Sally Ahmad, Founder of SURI said, "While a corporate entity had generously sponsored the fabric to produce PPEs, we still lacked the resources to gather a larger team that would help us to produce and deliver the items fast enough considering hospitals are running out of PPE supplies. We are very thankful that HLB stepped in at this very crucial time to help us overcome this battle against COVID-19 and thus giving us the opportunity to generate income at least for the next 2 months."
For individuals or corporates looking to support SURI in any way, you can reach Sally at surilifestylehq@gmail.com or amerasyraf07@gmail.com or visit their Instagram account, @surilifestyle .
Social Enterprises that are looking for support in sustaining their cause and business can write in to capr@hlbb.hongleong.com.my or visit https://www.hlb.com.my/en/personal-banking/about-us/csr.html