Banking On Digital Evolution Paying Off For Hong Leong Bank
HLB's efforts in its digital evolution to elevate customer experience through the application of artificial intelligence, machine learning, and automated technologies to CRM data earns the Bank Best 'Omni-Experience Innovator' at IDC Digital Transformation Awards 2018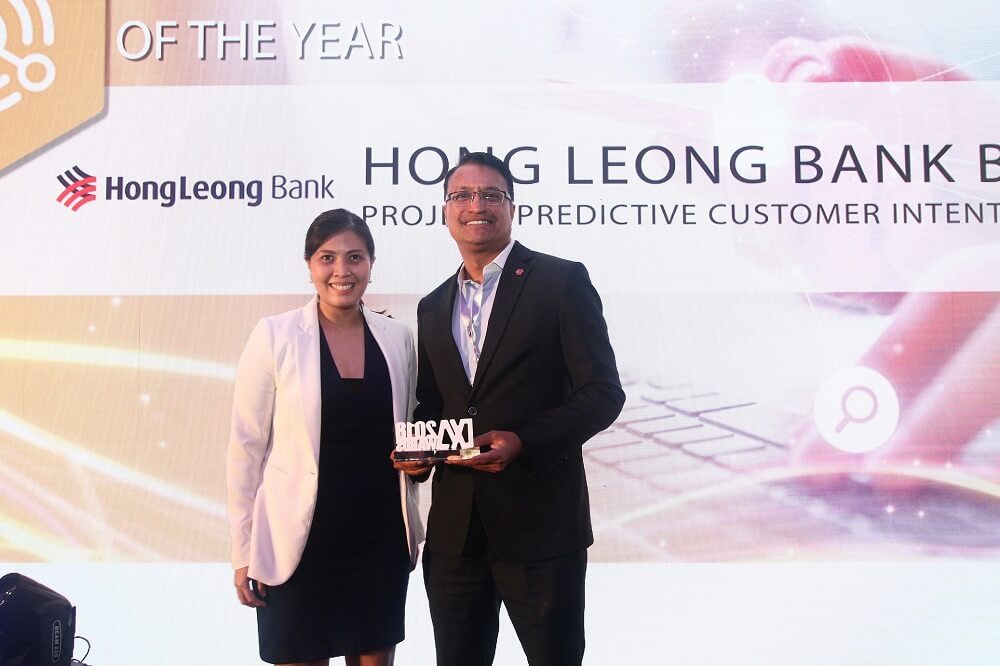 Photo Caption:
Edward Pinto – Head of Customer Experience & Analytics, Hong Leong Bank Berhad (personnel on the right) receiving the 'Best Omni-Experience Innovator Award' from Celest Narvaez – Programme Manager of IDC Asia Pacific, IT Executive Programme (personnel on the left).

Kuala Lumpur, 23 October 2018

Hong Leong Bank Berhad (HLB or the Bank) has scored another award by winning the Omni-Experience Innovator for Malaysia award at the IDC Digital Transformation Awards 2018 (DXa), living up to its vision of being a highly digital and innovative ASEAN financial institution.
The Bank won for its Predictive Customer Intent CRM System, an omni-experience project that cuts across the bank's operations, improving frontline productivity, optimizing cost-to-income ratio, and increasing customer satisfaction (CSAT) scores. Among its initiatives include an artificial intelligence (AI) chat advisor on its website and internet banking platforms which answers general inquiries on HLB products and services to reduce customers' waiting time when contacting the call center agents; a robotic concierge designed and built to interact, identify, and match customer requests to HLB products; a real-time feedback system with social media sentiment monitoring; and omni-channel analytics dashboards.
The Predictive Customer Intent System has further improved CSAT scores, as it makes use of machine learning to predict a customer's call intention based on recent banking and interaction activities with the Bank. It also provides a 360-degree view of customers, displaying contact history, product holdings, recent transactions, and eligible cross or upsell offers. With its omni-channel integration in place, HLB has been able to meet and exceed its internal CSAT targets.
Domenic Fuda, Group Managing Director and Chief Executive Officer of HLB said that the application of AI, machine learning and automated technologies with big data has opened up tremendous potential to transform the Bank's customers' experience by providing service in a more predictive and intuitive way than ever before.
The Bank has been gaining recognition for its clear digital bank transformation strategy that has been impacting customers and employees positively.
"We have embraced an integrated digital mindset by embedding digital considerations in everything that we do, and in this regard, we have been able to optimise our customers' journey with HLB. Through our ethos of being 'Digital at the Core', we are building a digital-first banking platform that allows us to serve our customers better and reap the rewards of cost reductions and increased revenue, creating positive impact on our customers as well as our employees" said Fuda.
The Bank's growth towards being digital is powered by three key initiatives which include leveraging on digital technologies to acquire customers efficiently, empowering customers to transact anytime and anywhere instantly through digital platforms and providing relevant products and services through contextual offers and analytics.
Edward Pinto, Head of Customer Experience at HLB said that the Bank harnessed technology to predict customers' intent so that they can provide more targeted and relevant services.
"We understand that change today is driven by our customers' needs to be able to conduct their business and banking services anytime, and anywhere. We employed the 'Intelligent Customer Prediction System' that has allowed us to disrupt the normal way of doing things. Through our digital transformation efforts, we have capitalised on emerging technologies and Big Data to deliver seamless and intuitive banking experience to our customer," he said.
HLB was also recently recognised for its innovation and leadership in its transformation towards being a highly digital-led and performance driven bank from the International Banker Awards 2018 and AsiaMoney Awards 2018. The Bank received awards for the 'Best Innovation for Retail Banking Malaysia' by International Banker; as well as 'Best Domestic Bank' and 'Best Digital Bank' in Malaysia by AsiaMoney Awards.
Group Corporate Affairs & Public Relations
Hong Leong Bank Berhad
DID: 03-2081 8888 ext 61916
Email: capr@hongleong.com.my
For enquiries, connect with us online or drop by your nearest Hong Leong Bank Branch.