HONG LEONG BANK CELEBRATES CUSTOMERS' DIGITAL INNOVATION AND EXPERIENCES WITH DIGITAL DAY 2018
Customers stand to win more than RM17 Million worth of prizes and e-vouchers during HLB Digital Day 2018 from July 7 till July 13, 2018
HLB is the first bank in Malaysia to use Facebook Augmented Reality (AR) Filter to engage and reward customers with its HLB Digital Day AR Challenge where 7,000 ice-cream e-vouchers along with RM49,000 in fixed deposits are up for grabs.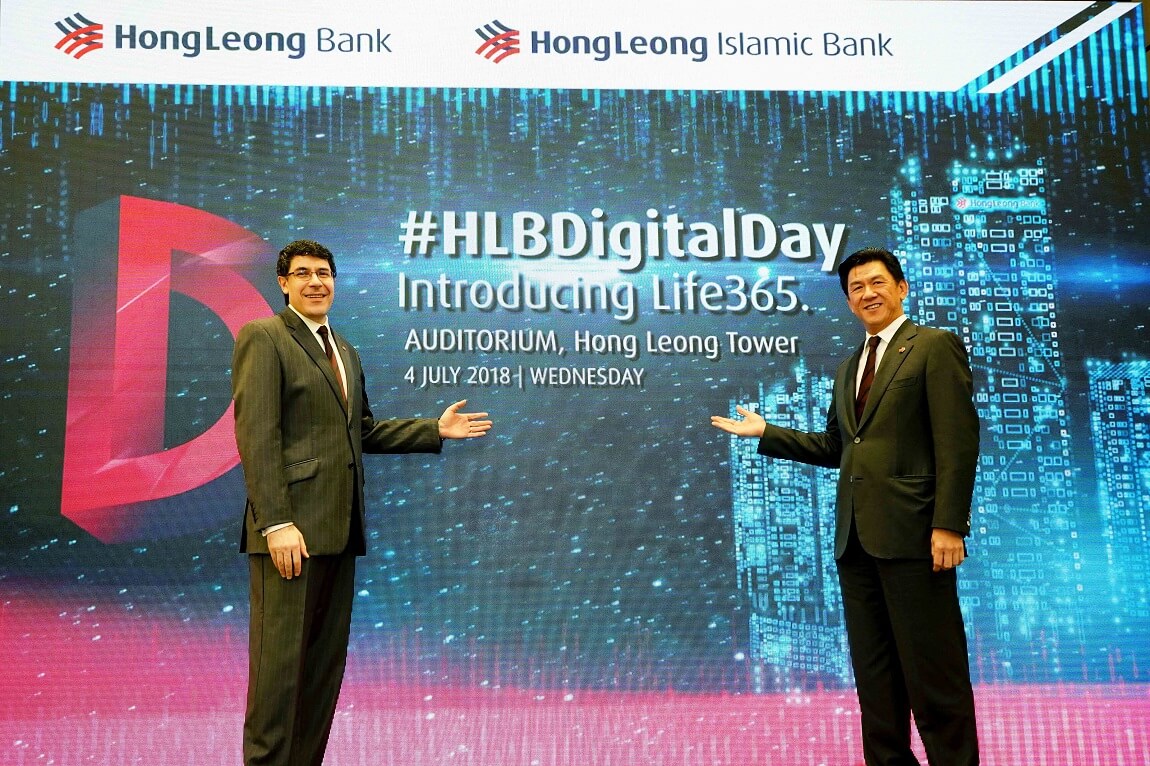 From Left to Right: Domenic Fuda, Group Managing Director & Chief Executive Officer and Charles Sik, Managing Director of Personal Financial Services of Hong Leong Bank officiating 2018 Digital Day in Menara Hong Leong.
Kuala Lumpur, 4 July 2018
Hong Leong Bank Berhad ('HLB' or 'the Bank') continues to see strong customer adoption of its digital platforms, with 48% of its customers utilising digital and mobile platforms for banking transactions at the end of 2017, with digital transactions continue to grow at 73%, lending strength to the Bank's digital aspirations.
"The strong adoption of our digital channels is testament to the growing maturity and increased expectations of our customer base and Malaysians at large. We expect to see strong continued growth in digital banking transactions as we increase products & services offerings on these digital platforms," said Domenic Fuda, Group Managing Director and Chief Executive Officer at the launch of the Bank's annual Digital Day, which was started last year.
As the service and financial landscape changes rapidly with the ever increasing use of technology, staying attuned to customers needs and desires becomes even more critical. "To stay ahead of this dynamic changes in customer needs, we adopted the approach of reimagining banking by embedding digital considerations in everything that we do throughout the entire Bank. We've been transforming from the inside out in the way we work, the way we empower our communities and most importantly, the way we serve and engage with our customers," said Domenic Fuda, Group Managing Director and Chief Executive Officer at the launch of the Bank's Digital Day 2018 campaign.
Stressing that digitization to better serve customers cannot be a buzzword, Fuda said "The truth is, digital banking and innovations have greatly given customers control that they otherwise would not have had in the past. For us at HLB, we will continue to be driven by our ethos of being Digital-At-The-Core with Customers-At-The-Forefront, to meet their real needs and increasing expectations so they can live life uninterrupted, a true Life365. Our Digital Day is truly a day where we celebrate the customers and give them more rewards for banking with us, and for coming on our digital platforms."
To encourage greater understanding of its digital offerings, Hong Leong Bank will showcase the various innovations in Retail, SME and Business & Corporate banking segments at its annual Digital Day campaign that will run from now to July 31, 2018.
Raising the bar with the first Facebook Augmented Reality experience by a bank to reward and engage customers.
Staying true to being the digital forerunner in the local banking scene, HLB has launched HLB Digital Day AR Challenge, using the newly introduced Facebook Augmented Reality (AR) platform to showcase the digital services and products that are currently available, as well as, under development to engage and reward customers in a fun way.
Charles Sik, Managing Director of Personal Financial Services, Hong Leong Bank said, "With 89.3% of Malaysians frequenting social media sites, it is clear that we need to engage new and existing customers where they are active online to create engaging experiences that they will not only love, but remember. I am proud to announce that we are raising the bar in customers' engagement in the banking industry by being the first bank in Malaysia to have our very own Facebook Augmented Reality Experience, to reward and engage with our customers and Malaysian at large.
From July 4 to July 31, 2018 , the Bank will be releasing seven of its very own Facebook AR filters on a periodic basis. The seven filters creatively reflect the Bank's digital innovations in order to bring the HLB digital story to life. These filters show the Bank's digital tools such as facial recognition, payment request, AI Chatbot, Pay Mobile (PEx), Conversational AI, Scan and Pay, and an overall filter that reflects how HLB is making banking simpler, easier and better for customers. Anyone can join the HLB Digital Day AR Challenge where they can snap and share their photos to receive 7,000 Baskin Robbins e-vouchers as well as be in the running to win one of seven RM7,000 fixed deposits with tenures of seven months.
In addition to HLB Digital Day AR Challenge, the Bank has also lined up exciting online
special promotions for all its key banking products during its Digital Day Campaign, which commences from July 7 to July 13, 2018.
One-Day Only Online Exclusives on July 7
Personal Financing/-i – Sign up for a fixed rate of 3.70% p.a.
eFixed Deposit/-i – Enjoy 4.37% p.a. for 3 months
Credit Card – Apply online and get RM477 cash back upon first swipe
Seven Days Online SpinToWin from July 7-13
Stand a chance to walk away with prizes and e-vouchers worth more than RM17 Million, including daily Huawei P20 in HLB's SpinToWin on Hong Leong Connect Mobile App.
"We hope our existing and new customers will be as excited as we are with the array of activities that we have lined up to celebrate their digital journey with us. We will continue to innovate our products and offerings to enable them to live life uninterrupted, to be able to live a Life365," concluded Sik.
For more information, kindly go to our website at: www.hlb.com.my/DigitalDay.
Group Corporate Affairs & Public Relations
Hong Leong Bank Berhad
DID: 03-2081 8888 ext 61916
Email: capr@hongleong.com.my
For enquiries, connect with us online or drop by your nearest Hong Leong Bank Branch.