HLB Customer Walks Away With Lakefront Condominium @ Emerald Hills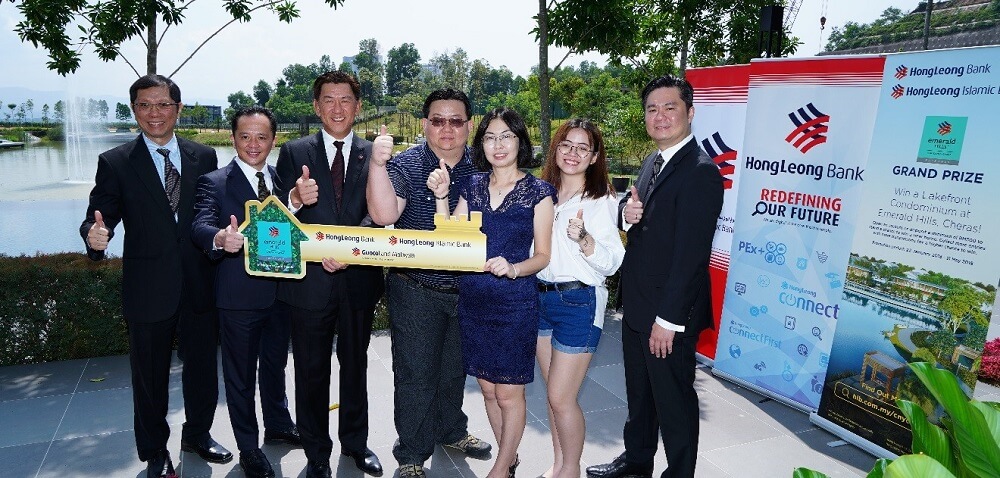 From left to right: Lee Wee Kee, Executive Director of GuocoLand Malaysia Berhad; Datuk Edmund Kong, Group Managing Director of GuocoLand Malaysia Berhad; Mr. Charles Sik, Managing Director of Personal Financial Services, Hong Leong Bank; Daniel and his family members and Mr. Galvin Yeo, Acting General Manager of Personal Financial Services – Deposits, Hong Leong Bank
Kuala Lumpur, 5 December 2018

Just by maintaining a banking account with Hong Leong Bank ('HLB' or the "Bank") and making regular deposits, Mr Daniel Lau Kim Peow, emerged as the lucky grand prize winner in the 'Hong Leong Win A Lakefront Condominium Deposits Campaign' (the "Campaign").
As the grand prize winner, Daniel is now the proud owner of an award winning 2-bedroom Lakefront Condominium @ Emerald Hills worth RM 532,888, situated in Alam Damai, a matured township of Cheras and developed by GuocoLand Malaysia Berhad ("GuocoLand").
The prize giving ceremony was held at the Emerald Hills property sales gallery and witnessed by Mr. Charles Sik, Managing Director of Personal Financial Services, HLB; Mr. Galvin Yeo, Acting General Manager of Personal Financial Services – Deposits, HLB; Datuk Edmund Kong, Group Managing Director of GuocoLand and Mr. Lee Wee Kee, Executive Director of GuocoLand .
"My whole family is so excited! I never really expected that regular deposits with Hong Leong Bank could win me a luxury unit like the Lakefront Condominium. Not only that, it sits perfectly in the middle of hilly greens. We just love the location. Thank you, Hong Leong Bank," said Daniel.
"Congratulations, Daniel on winning the grand prize. For Hong Leong Bank, we believe in rewarding our customers for banking with us. Growing deposits has always been one of the Bank's top priorities. We will continue to roll out more exciting programmes to help our customers start on the right foot in their financial savings needs," said Sik.
"We are delighted to see Daniel walking away with a lakefront condominium at Emerald Hills. The development represents GuocoLand Malaysia's belief that a home is where the heart is. The goal is to create a family-friendly environment that is not only appealing to the eyes of our customers, but to their hearts as well," said Kong.
HLB ran a deposit savings campaign called 'Hong Leong Win A Lakefront Condominium Deposits Campaign' from 22 January 2018 to 31 May 2018, aimed to encourage regular deposits amongst its customers while rewarding existing and new customers for opening and depositing into their current and savings accounts. In addition to giving away one unit of Lakefront Condominium @ Emerald Hills as the grand prize, customers also stood a chance to win 8 units of OSIM uLove Massage Chairs and 68 consolation angpow prizes of RM888 each.

Group Corporate Affairs & Public Relations
Hong Leong Bank Berhad
DID: 03-2081 8888 ext 61916
Email: capr@hongleong.com.my
For enquiries, connect with us online or drop by your nearest Hong Leong Bank Branch.