Hong Leong Bank Empowers Technology Advancement Amongst Start-Ups And Students
In support of an Industry 4.0 ready society, the Bank strongly believes in nurturing innovative & disruptive business ideas and talents in their early stage of their development through its HLB LaunchPad Activate 2018 Programme.
Malaysian start-ups Dropee and Finology were named HLB LaunchPad Activate 2018 Winner and Runner-Ups respectively, along with Vietnam's AI & Computer Vision start-up EyeQ.
Hong Leong Bank is also a key sponsor in Unimaker Universe 2018, Malaysia's first national competition platform.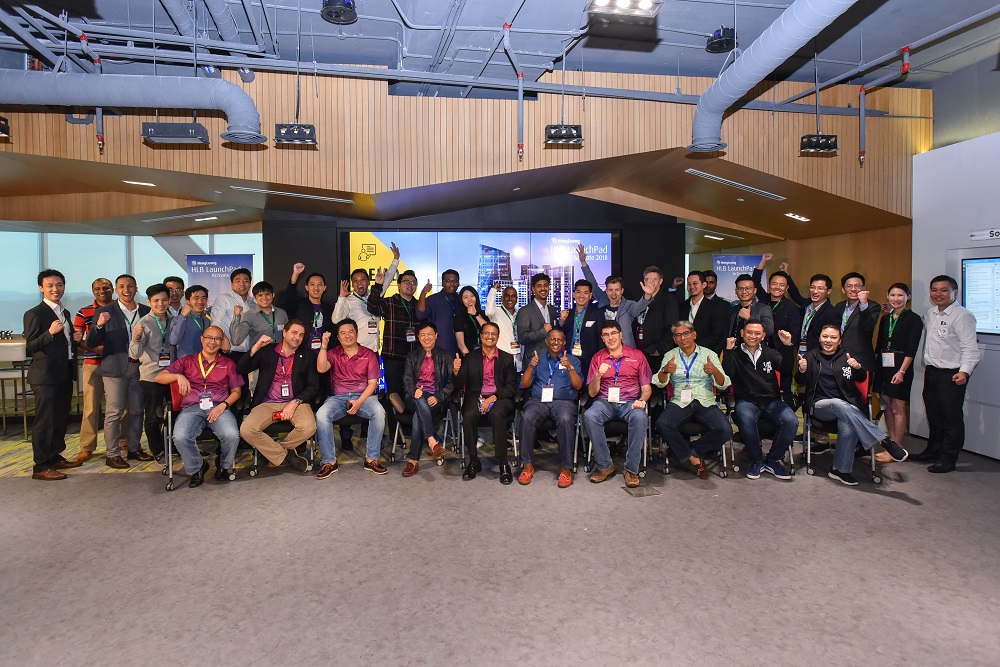 Participants and judges for HLB LaunchPad Activate 2018 with Domenic Fuda, Group Managing Director / Chief Executive Officer, HLB (seated fourth from right)
Kuala Lumpur, 18 December 2018

Menara Hong Leong, the headquarters of Hong Leong Bank Berhad ("HLB" or the Bank") was abuzz with coders, UX/UI developers, product designers, programmers and eager start-up entrepreneurs hoping to make an impact with their ideas over the weekend of 24 and 25 November at HLB LaunchPad Activate 2018 ("HLB LaunchPad") for tech-savvy fintechs and start-ups, and at the HLB sponsored event, Unimaker Universe 2018 ("Unimaker") for the next generation of digital-minded talents. This scene may look out-of-the-ordinary for a bank, but for HLB which has set its vision to be a highly digital and innovative ASEAN financial institution, the scene was a normal and welcomed sight as the Bank firmly believes that its own digitization transformation journey has to include supporting digital transformation in the marketplace as well as at the education stage.

Focusing on transforming financial services in the areas of 'Simplifying Banking Today', 'Digitising Customer Journeys and Experience', and 'Re-Imagining Banking for Tomorrow', HLB LaunchPad Activate platform, which is in its second year challenges start-ups to provide out-of-the box solutions to the way banking is performed. As Malaysia's first public-private partnership between HLB, Cradle Fund Sdn Bhd ("Cradle") and Malaysian Business Angel Network ("MBAN"), the platform will invest and nurture tech-savvy start-ups and entrepreneurs with a three to six month mentorship programme where participants will gain hands-on engagement and mentorship by HLB senior management to learn about driving product, business and infrastructure development. aimed at reinventing the financial services industry.
HLB LaunchPad Activate 2018 has seen overwhelming response from interested participants with a 60% rise in applications from the previous year, with close to 30% of total applications coming in from around the ASEAN region. After a highly competitive and intensive pitching session amongst 21 finalists, three contenders were selected to pilot their solutions within HLB's banking ecosystem, as well as receiving monetary prizes from HLB and potential equity funding from Cradle and MBAN.
Malaysian start-up Dropee, a B2B marketplace that brings together suppliers and retailers on a single platform for a faster, cheaper and reliable marketplace, emerged victorious, walking away with RM50,000 and mentorship opportunity to further develop its winning pitch into commercialisation. In addition, another Malaysian fintech start-up Finology and Vietnam's EyeQ clinched the runner-up spots, each winning RM25,000 and a mentorship programme. Finology enables merchants (property developers, auto dealers, unsecured lending channels) the ability to provide indicative loan Approval in Principle (AIP) to prospective customers, while EyeQ develops advanced AI, Computer Vision and Deep Learning technologies to revolutionize and disrupt the industries of retailing, F&B, franchising, advertising and banking.
Domenic Fuda, Group Managing Director and Chief Executive Officer of Hong Leong Bank who was leading the judging panel, was impressed by the innovative ideas and solutions presented by the finalists at this year's LaunchPad. "We are a firm believer that in this age of hyper digitisation and rapid technology innovation, we need to make collaboration as part of the Bank's transformation to be more agile and future-proof and this makes it even more important for HLB to take an active role in developing digital foundations within our marketplace, both for the existing and next generation of players."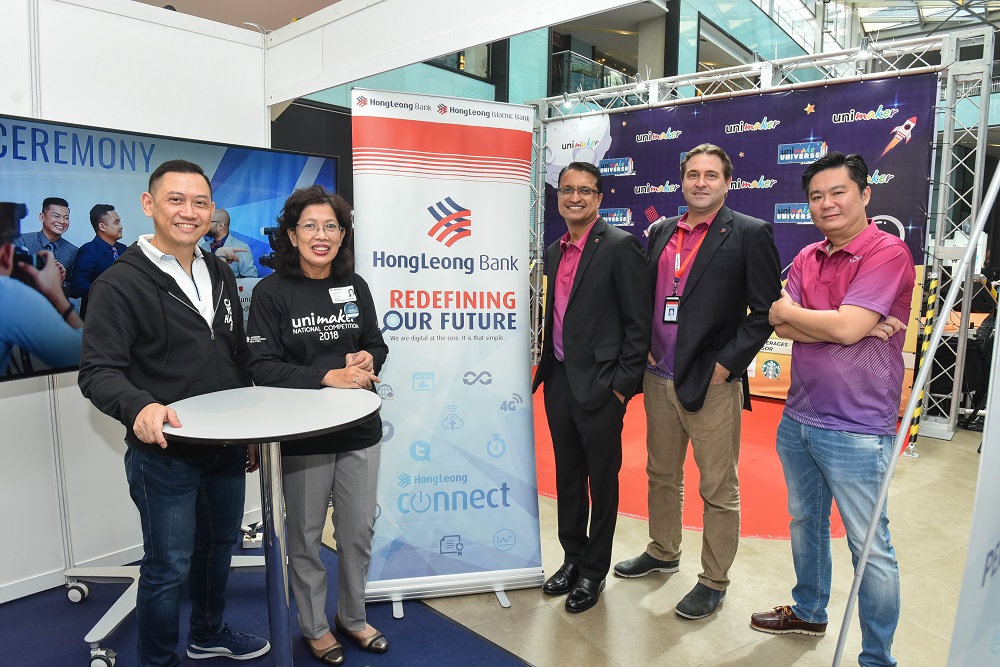 From left: Zalman Zainal, Chief Marketing and Communication Officer, HLB; Prof. Dr. Rofina Yasmin Abdullah, Associate Vice Chancellor, UM; Edward Pinto, Head of Customer Experience and Analytics, HLB; William Streitberg, Chief Information & Technology Officer, HLB; and Galvin Yeo, Personal Financial Services – Digital, HLB
In addition to its own initiative, HLB's involvement in Unimaker underlines HLB's commitment to driving the digital agenda by supporting and empowering the market ecosystem at all stages. True to its all-inclusive approach to transforming the ecosystem, HLB was a proud key sponsor for Unimaker Universe 2018, Malaysia's first national competition platform to encourage university students, researchers, innovators and developers to advance disruptive ideas and innovative solutions organised by the Ministry of Education and University of Malaya.
"While HLB LaunchPad provides mentorship for existing tech-savvy fintechs and start-ups by developing their ability to quickly adapt to new ways of doing business, our support of the Unimaker Universe 2018 programme is to help accelerate Industry 4.0 readiness amongst youth through encouraging the ideation of emerging technologies in digital, physical and biological areas. We believe in cultivating the best minds at all levels and to do this we are also working with like-minded industry partners such as the Ministry of Education and University of Malaya to create a technology-focused Fit-for-Future workforce through this and other programmes. The level of advanced thinking and entrepreneurship spirit shown by participants throughout the event was simply amazing – it is indeed inspiring to work with upcoming talent who are already shaping the ecosystem of the future," added Fuda.
Group Corporate Affairs & Public Relations
Hong Leong Bank Berhad
DID: 03-2081 8888 ext 61916
Email: capr@hongleong.com.my
For enquiries, connect with us online or drop by your nearest Hong Leong Bank Branch.