Faster Way to Bill and Collect Payment for SMEs With HL ConnectFirst FastCollect
Faster Way to Bill and Collect Payment for SMEs With HL ConnectFirst FastCollect
Hong Leong Bank has introduced a simplified way for SMEs to be onboarded as JomPAY billers for faster billing and collection with the launch of HL ConnectFirst FastCollect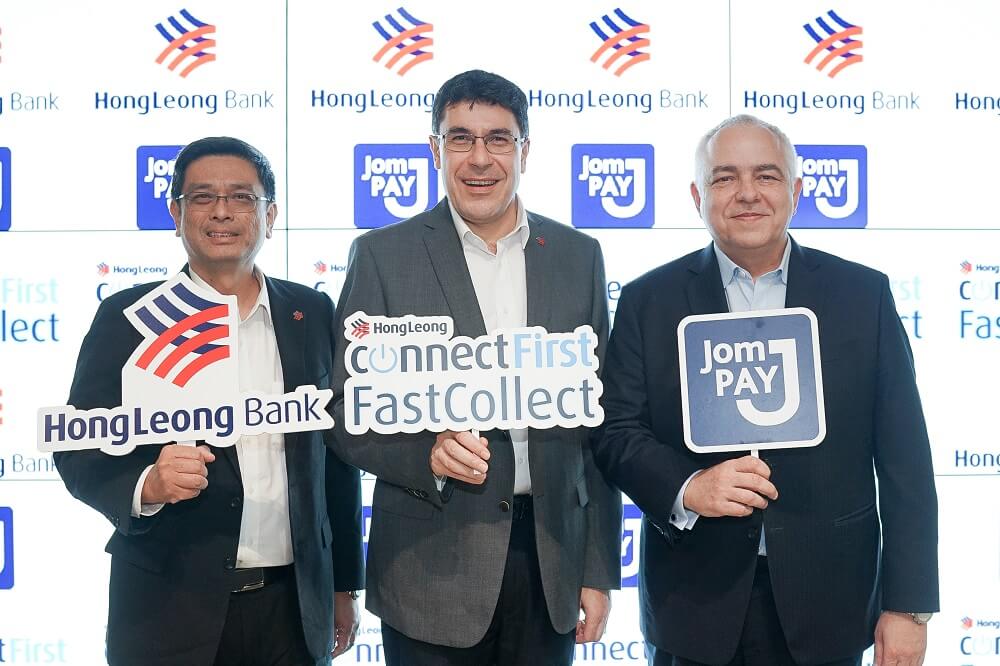 Kuala Lumpur, 10 July 2020 – Managing cash flow efficiently remains as one of the key challenges small and medium-sized enterprises ("SMEs") face today, yet many have not digitalise their billing and payment system to enable them to bill and receive payments from customers promptly. During the Movement Control Order ("MCO"), SMEs which did not prioritise digital transformation found themselves in the lurch as almost all business operations came to a halt, disrupting all aspects of the business chain.
Thus, to help SMEs get up to speed with digital banking tools, Hong Leong Bank ("HLB" or "the Bank") has partnered with Payments Network Malaysia Sdn Bhd ("PayNet") to offer SMEs a simplified and innovative JomPAY biller service called HL ConnectFirst FastCollect (FastCollect).
With FastCollect, SMEs can sign up as a JomPAY biller quickly and start using the billing and cash collection service. A JomPAY biller code is given after completing two simple steps using Biztory, a cloud accounting and invoicing software that is integrated with HL ConnectFirst, HLB's business online banking platform where SMEs enjoy ZERO development and system integration cost.
This JomPAY onboarding process via FastCollect is 88% more efficient than the normal process, allowing SMEs to collect payments from their customers with greater efficiency so that their time can be used for other areas in the business.
Domenic Fuda, Group Managing Director and Chief Executive Officer of HLB said that the partnership with PayNet marks another major step forward for the Bank in delivering vital digital solutions that are not only secure, simple and seamless to use, but also deliver cost and operational efficiency in the long run.
"HLB is proud to be among the first to collaborate with PayNet to offer this JomPAY solution, which is in line with Bank Negara Malaysia's e-payments agenda as well as the Bank's strategy of being digital at the core. We are committed to providing holistic and relevant digital financial services and solutions that support our customers' needs and, in the wake of MCO, digitalisation, especially when it comes to digital banking and where the use of financial tools is no longer an option but a matter of survival. Along with our comprehensive services under our Digital Business Solutions, FastCollect will assist our customers to quickly digitalise an important aspect of their operations and further safeguard the resilience of their business.
"Cash flow is the lifeblood of SMEs, and SMEs are the lifeblood of the Malaysian economy. At PayNet, we recognise the importance of providing payment infrastructure that assists our member banks to offer solutions that meet the current needs of their customers and that can be adapted to future innovation. We are excited to collaborate with Hong Leong Bank to enable more SMEs to adopt and reap the benefits of e-payments. JomPAY has proven to be an effective solution for many billers and merchants, enabling collection of payments to be done in an efficient and speedy manner," said Peter Schiesser, Group Chief Executive Officer of PayNet.
JomPAY is Malaysia's largest online bill payment service with over 6,500 billers encompassing telcos, utilities, government agencies, educational institutions, corporates, SMEs and many other businesses. In 2019, JomPAY recorded more than RM25bil worth of transactions.
Yow Kuan Tuck, Managing Director for Business Corporate Banking of HLB shared that more customers are seeking to use the Bank's digital solutions and banking platform as they have come to realise that digital transformation is happening on all fronts, from the way we live, work and trade.
"We have been actively engaging our customers during the MCO period and continue to do so where we have found that one of their key concerns is the ease and cost of digitalisation. All of HLB's products, services and solutions are intended to improve the experience, simplify processes and reduce friction for our customers. We understand that keeping track of invoices, payments and collections is an industry-wide pain point for SMEs. The JomPAY biller service through FastCollect was conceptualised and tailored to give SMEs better control of the reconciliation process, anytime and anywhere while ensuring benefits of operational optimisation," said Yow.
In conjunction with HLB Digital Day 2020, customers can try the FastCollect 30 Days trial to experience the new way to bill and receive payment. To find out more, please visit www.hlb.com.my/hlcffastcollect
For enquiries, connect with us online or drop by your nearest Hong Leong Bank Branch.