Hong Leong Bank's First 24-Hour Hackathon Delivers Bountiful Ideas and Talents
Participants rise to the Bank's Challenge of Can You Hack It , impressing the mentors and judges with their ideas and executions to make banking #simplysimple, all within 24 hours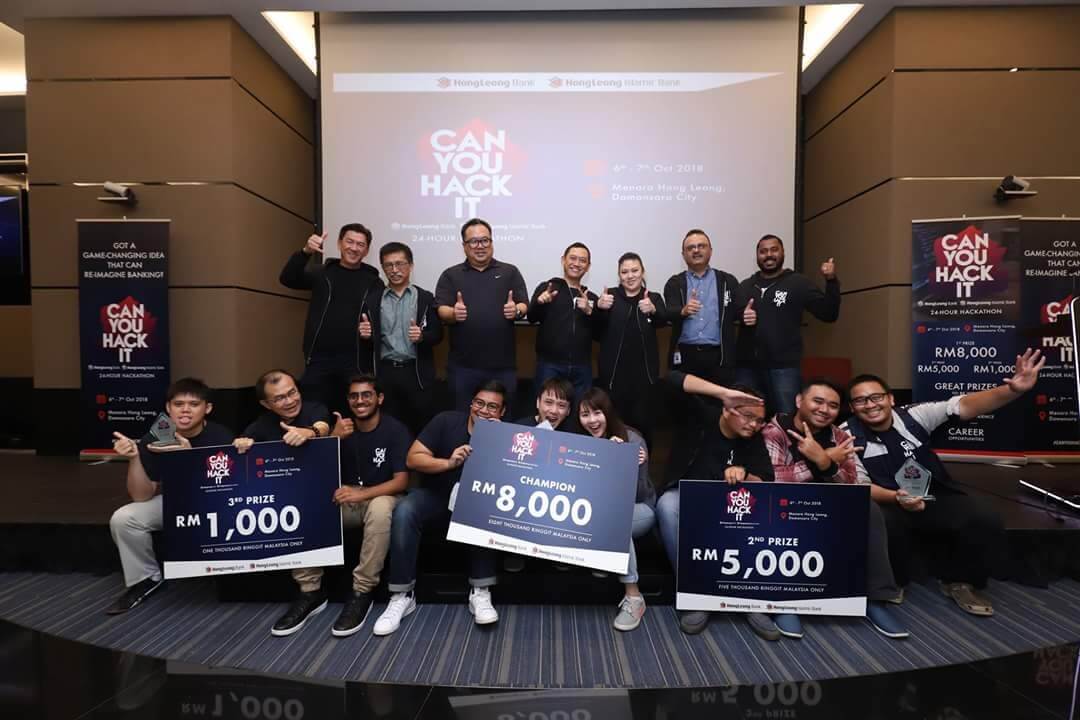 The proud winning teams with the mentors and judges from Hong Leong Bank and JomHack Malaysia, (left to right, standing) Charles Sik, Managing Director of Personal Financial Services, Hong Leong Bank; Jasani Abdullah, Chief Executive Officer of Hong Leong Islamic Bank; Yow Kuan Tuck, Managing Director of Business & Corporate Banking, HLB; Zalman Zainal, Chief Marketing & Communication Officer, HLB; Fiona Fong, Head of Human Resources, HLB; Shailesh Grover, Chief Digital & Innovation Officer, HLB and Inbaraj Suppiah, Chief of JomHack Malaysia.

Kuala Lumpur, 31 October 2018
Over 160 eager participants nationwide congregated at Menara Hong Leong on 6 and 7 October to show their mettle in solving problems and improving services and products provided by the financial industry within 24 hours deadline at Hong Leong Bank Berhad's inaugural Can You Hack It 2018 ("HLB" or "the Bank").
The hackathon was the Bank's novel approach at identifying talents capable of coming up with exciting and creative solutions for banking and business-related challenges. The Bank collaborated with JomHack Malaysia to reimagine the way of hiring fit-for-future talent as well as rewarding great ideas for better banking.
The challenge took place over a span of 24 hours at the Bank's headquarters where participants were formed into groups of three and presented with a problem statement after which they were required to develop innovative solutions that revolutionise the way customers do banking today. The participants were able to tap on the expertise and support from a group of mentors from the Bank and experts from the digital industry.
The grand prize winner, Team Twenty Four took home RM8,000 while the first runner up team, Team Twelve won RM5,000 and Team Four Five took the second runner up position with a cash prize of RM1,000.
Tien, team leader of Team Twenty Four said, "The hackathon provides a great opportunity for us to exercise our creativity and ingenuity in problem solving and we are so proud that our idea which we developed from concept to prototype within 24 hours has the potential to be used by the Bank to address its challenges and benefit its customers. We took up the challenge to address the issue of financial inclusion facing the millennials. With the diversity of the team's background, we managed to gather relevant insights and solutions in helping us to design our 'Goal Oriented Robo Advisor' App, designed to help the millennials to instill and cultivate the right habit in financial planning."
Domenic Fuda, Group Managing Director and Chief Executive Officer of HLB said that he was impressed by the sheer talent that was demonstrated at the 'Can You Hack It 2018' hackathon.
"Overall, all the participants displayed a strong understanding of the issues faced by today's consumers, and they raised the bar through innovative ideas and solutions that they developed. The judges certainly found it hard to narrow down the winning teams but ultimately, settled for what the Bank has always championed, which is to make banking simply simple. The winning ideas solved complex problems with ingeniously simple solutions – all executed within 24 hours. It is this type of talent that can disrupt the financial and banking industry and we look forward to implement some of these ideas," commented Fuda.
Shailesh Grover, Chief Digital and Innovation Officer of HLB who was also one of the mentors and judges in 'Can You Hack It 2018' said, "I am extremely impressed and excited to see the energy, customer centricity, out-of-the-box creative thinking and relentless focus on execution to design the right experience for our customers. The quality of questions asked by the participants during the mentoring sessions evidenced a very mature thought process with a clear focus on customers' outcome. The participants also demonstrated high levels of confidence and the ability to defend their thinking while being open to constructive feedback. The participants have all the hallmarks to be great talents for organisations that are looking to leapfrog into the future."
Given the strong response that the challenge attracted, the Bank will be running the 'Can You Hack It' hackathon twice a year which will be opened to final year university students, fresh graduates, freelancers as well as startup entrepreneurs and those from the tech community who will compete for cash prizes. Outstanding participants may also receive an invitation to join the Bank for an exciting career while promising projects may receive further funding and support for incubator or accelerator programmes.
Fiona Fong, HLB's Head of Human Resources said, "Traditional hiring parameters like interviews, grades, or past experience are no longer enough when it comes to hiring the right talent for financial institution as digitally ambitious and technologically driven as HLB. While we are excited about the potential ideas that can be generated from hackathon, we are more focused on finding and identifying the talented developers who have the ideas. We saw how the participants performed when faced with the pressure of an intense 24 hours deadline and an open-ended problem. From this first hackathon, we already identified close to 50 candidates that are industry ready whom we would like to hire, so we are excited with the potential of 'Can You Hack It' as a programme to position HLB as a forward thinking employer."
Group Corporate Affairs & Public Relations
Hong Leong Bank Berhad
DID: 03-2081 8888 ext 61916
Email: capr@hongleong.com.my
For enquiries, connect with us online or drop by your nearest Hong Leong Bank Branch.