Hong Leong Bank Reveals Simpler Banking Experience At Its First Digital Branch In Penang
Hong Leong Bank continues to pioneer change in banking industry for the Northern Region with intuitive digital service delivery that raises the bar in customer experience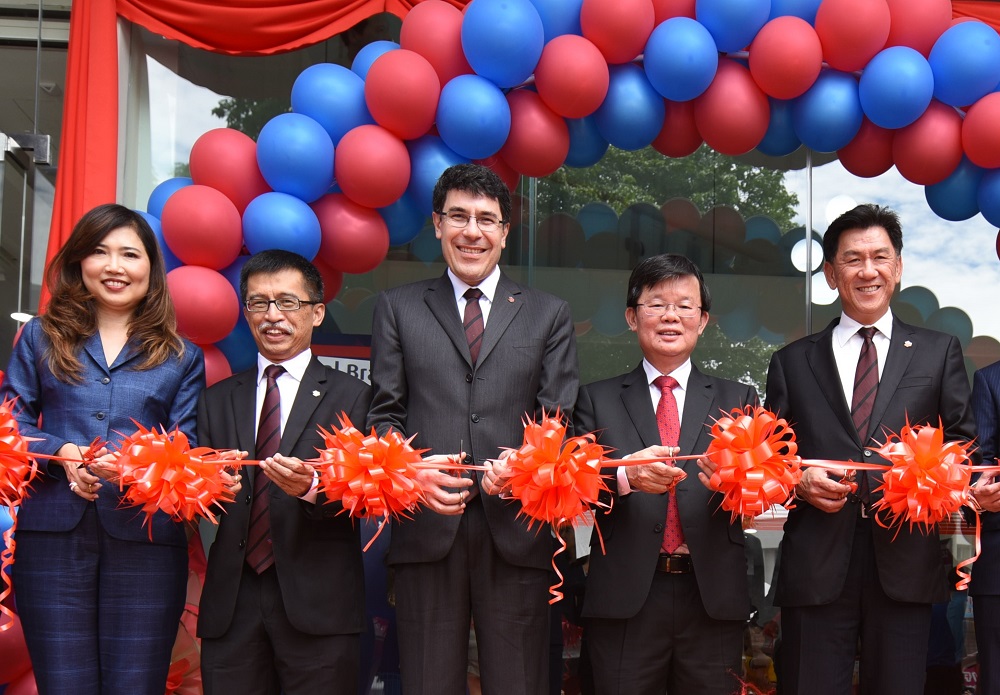 From Left to Right:
Sally Che, Senior Regional Head - Penang, Hong Leong Bank; Jasani Abdullah, Chief Executive Officer of Hong Leong Islamic Bank; Domenic Fuda, Group Managing Director & Chief Executive Officer, Hong Leong Bank; Y.A.B. Tuan Chow Kon Yeow, Chief Minister of Penang and Charles Sik, Managing Director of Personal Financial Services, Hong Leong Bank.
Hong Leong Bank Berhad ("HLB" or the Bank) officially opened its first Digital Branch in Penang at Burmah House, Pulau Tikus today, ushering a new era of banking experience for Penangites. This new digital branch covers both conventional and Islamic banking, as well as Priority Banking. On hand to officiate was YAB Tuan Chow Kon Yeow, Chief Minister of Penang and Domenic Fuda, Group Managing Director and Chief Executive Officer of HLB.
The introduction of the digital branch concept in Penang is in line with HLB's vision to be a highly digital and innovative financial service provider and its ethos of being digital-at-the-core, centered around customer experiences and the growing demand and expectation for digital based services, products and solutions.
According to Domenic Fuda, "Built on the backbone of digital technology, the branch is designed with a focus on doing everything with the customer in mind. The customer centricity can be seen from the way we will greet customers as they enter the branch to the way we will process and fulfill their requests and requirements, significantly improving the time we take to service them and as well as the experience that they will enjoy whilst at the branch".
Being the first digital branch in Penang, bank personnel are equipped with tablets to assist its customers to facilitate the requested service. Long gone are the days of manually filling in multiple forms and passing hard copies around. Another unique feature is that no longer are counters assigned by functions, replaced by pods where staff are able to help customers perform all transactions offered by the Bank. The entire process is designed to deliver an efficient and seamless experience aided by technology through enabled via the tablets.
Fuda highlighted that the role of bank personnel and branch banking will continue to evolve with the move to digital banking. "As we move forward, we plan to increasingly integrate the ease of doing banking online through internet and mobile with the same kind of digital offering in branches for more complex products and services. While everyday banking can be done simply online 24 X 7 days a week, employees in branches will augment these digital offerings with services around applying for a housing or car loan, have a conversation about investments or savings for the next big purchase or retirement. Business owners can sit down with a SME banker and have a conversation about working capital financing, expansion of production capacity or purchasing the premises from which they operate. All of that can be done from right here at Burmah House branch," he added.
Chief Minister of Penang, YAB Tuan Chow Kon Yeow applauded the Bank's innovation, stating, "The key goal for using technology is to make our lives easier and better. The Hong Leong Bank Burmah House digital branch is a great example of what digital technology can do when focuses on people. The Penang State Government commends the Bank's efforts to change the way banking is done and redirect its human resource to higher value roles. We are proud to witness the unveiling of the first digital bank in Penang and hope to see more of such branches being introduced."
HLB is stepping up its game on carving out a strategic role in an increasingly competitive space within the nation's digital economy that includes disruptors from FinTech. The Bank is exploring technologies such as Augmented Reality, Robotics, Blockchain, Application Programme Interfaces (API) as well as launching a Customer Experience Labs that will facilitate experiments and prototyping of innovation and new technologies in collaboration with customers and third party service providers. Doing its part for the community, the Bank is actively supporting the development of a new generation of start-ups from various industries and playing its role in the entrepreneurship development of the country through its highly successful Launchpad platform.
In conjunction with the launch of the new HLB Burmah House branch, an exclusive one-day deals on fixed deposit, credit cards and personal loans were open to all customers at its Open House event. There were also interesting digital-based activities and promotions made possible in partnership with Switch, one of the largest Apple stores in Malaysia and Garena, the largest online game ecosystem in South East Asia and Taiwan.
Group Corporate Affairs & Public Relations
Hong Leong Bank Berhad
DID: 03-2081 8888 ext 61916
Email: capr@hongleong.com.my
For enquiries, connect with us online or drop by your nearest Hong Leong Bank Branch.