IMPACTFUL PRESENCE FOR HONG LEONG BANK AT INVEST SELANGOR INTERNATIONAL EXPO 2018

Hong Leong Bank wooed participants and visitors with comprehensive SMEs solutions, including enabling WeChat Pay for the Expo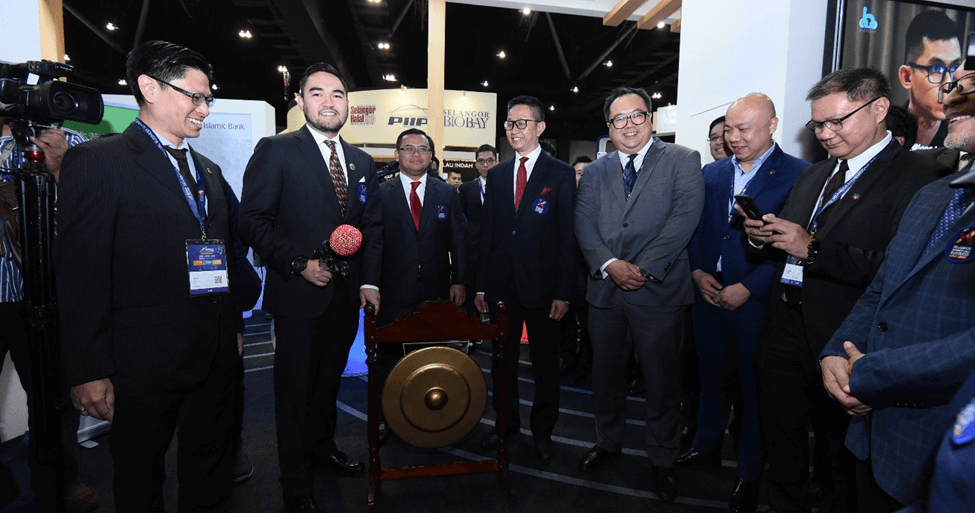 (Second from left) Duli Yang Teramat Mulia Tengku Amir Shah Ibni Sultan Sharafuddin Idris Shah, Raja Muda of Selangor;
(Third from left) Y. A. B. Tuan Amirudin bin Shari, Chief Minister of Selangor and (Forth from left) Y. B. Dato' Teng Chang Khim, Senior Executive Councillor, Selangor State Government officiating Hong Leong Bank's booth during the VVIP walkabout. Mr. Yow Kuan Tuck, Managing Director of Business & Corporate Banking (Fifth from left) of Hong Leong Bank representing the Bank during the VVIP walkabout.
Kuala Lumpur, 14 September 2018
Hong Leong Bank Berhad ('HLB' or 'the Bank') stood out amongst the participants at the recent Invest Selangor International Expo 2018 (Expo). The Bank's booth was abuzz with enquiries on its digital tools and solutions for business, including WeChat Pay MY, which was activated by the Bank for the Expo's participants and visitors, giving them an opportunity to transact using the highly popular mobile wallet as an alternative payment option.
WeChat Pay MY is a payment feature integrated into WeChat, the largest social communication platform in China developed by Tencent that allows users in Malaysia to conduct payment with smartphones through the WeChat Wallet feature. HLB is one of the first banks in Malaysia to be an approved local WeChat Pay Master Merchant Acquirer, enabling users to transact with WeChat Pay MY in Ringgit Malaysia and binding their Hong Leong Bank Debit Cards to WeChat Wallet.
Domenic Fuda, Group Managing Director and Chief Executive Officer of HLB said, "We are always looking at ways to empower business community as well as individuals by offering targeted solutions such as options to conduct daily payment transactions easily and seamlessly.
"As more merchants come on board the WeChat platform, the payments eco-system here in Malaysia will be strengthened especially as we cater to the various payment modes of international visitors and businesses, such as those who are attending the Expo. We see WeChat as part of a suite of digital business solutions that HLB can offer to our business customers to further diversify access to easy payment modes while strengthening their business offerings," said Fuda.
HLB was the official banking partner and sponsor of the Invest Selangor International Expo 2018. During the Expo, the Bank also featured a comprehensive array of digital business solutions for small-and-medium sized enterprises (SMEs). Among the solutions showcased were:
SMElite Financing which is a property-backed financing scheme that allows SMEs to secure loans for property purchases and working capital financing.
HLB Digital Business Solutions, an e-business solutions which allow the SMEs to conduct key back office administrative and marketing functions easily. The solutions comprise of:
· Biztory, an e-accounting and invoicing software solution,
· Kakitangan, an e-HR platform that manages human resource functions such as the payroll system and leave management,
· SimpleTax, an online Sales & Services Tax and Income Tax advisory tool,
· As well as Digital Advert, an industry pioneer service that offers affordable outdoor digital advertising package to an access of 3,500 digital screens in Malaysia.
The Invest Selangor International Expo 2018 was held in conjunction with the Selangor International Business Summit 2018 from 6 to 16 September at the Malaysia International Trade and Exhibition Centre (MITEC) in Kuala Lumpur.
Group Corporate Affairs & Public Relations
Hong Leong Bank Berhad
DID: 03-2081 8888 ext 61916
Email: capr@hongleong.com.my
For enquiries, connect with us online or drop by your nearest Hong Leong Bank Branch.