Hong Leong Bank Onboards Social Enterprise 'The Asli Co' to its CSR Platform 'HLB Jumpstart'
Hong Leong Bank Onboards Social Enterprise 'The Asli Co' to its CSR Platform 'HLB Jumpstart'
The Asli Co., the Bank's fourth social enterprise to be inducted on to its CSR platform HLB Jumpstart is focused on providing sustainable income for Orang Asli communities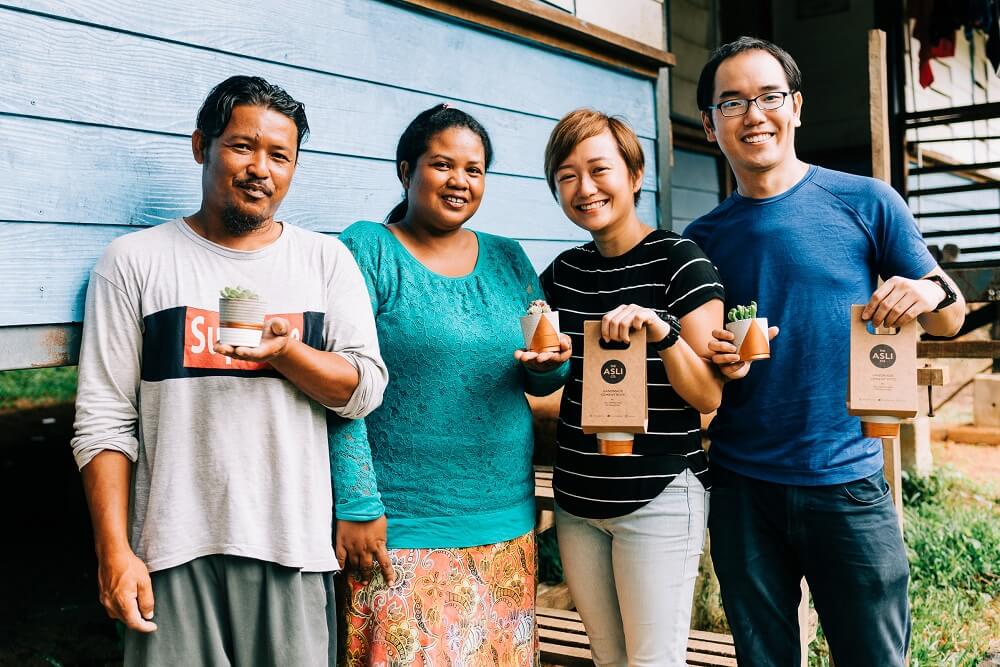 Kuala Lumpur, June 2020 – Hong Leong Bank ("HLB" or the "Bank") announces its collaboration with The Asli Co, a social enterprise focusing on providing sustainable income for Orang Asli mothers, under the Bank's CSR platform, 'HLB Jumpstart'. Through this platform, The Asli Co. will be receiving assistance and mentorship to help them strengthen their business, making it more profitable and scalable so that they are able to provide long-term positive impact to improve the livelihood of the Orang Asli community.
Founded by Jason Wee and Lim Xin Yu in April 2019, The Asli Co. is an impact driven social enterprise with a mission to improve the lives of Orang Asli in Malaysia by empowering the Orang Asli mothers to earn a sustainable living through making artisanal handicrafts and products from home, and in doing so, helps keep their children in school as part of their aspiration to break the poverty cycle of the community.
The indigenous mothers The Asli Co. works with come from two villages - Kampung Orang Asli Serendah and Kampung Orang Asli Sungai Buloh. Handmade items under their repertoire are cement potted plants in which the molds are made from recycled bubble tea cups, handmade soap bars made to look like local kuihs and hand sanitisers, all made with natural ingredients.
Since the COVID-19 outbreak accelerated in Malaysia, followed by the Movement Control Order ("MCO") and Conditional MCO, The Asli Co. has ramped up production of the hand sanitisers to meet the demand for these items. They are also looking to produce fabric face masks as a sustainable alternative to disposable face masks to help Malaysians curb the spread of the virus in a sustainable manner, as well as provide a steady stream of income to the Orang Asli mothers during these challenging times.
Domenic Fuda, Group Managing Director and Chief Executive Officer of HLB said, "We believe in working together with partners who want to create a vibrant and thriving community ecosystem and The Asli Co.'s partnership with marginalised communities fits the bill as they are providing them with income opportunities as well as new skills that may help them with their livelihood. This is even more important now as we battle a global health crisis, a time where these underserved communities are the most adversely affected economically and socially. We look forward to playing a prominent role in helping The Asli Co. grow and be sustainable, in addition to creating opportunities where we can collectively contribute and create a positive impact to these marginalised communities, which is in line with the Bank's core values of entrepreneurship, sustainability and social responsibility."
HLB Jumpstart, launched in September 2018, works closely with Malaysian social enterprises with the aim of helping them build sustainable businesses through five pillars: Financial Knowledge, Tools and Digitisation, Branding and Marketing, Commercialisation, and Volunteerism. Within a year of being established, HLB Jumpstart received recognition at the CSR Malaysia Awards 2019 for its strong support on the ecosystem local social enterprises.
Zalman Zainal, Chief Marketing and Communication Officer of Hong Leong Bank said, "The current pandemic has proven to be extremely challenging for businesses and even more so social enterprises who are trying to help others through their work. Onboarding The Asli Co. as our CSR partner under HLB Jumpstart now is very timely and we will be sharing our entrepreneurial expertise, provide best practices and relevant solutions to help them scale up and more importantly, help more Orang Asli mothers upskill to have more income opportunities. As a start, we will be helping them procure sewing machines so they can start production on the fabric face masks, build a more seamless payment gateway for their customers to make payments easily, mentorship with our SME banking team and expanding their social procurement plans. Apart from these, we are also planning to organise financial literacy sessions for the mothers so that they would have a better understanding on the importance of having the right financial planning for their future".
Jason Wee, Founder of The Asli Co. shared that he is eager to work with HLB as the Bank shares their vision on the importance of creating positive social impact for the betterment of society.
"Being part of HLB Jumpstart is a game changer for us as we are able to receive their mentorship in improving, scaling and sustaining our business through their business, digitisation and marketing expertise and, solutions. Poverty has long plagued Orang Asli communities and is the main reason for the high rate of children dropping out of school, which in turn creates a vicious cycle which doesn't end. We are hopeful that this working relationship with HLB will allow us to assist and positively impact more Orang Asli communities across the country and lift these marginalised families out of poverty with dignity."
Orang Asli mothers are paid upfront for their creations and earn between 14% to 20% of sales.
To ensure mothers earn a fair and viable income, Jason revealed that they pay up to four times the minimum hourly wage. Within the next 2 years, The Asli Co. aims to have a range of at least 20 handmade products to capture a wider audience and to provide income opportunities for more Orang Asli mothers. Items already in the pipeline include reusable face masks, surface disinfectants, hair removal wax, home décor and jewellery.
The Asli Co. is the fourth social enterprise to be part of the HLB Jumpstart platform. The three other social enterprises are SURI, an award winning denim upcycling social enterprise that works with single and underprivileged mothers by providing them financial opportunities and essential livings skills; Green Hero which focuses on eradicating food wastage in the country as well as Coffee for Good who aims to uplift B40 youth through an on-the-job barista training program.
Social Enterprises that are looking for support in sustaining their cause and business can write in to capr@hlbb.hongleong.com.my or visit https://www.hlb.com.my/en/personal-banking/about-us/csr.html
For enquiries, connect with us online or drop by your nearest Hong Leong Bank Branch.