Hong Leong Bank Priority Banking Sets The Right Pulse With Insightful Market Outlook Sessions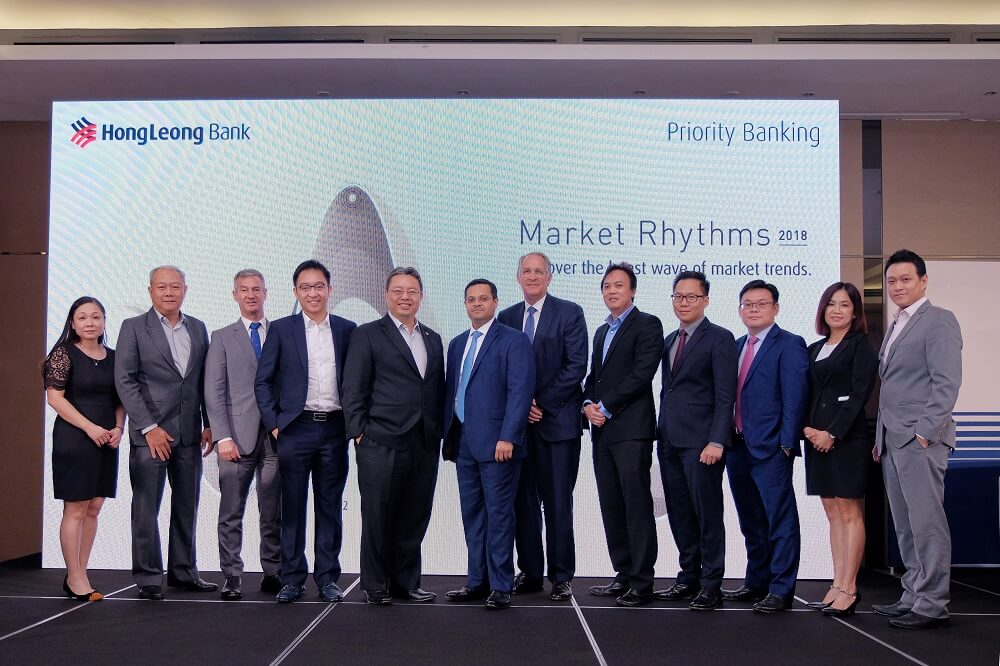 Kuala Lumpur, 15 August 2018

Hong Leong Bank ("HLB" or "the Bank") collaborated with ten established fund houses to organise 'Hong Leong Priority Banking Market Rhythms 2018 Forum' in Johor, Penang and Kuala Lumpur for its Priority Banking customers. Guest speakers from the fund houses shared insights on investment for market in US, Europe, Asia and Malaysia. The 3-day forum provided the Bank's Priority Banking customers first on-hand valuable investment information and outlook on global investments.
From Left to Right:
Ms. Ng Soe Fei (Head of Investment, Hong Leong Bank Berhad), Mr. Lye Thim Loong (Head of Investment, Hong Leong Asset Management Berhad),
Mr. Gerard Clancy (Head of Sales, Southeast Asia, Old Mutual Global Investors), Mr. Nicholas Soon (General Manager, Retail Wealth Management Services, Hong Leong Bank Berhad), Mr. Hor Kwok Wai (Managing Director, Global Markets, Hong Leong Bank Berhad),
Mr. Avinash Satwalekar (Country Head & Chief Executive Officer, Franklin Templeton Asset Management (Malaysia) Sdn. Bhd.),
Mr. Steven Moeller Managing Director, Head of APAC Multi-Asset Platform Strategy and Co-Head of APAC Client Portfolio Solutions, BlackRock),
Mr. Jeffrey Chong (Associate Director, CIMB-Principal Asset Management (S) Pte Ltd), Mr. Wong Hur-Ming Director & Head of Wholesale Distribution (South-East Asia) and Global Financial Institutions (Asia), Janus Henderson Investor), Mr. Tan Jee Toon (Chief Investment Officer, Asia Pacific Equities and RHB Asset Management Singapore), Ms. Lim Whye Ming (Head of Priority Banking Segment Marketing, Hong Leong Bank Berhad),
Mr. Jason Liew (Head of Priority Banking Distribution, Hong Leong Bank Berhad).
Group Corporate Affairs & Public Relations
Hong Leong Bank Berhad
DID: 03-2081 8888 ext 61916
Email: capr@hongleong.com.my
For enquiries, connect with us online or drop by your nearest Hong Leong Bank Branch.