Hong Leong Bank Recognised For Efforts In Championing SME Financing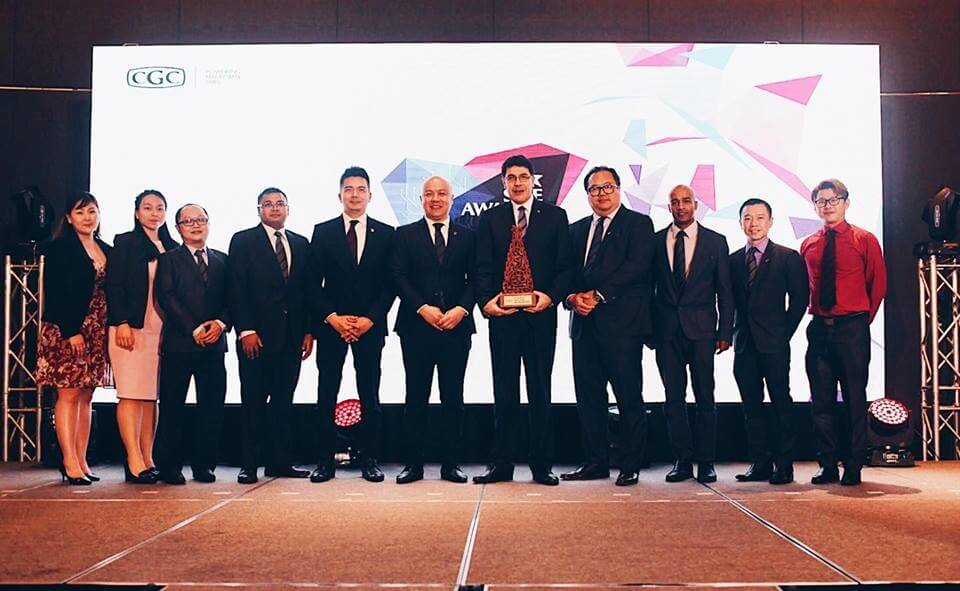 Domenic Fuda (5th from the right) flanked on the right by Yow Kuan Tuck (MD Business and Corporate Banking) and on the left Terrence Teoh (Head SME Banking), together with several members of the HLB team.

Kuala Lumpur, 12 April 2019

Hong Leong Bank Berhad ("HLB" or the "Bank") was recognized as Top Financial Institution Partner – Overall Category at the Credit Guarantee Corporation Malaysia Berhad ("CGC") SME Awards Ceremony 2019.
This achievement recognises HLB's active participation in CGC's financing schemes and underlines its continued commitment towards supporting the financing needs of local SME businesses.
Domenic Fuda, Group Managing Director and Chief Executive Officer of HLB said, "The recognition by CGC Malaysia, which comes hot on the heels of being awarded 'Best SME Bank in Malaysia' by The Asian Banker, is a clear endorsement for Hong Leong Bank as the preferred SME Bank in Malaysia."
As of 31 December 2018, HLB under its SME Banking initiative registered double-digit year-on-year loans growth of 25.4% and the Bank targets to continue the double-digit growth trend for 2019. HLB is working closely with government agencies, including CGC and is targeting to approve RM7.5 billion worth of loan funding to Malaysian SMEs this year.
"We are on the ground with SME owners, to listen and understand the diverse and different needs of SMEs, making us perceptive to their needs and able to bring real solutions. Our strong team of 150 Community Business Managers are able to provide holistic banking solutions by truly understanding SME businesses," emphasised Domenic.
HLB SME banking offers a one stop solution covering loans, cash management and digital solutions, an all-in-one POS merchant terminal, business auto loans, and bancassurance to SMEs. The Bank has developed a suit of innovative and comprehensive digital business and financing solutions that serve the needs of SMEs from cash management, advertising and promotions (A&P) solutions, as well as property financing and working capital.
In addition to HLB's own platform, HL ConnectFirst Lite, the Bank also collaborates with reputable, best-in-class partners, Biztory, Kakitangan, SimpleTax and WeChat to put together a holistic, total Digital Business Solution to empower the SMEs of today.
Through HLB's SME Elite loan package, SMEs can access up to 150% margin of financing, which comprises loan, overdraft, trade, bank guarantee and forex, a flexi-term loan financing of up to 25 years with competitive interest rates to ease SMEs' cashflow and plough back their profit to their daily business operations.
Group Corporate Affairs & Public Relations
Hong Leong Bank Berhad
DID: 03-2081 8888 ext 61916
Email: capr@hongleong.com.my
For enquiries, connect with us online or drop by your nearest Hong Leong Bank Branch.