HONG LEONG BANK SEES FINTECH PLAYING IMPORTANT ROLE FOR SME GROWTH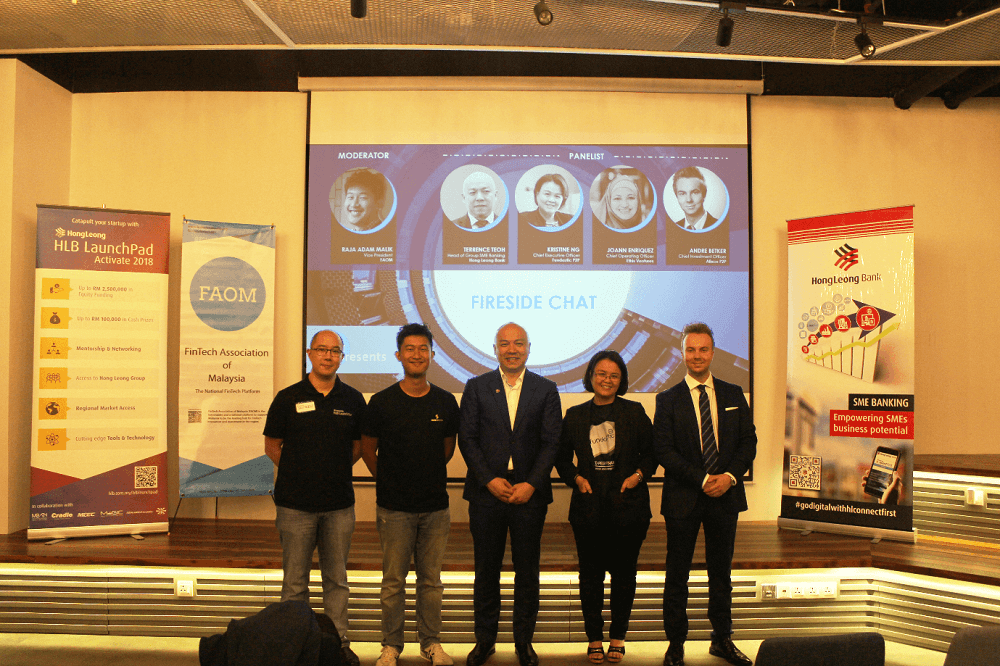 From Left: Loo Jian Sern, GM of HLB Customer Experience; Raja Adam Malik, Vice President of FAOM; Terrence Teoh,
Head of HLB Group SME Banking; Kristine Ng, CEO of Fundazlic; Andre Betker, CIO Alixco P2P
Kuala Lumpur, 13 September 2018
Hong Leong Bank (HLB or the Bank) sees the robust and fast growing financial technology (FinTech) landscape as an important co-facilitator with the banking industry to spur small-and-medium sized enterprises (SME).
HLB's LaunchPad, a start-up mentorship programme, together with HLB Group SME Banking partnered with the FinTech Association of Malaysia (FAOM) for the inaugural "FAOM Presents" event entitled "Internet Finance & Accessing Credit". The event was attended by over 100 participants, including representatives from the Securities Commission Malaysia, Bank Negara Malaysia, Malaysia Digital Economy Corporation, together with media as well as SMEs and entrepreneurs.
Terrence Teoh, Head of Group SME Banking, HLB who spoke on how the Bank, Fintech and Bigtech can win together through collaboration and to spur innovation to best serve SMEs and Consumers. For example, "Peer-to-peer (P2P) financing providers within the FinTech space are important enablers, together with conventional banking facilities to support financing at different stages of a company's growth. We see P2P financial providers complementing the banking institutions by reaching the underserved SMEs, especially those who do not meet the requirements of banking credit assessment, while conventional banks can take over that support when they grow in size and traction."
"It is imperative that banks collaborate with FinTechs which can add collective value towards helping grow this very important business segment in Malaysia, which made up 98 percent of businesses in the country. Ultimately, P2P lenders will complement banks where collaboration will allow both to enhance the service level to SMEs," Teoh added.
HLB has provided numerous platforms to support and develop SMEs and start-ups such as its HLB LaunchPad mentorship programme, which was developed to nurture tech savvy start-ups in reinventing the financial services industry. Through the first installation of HLB LaunchPad in 2017, five tech-related start-ups were mentored to new levels of success. Its 2017 winner, SalesCandy expanded its reach into three new countries after joining the programme, while Kakitangan.com was integrated as part of HLB's digital banking solution for its business banking customers.
The second iteration of this programme called HLB LaunchPad Activate 2018 is currently underway with applications from Malaysia as well as the ASEAN region. Shortlisted applicants will be announced at the end of September.
Group Corporate Affairs & Public Relations
Hong Leong Bank Berhad
DID: 03-2081 8888 ext 61916
Email: capr@hongleong.com.my
For enquiries, connect with us online or drop by your nearest Hong Leong Bank Branch.