Hong Leong Bank Starts New Financial Year with Annual Digital Day Celebration for its Customers
Hong Leong Bank Starts New Financial Year with Annual Digital Day Celebration for its Customers
Along with exciting Bank promotions to help customers reboot their 2020, the Bank strengthens its commitment to deliver digital banking solutions, products and services around customers' needs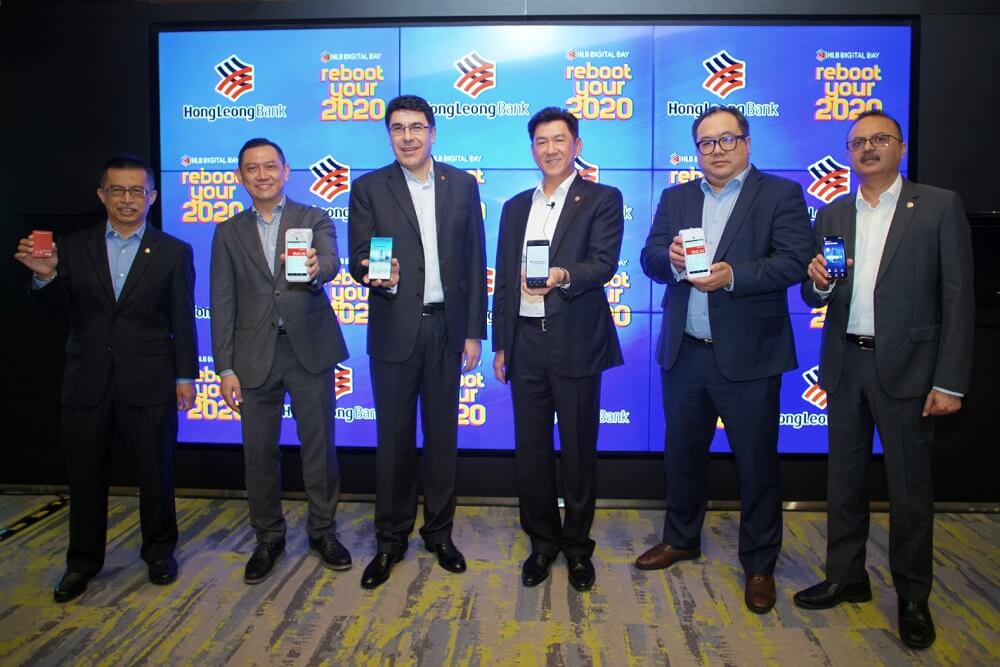 Photo Caption (Left to Right):
Jasani Abdullah – CEO of Hong Leong Islamic Bank; Zalman Zainal – Chief Marketing & Communication Officer, HLB; Domenic Fuda – Group Managing Director & Chief Executive Officer, HLB; Charles Sik – Managing Director, Personal Financial Services, HLB; Yow Kuan Tuck – Managing Director, Business & Corporate Banking, HLB and Shailesh Grover – Chief Digital & Innovation Officer, HLB.
Kuala Lumpur, 6 July – The COVID-19 pandemic which resulted in various stages of the Movement Control Order ("MCO") in an effort to curb the spread of the virus has been a hard-hitting reality for all Malaysians. In a short span of time it has fundamentally changed the way we live resulting in mass digital adoption as we rapidly shifted to a digital and contactless way of life – from buying food and essentials to working via video-calls. As we progress through the recovery phase, Hong Leong Bank ("HLB" or the "Bank") with its annual Digital Day campaign, is kickstarting its new financial year with its 4th annual HLB Digital Day, themed "Reboot Your 2020", encouraging and rewarding more customers to continue to embrace the digital lifestyle.
Domenic Fuda, Group Managing Director and Chief Executive Officer of HLB said that the MCO period has provided individuals and businesses with a live test-case on how digital platforms, including digital banking and payments, could help them continue to live life and run their business uninterrupted. This greater digital adoption and digital transformation of the economy will increase the importance of all Malaysians being more agile, adaptive and digitally minded.
"As we settle into the 'new normal', everything we touch and do now will involve a digital element. The need to be digitally-savvy and competent is no longer a choice, but a necessity. In fact, a study done just before the pandemic showed that 69% of Malaysian respondents were planning to use cashless payment methods[1] more often. The pandemic would only have hastened the digital shift and cashless adaptation," said Fuda.
From May 2019 to May 2020, HLB has seen another significant year-on-year ("y-o-y") increase in downloads and usage of our digital banking platforms. As of May 2020, almost 80% of HLB customers are regularly using HLB Connect, the Bank's mobile banking app, an increase of over a quarter over the past year alone. Interesting enough, customers aged above 50 recording the biggest year-over-year increase at 42%. Mobile banking transactions recording an impressive spike across the board with an 80% increase in total transaction amount and a 75% increase in the number of transactions conducted.
But it is the big leap in cashless adoption during MCO that showed how fast the Bank's customers adjusted to this new normal, and this was also driven by more vendors and merchants offering cashless payment options. For instance, the Bank saw a 13-fold increase in the total amount/transactional value of e-wallet top-ups over a period of 2-months March-May 2020, compared to the same period last year.
"This Digital Day, now in its fourth year, further underlines our commitment to be a highly competitive digital financial institution. We continue to invest in building customer-focused digital solutions across all customer segments that will further facilitate frictionless banking, 24X7, without the need to having to visit a branch or fill in paper forms. This year's annual Digital Day campaign is aptly titled "Reboot Your 2020" as we confidently move forward and leave behind the challenges posed by the COVID-19 pandemic during the second quarter of 2020," said Fuda.
Throughout the coming year, customers can look forward to more digital "reboots" and enhancements across all banking segments not just retail, including Business and Corporate Banking, SME and Islamic banking. The new digital solutions that will be rolled out will greatly ease the transition and adoption of a digital lifestyle. Some of these include low-cost contactless payment solutions, mobile banking upgrades for business customers, digital investments, eKYC account opening, as well as, expanding on existing offerings to create more convenient, customer focused products and services.
Charles Sik, Managing Director of Personal Financial Services shared that many of the Bank's customers are eager to get back into social routines again under the new normal of eased restrictions.
"In the past three months, we have been riddled with uncertainties especially on the impact COVID-19 would have on employment and income, which led us to tighten our belts on spending. Now that we are entering a recovery mode, our customers have indicated that spending time with friends and family by dining out, doing outdoor activities and travelling locally as the three main social activities they are ready to pursue immediately within the next six months. Hence, we have centered this year's HLB Digital Day with a line-up of exciting deals and promotions for the entire month of July around dining, shopping and travel, on top of banking, to enable our customers to reboot their 2020 and lifestyles," said Sik
"Knowing that we have entered a new normal where digital and contactless payments have become an essential part of everyday life, we have also expanded our partnerships with relevant market players to cater to our customers lifestyle aspirations for the rest of the year. These include e-commerce players such as Lazada, Shopee, Zalora and Hermo, as well as hotel deals for those looking to travel domestically," he added.
On 7 July, HLB's official Digital Day, there will be seven 1-day only mega deals:
HLB credit cardholders can enjoy up to RM700 in cashback, whereas new credit cardholders can get a 50% off on retail spend
Cardholders can also enjoy a Flexi-Payment Plan (FPP) of 0% interest rate p.a.
Get personal loans from a 3.20% interest rate p.a. with POT rebate via HLB Connect
e-Fixed Deposit rates at 2.80% p.a. for 3 months
Term investment-I rates at 2.95% p.a. for 3 months
Call-for-Cash from 1% p.a. over three months or 3% p.a. over 18 months
SMEs also enjoy a 2-month free subscription to the Bank's SME Digital Business Solutions and 60% off Kakitangan subscription
Additionally, there will be on-going deals for the whole month of July 2020 with discounts and freebies from merchant partners including 99Speedmart, PUMA, Amazin Graze and many more when you shop online with HLB. Similarly, customers can enjoy higher cashback and rewards as well as attractive interest rates for loans and financing, term investments, fixed deposits, CASA accounts and more, throughout the month. Customers should also save-the -date on 20 July as there will be an additional 1-day only Mega Sale with over RM1 million in cashback and discounts up for grabs.
For more information on HLB Digital Day 2020 and how you can "Reboot Your 2020", please visit https://www.hlb.com.my/digitalday
For enquiries, connect with us online or drop by your nearest Hong Leong Bank Branch.