Hong Leong Priority Banking Customer Wins A Mercedes Coupe C200
Kuala Lumpur, 23 March 2018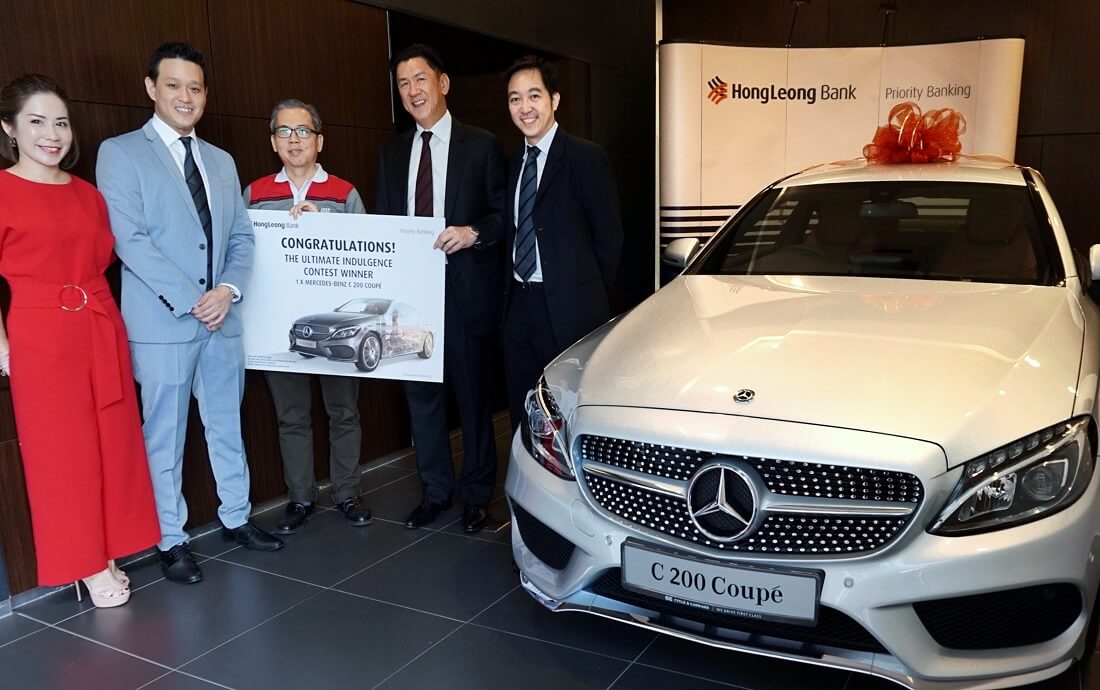 Photo Caption:
From left to right:
Ms. Rachel Poon, Area Manager of Priority Banking, PFS HLB; Mr. Jason Liew, Head of Priority Banking Distribution, PFS HLB; Mr. See, the winner; Mr. Charles Sik, Managing Director of PFS HLB and Mr. Nicholas Soon, General Manager of Retail Wealth Management Services, PFS HLB.
Hong Leong Bank ("HLB" or "The Bank") Priority Banking had recently announced the grand prize winner of 'Win a Mercedes Coupé Contest ("the Contest") at Cycle & Carriage Cheras, Kuala Lumpur.
Speaking at the prize giving ceremony, Charles Sik the Managing Director of Personal Financial Services HLB said "We are very happy to reward our customers and I am indeed honoured to present this luxury gift to our grand prize winner."
The grand prize winner, Mr. See is from Penang and has been a supportive Hong Leong Priority Banking customer.
"I am very happy to win the Mercedes Benz C200 Coupe worth RM300,000. It is truly a great banking experience with Hong Leong Priority Banking, and the fact that it coincided with Chinese New Year just makes it that much better," said Mr. See.
The contest ran from July to December 2017. Hong Leong Priority Banking customers took part through two simple steps, being by signing-up and choosing their preferred investment or savings products and services. Multiple entries were allowed.
Participating products and services include deposits, credit card, mortgage, hire purchase, bancassurance, investments, signing up as a new Priority Banking member, signing up as a new Hong Leong Connect user and registering as a user for HLB's e-account statement.
Group Corporate Affairs & Public Relations
Hong Leong Bank Berhad
DID: 03-2081 8888 ext 61916
Email: capr@hongleong.com.my
For enquiries, connect with us online or drop by your nearest Hong Leong Bank Branch.