Cards | 20 May 2022-31 July 2022
Get your new laptop or monitor from Dell and enjoy discounts when you spend with your HLB Cards!

---


Key in the promo codes below at checkout to enjoy additional 5% OFF selected Dell
products prevailing online price during the promotion period.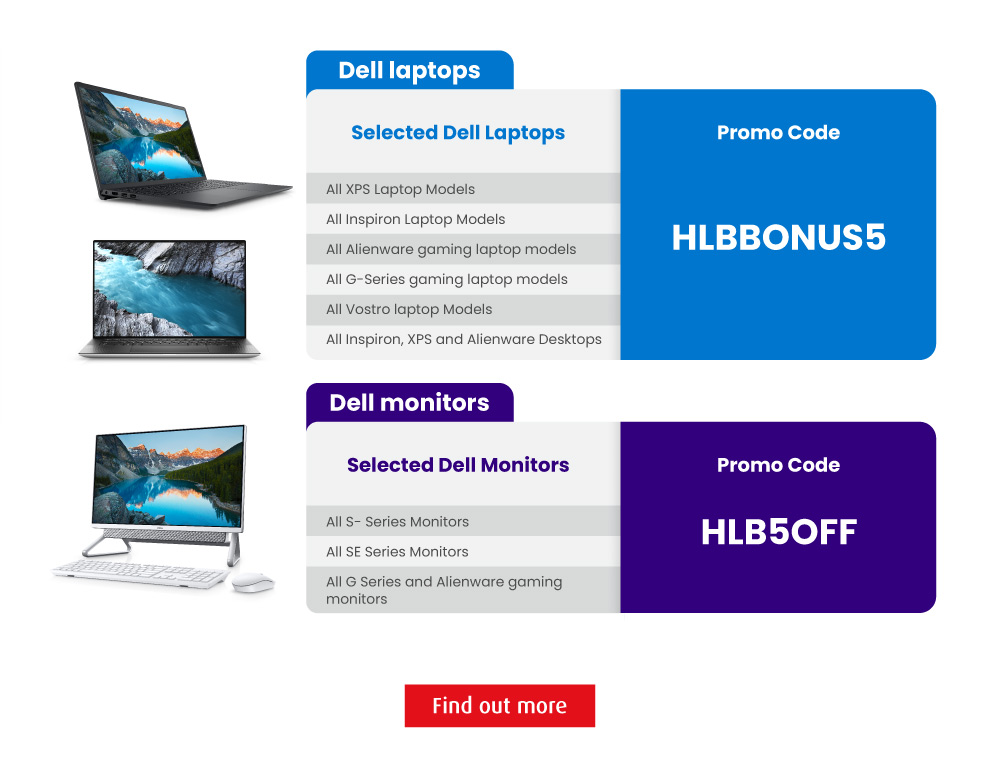 Terms and conditions: Payment must be made with Hong Leong Bank ("HLB") Credit or Debit Card issued in Malaysia. Campaign period is from 20 May 2022 – 31 July 2022. Offer is only valid for the selected products listed on Dell Malaysia's website (https://www.dell.com.my). The selected Dell laptop or monitor and respective promo code as listed above must be inserted upon checkout in order to enjoy the offer. Offer cannot be exchanged for cash, cheque, or in kind and is not transferrable to any third party. Offers cannot be used in conjunction with any other discounts, privileges and promotions unless otherwise stated. Offer is subject to stock availability, on a first come, first served basis. Dell's terms and conditions apply at https://www.dell.com/learn/my/en/mycorp1/terms. Dell and HLB reserve the right to change these terms and conditions at any time by publishing the updated terms and conditions on HLB's website. HLB is not affiliated with the merchant(s) and makes no representation or warranty with respect to the quality and suitability of products and services offered. Any changes, claims, loss and damages resulting from these offers are to be referred to Dell by the cardholders. In the event of any discrepancies between these T&Cs as compared to the advertising, promotional, publicity and other materials relating to or in connection with this Campaign and/or Promotion, the final T&Cs advocated by Dell shall prevail. All pictures shown are for illustration purposes only.

For enquiries, connect with us online or drop by your nearest Hong Leong Bank Branch.