HL ConnectFirst | 05 May 2021-31 December 2021
RinggitPay X HLBB X EasyStore
---

Hong Leong Bank is collaborating with EasyStore and RinggitPay to promote online business in Malaysia.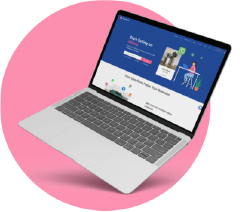 Build your online store with EasyStore, without any prior website design knowledge and technical support. Accept and collect payments online through multiple payment methods including online banking, Visa/Master cards at low transaction costs in Malaysia using RinggitPay's safe and secured Payment Gateway.
For HLBB & RinggitPay account holders only!

Get 50% OFF on all EasyStore annual plans + 100% OFF on RinggitPay Subscription Charges at Exclusive promotional transaction charges

*Offer is applicable for HLBB business current/-i account holders and valid from December 31, 2021.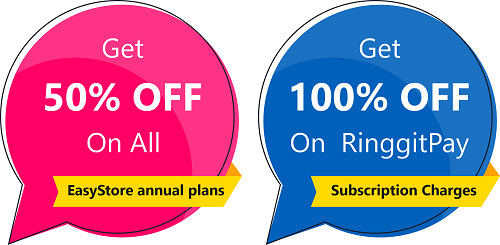 Accelerate your online business and secure transactions with RinggitPay
Payments are the most crucial part of an online business. Secure and enhance customer checkout experiences with PCI DSS compliant RinggitPay Payment Gateway. Now collect and transact online payments via Online Banking (FPX), Visa/Mastercard at low operating costs in Malaysia with RinggitPay at zero set-up fees.
Why RinggitPay for your online business?


Reliable Payment Gateway in Malaysia
Trusted partner for banks and businesses in Malaysia for more than a decade.


Quick onboarding
A complete fast and hassle-free online onboarding with minimum documentation allowing you to accept payment across different channels at ease.


Zero Set-Up Fees
Build a full-functioning online store at no setup fees, monthly or annually


Multiple Payment methods
Enable multiple payment options – Online Banking/FPX, Visa/Mastercard to offer your customers their preferred payment method to conduct online transactions.


Instant Settlements
Get instant payment settlements from anywhere and at any time to your bank account. Transaction funds are credited to your account in real-time for online banking/FPX, and within 3 business days for cards.


Dedicated Support system
Work with dedicated service level integration and customer support team to interact with you, configure and resolve troubleshoots.

Robust risk prevention system
Ensure safe payment transactions with our 100% secured ecosystem guarded with PCI DSS compliance.


Lowest transaction costs
Maximize revenue by accepting and collecting payments at low transaction costs in Malaysia.

Exclusive RinggitPay Pricing for HLBB account holders
Zero Set-Up Fees
100% OFF on RinggitPay Monthly Subscription fees

Transaction Fees
Online Banking (FPX): RM 1.10 per transaction
Visa/Mastercard: Credit Card: 1.8% per transaction (min RM0.50)
Debit Card: 1.3% per transaction (min RM0.50)

Register to avail monthly fee waiver on RinggitPay Subscriptions and secure online transactions.

Build your own online business store without having any technical knowledge with EasyStore

Customize your website with over 40+ "pre-designed" themes

Get access to over 100+ apps and logistic integrations for your business needs

Sell online on multiple sales channels

EasyStore's All-in-One Solution to Sell on Multiple Sales Channels


Sales Channels
Sell your products on multiple sales channels including Social Media, Google Shopping, Lazada, Shopee, and others.


Marketing
Run promotions, offer discounts, coupons and boost sales conversion with effective marketing tools.


Order Processing
Get instant order placement notifications, track order status and inform your buyers about order shipment, cancellation, refund and other details seamlessly.

Product Management
Group relevant products together, display and edit product price, size, description and get instant alerts on low stocks in your email.


Customer Relations
Turn visitors into loyal customers. Know where and what your customers are looking for and give them the best support and shopping assistance.


Business Analytics
Monitor and improve business performance by analyzing the sales channel performance, reports, and analytics.


3 Steps to start your online business

Open an HLBB Current account/i

Sign Up to RinggitPay Payment Gateway
Build your online store at EasyStore
Terms & Conditions apply:
Offer is valid until 31st December 2021
This promotion is only valid for signup via Hong Leong Bank Berhad
This promotion is only applicable for new signups
RinggitPay reserves the right to modify or discontinue the promotion (or any part or content thereof) by issuing the consumers one month notice in advance
RinggitPay reserves the rights to cancel any services deemed as fraudulent or a misuse of promotion