Priority | 05 July 2019-31 October 2019
Diversify your wealth with selected investments and deposit products
---
Investment and Deposit Promotion

Enjoy a promotional 2-Month Fixed Deposit (FD) rate bundled with Top Yield Account of 8.28% p.a. when you invest in selected investment products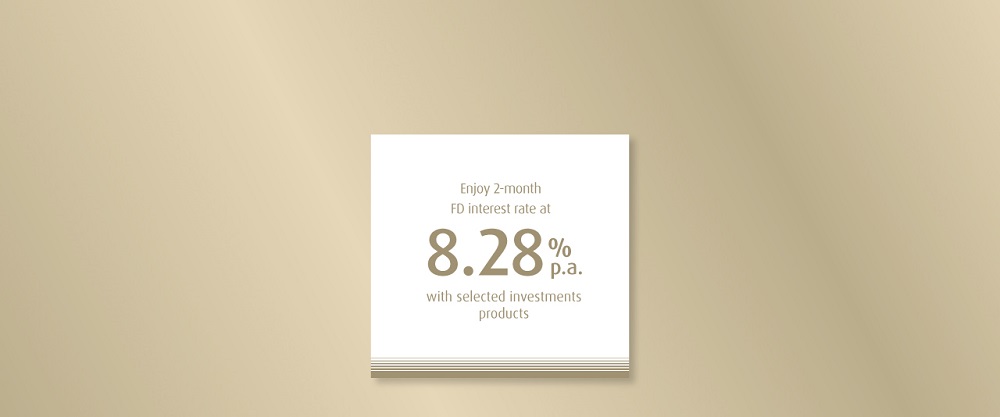 Diversify your portfolio in selected Unit Trust (UT) ,
Floating Rate Negotiable Instruments of Deposit (FRNID) and Deposit products.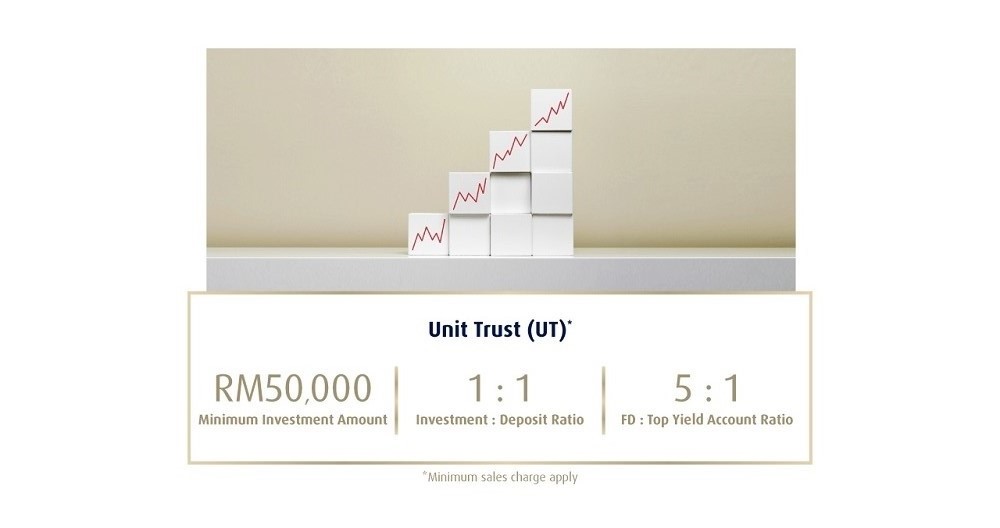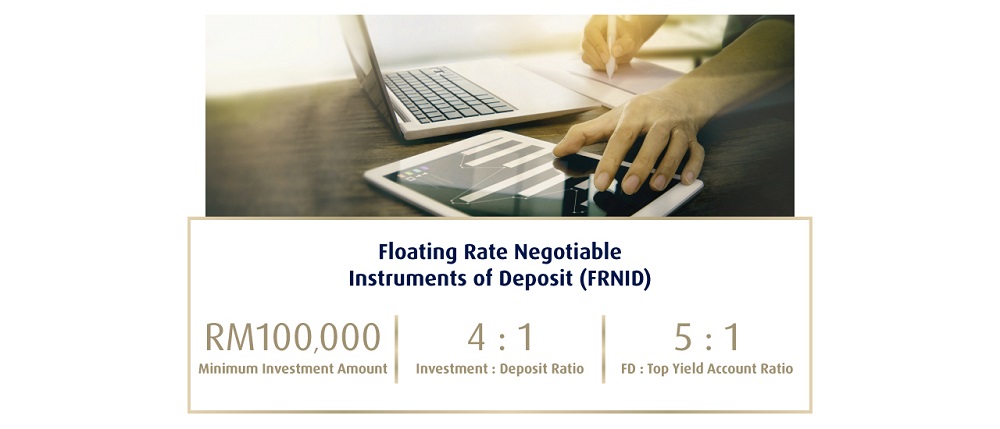 For more information, please click on "I'm interested" and complete the form and
our Priority Banking team will get in touch with you within two business days.
Terms and conditions apply.
Member of PIDM. Deposit accounts are protected by PIDM up to RM 250,000 for each depositor
UT and FRNID accounts are not protected by PIDM.
Unit Trust Disclaimer: This document is not intended to be an invitation or offer for subscription of unit trusts nor does it amount to a solicitation by HLB for subscription of unit trusts by anyone. Investors are advised to read and understand the contents of the prospectus which has been registered with the Securities Commission Malaysia, who takes no responsibility of its contents, before investing. A copy of the prospectus can be obtained from any of HLB branches or Fund Manager's offices. Any issue of units to which the prospectus relates will only be made on receipt of an application form referred to and accompanying a copy of the prospectus. Investors should note that there are fees and charges involved in the purchase of unit trusts. Investors are advised to consider the fees and charges involved before investing and consult their license financial or other professional advisor, if in doubt about any feature or nature of the fund. Please note that the price of units and distributions payable, if any, may go down or up. Past performance of a fund is not indicative of its future performance. The returns on unit trust investments are not guaranteed and unit trusts do not constitute bank deposits or obligation of the Bank nor are they guaranteed or insured by HLB and are subject to investment risks, including the possible loss of the principal amount invested. Unit trust schemes and units in such schemes are not protected by Perbadanan Insurans Deposit Malaysia ("PIDM"), and any money withdrawn from an insured deposit for the purpose of purchasing any units in a unit trust scheme is not protected by PIDM.
WARNING STATEMENT/IMPORTANT NOTICE PERTAINING TO FRNID:
THIS PRODUCT IS PRINCIPAL GUARANTEE BY THE ISSUING BANK UPON MATURITY ONLY. IF THE PRODUCT IS REDEEMED OR SOLD PRIOR TO MATURITY, THE CUSTOMER MAY LOSE PART OF THE INITIAL DEPOSIT AMOUNT. THE RETURNS ON THIS PRODUCT ARE UNCERTAIN AND THE CUSTOMER RISKS EARNING NO RETURNS AT ALL. THE CUSTOMER IS REMINDED THAT THIS PRODUCT IS NOT PROTECTED BY PERBADANAN INSURANS DEPOSIT MALAYSIA.
For enquiries connect with us online or drop by your nearest Hong Leong Bank Branch.