Priority | 02 July 2018-30 September 2018
Travel the world of Indulgence, Exclusively for Priority Banking
---
Enjoy luxury vacations or fine dining experiences with your accumulated Wealth Points and be rewarded with 2-month Fixed Deposit (FD) at 8.88%p.a. when you invest in selected Floating Rate Negotiable Instruments of Deposit (FRNID) investments!


Indulgence Rewards
We have more options available for you now! You can choose to convert your accumulate Wealth Points (WP) to Hong Leong ("HLCC") Rewards Point, or redeem exclusive dining or travel experiences as below: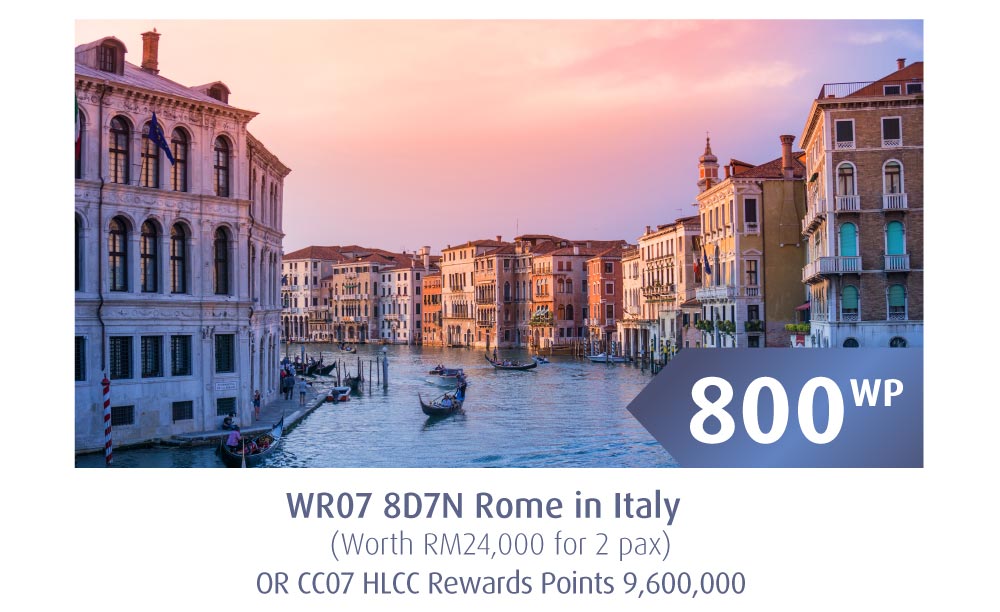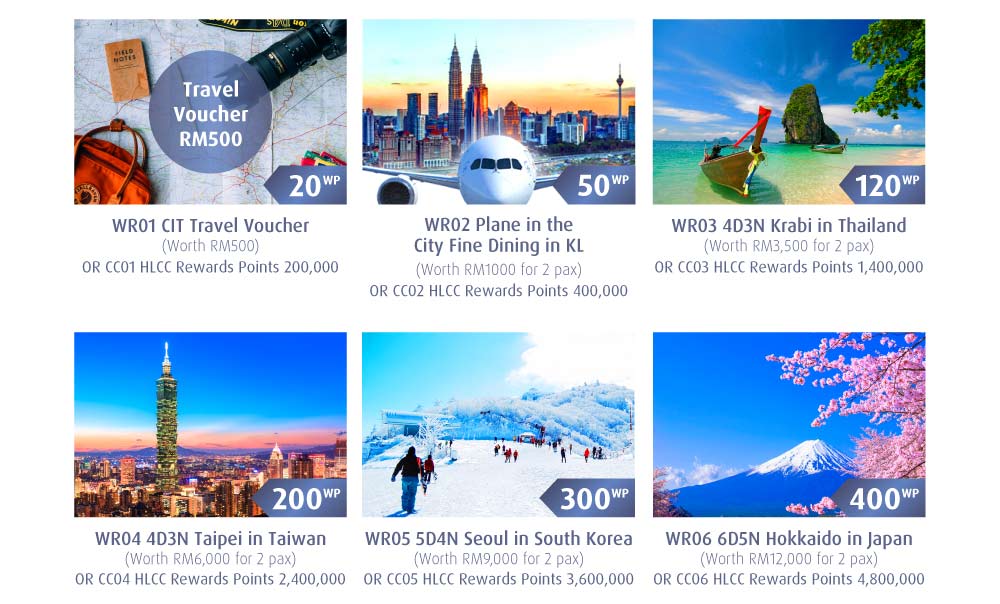 How to collect Wealth Points?
The more you invest in FRNID, the better your rewards!
| Product Type | Minimum Investment Amount | Conversion Criteria | Wealth Point(s) |
| --- | --- | --- | --- |
| FRNID | RM100,000 | For every RM10,000 | 1 |
| Bonus Categories | Wealth Point(s) |
| --- | --- |
| New Private Banking/Priority Banking membership1 | 5 |
| New Investment Account for FRNID2 | 5 |
1New Private Banking (PV) and/or Priority Banking (PB) membership refers to existing non PV/PB customers upgrading to PB and/or new customers joining PB Membership during the Promotion Period. For the avoidance of doubt, existing PV customers downgraded to PB during promotion period will not receive Wealth Points under Bonus Categories.
²NIA for FRNID can only recognize at once and capped at 5 Wealth Points.


Enjoy exclusive FD rates
Maximise your investments with 2-month FD at 8.88%p.a. when you invest in selected FRNID!
| | |
| --- | --- |
| Customer Type | Private Banking & Priority Banking |
| Minimum FRNID Amount | RM100,000 |
| Maximum FD Amount | Up to half of FRNID amount and not more than RM5,000,000. |
| FRNID-FD Ratio | 2:1 |
| Promotion FD Rate and Tenure | 2-month FD at 8.88% p.a. |

For more information, please contact your Relationship Manager or call Priority Banking local toll-free line at 1800-18-9000.

Deposit Accounts are eligible for protection by PIDM.
FRNID Account is NOT eligible for protection by PIDM.

Terms and conditions apply.
Indulgence Rewards are on a first-come, first-served basis, subject to availability. Pictures are for illustration purposes only.
WARNING STATEMENT/ IMPORTANT NOTICE PERTAINING TO FRNID:
WARNING:
THIS PRODUCT IS PRINCIPAL GUARANTEED BY THE ISSUING BANK UPON MATURITY ONLY. IF THE PRODUCT IS REDEEMED OR SOLD PRIOR TO MATURITY, THE CUSTOMER MAY LOSE PART OF THE INITIAL DEPOSIT AMOUNT. THE RETURNS ON THIS PRODUCT ARE UNCERTAIN AND THE CUSTOMER RISKS EARNING NO RETURNS AT ALL. THE CUSTOMER IS REMINDED THAT THIS PRODUCT IS NOT INSURED BY PERBADANAN INSURANS DEPOSIT MALAYSIA.
For enquiries, connect with us online or drop by your nearest Hong Leong Bank Branch.