Debit Card | 01 October 2017-31 December 2017
Stand to win Subaru Forester 2.0i and fabulous prizes when you spend a minimum of RM30 in a single receipt at any The Store, Pacific & Milimewa stores nationwide.*
---
Deposits
Debit Cards
Credit Cards
Loans
Remittance
Investment
Insurance
Samsung Pay
HL Connect
Promotions
Content
---
No Result
Filter by Banking Category:
Filter by Type:
---
We have found 0 items that match what you searched for.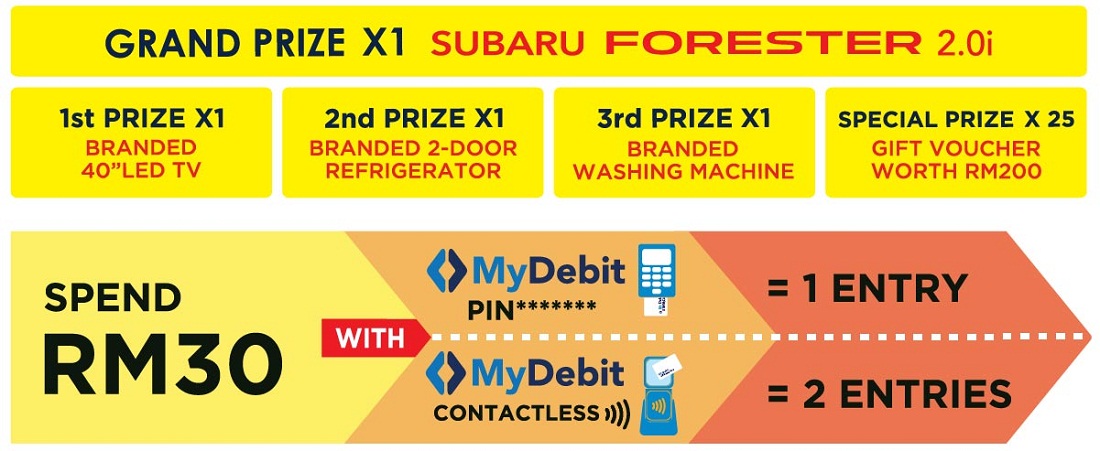 *Terms & Conditions Apply. Contest starts from 1 October 2017 – 31 December 2017. Payment must be made using Hong Leong Debit Cards issued in Malaysia at any of the The Store, Pacific and Milimewa stores in Malaysia ("Merchant's Stores"). For every purchase of RM30 and above in a single receipt in any of the Merchant's Stores in Malaysia by using Hong Leong Debit Cards ("Purchase"), Hong Leong Debit Cardholders will be eligible for one (1) entry in this Contest for every Purchase or two (2) entries for every Purchase made through contactless transaction. Pictures shown are for illustration purposes only. Merchant's terms and conditions are applicable and they are available at www.tstore.com.my ("Merchant's Terms and Conditions"). The Merchant reserves the right to change the Merchant's Terms and Conditions at anytime. Hong Leong Bank makes no representation or warranty for product and services offered by the Merchant and shall not be liable or responsible for any changes, claims, loss or damages resulting from this Contest.
For enquiries connect with us online or drop by your nearest Hong Leong Bank Branch.