Compound interest can be your best friend or worst enemy.
Compound interest can be a double-edged sword, good vs evil, sweet dreams vs terrifying nightmares, BFF's vs arch enemies, you get the picture right? Simply put, compound interest is the adding of interest to the interest earned on the principal amount, or rather it is interest on interest.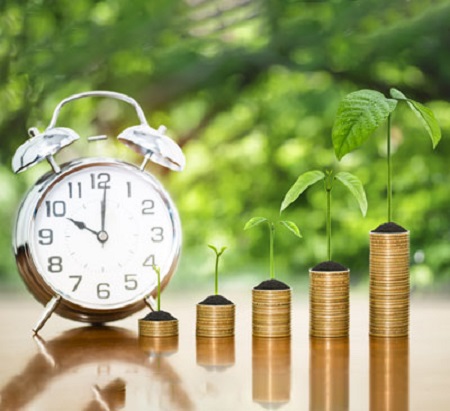 Before we get to the good part, let's take a look at the unpleasant side of compound interest. Compound interest can become your worst nightmare.
Here's the scenario: When you borrow money, for example a home loan or auto loan, you pay interest to the lender until you finish repaying the amount. In the instance that you fall behind in your payment or are unable to pay more than the monthly interest charge, your bill will increase every month (remember interest on interest?).
This happens most commonly with credit card debt. Once you have credit card debt that you don't pay off each month, the unpleasant side of compound interest starts to work against you.
If you find yourself in a situation where compounding interest is working against you instead of for you, perhaps it's time for you to consider ways to consolidate your debt and reduce rates. If you have outstanding balances on multiple credit cards, you can opt for a balance transfer, which consolidates the balances of your selected cards into one to enjoy better/lower interest rates on them. If push comes to shove, you may need to take up a personal loan to pay off your debts.

On The Flip Side of Things...
Compound interest has the potential to work wonders for you. Take a look at this example to see how compound interest can be your BFF!
Joe has RM10,000 cash. He puts it in a Fixed Deposit account with an interest rate of 4% for a year. He leaves the money untouched for 2 years.
>> Year 1 – RM10,000 + 4% = RM10,400. (Principal: RM10,000 + Interest Earned: RM400)
>> Year 2 - RM10,400 x 4% = RM10,816
In the second year, Joe is earning interest on the interest earned the year before. If Joe leaves the money untouched for 10 years, he would have accumulated RM14,802 - a 48% increase from his initial deposit of RM10,000!
And that is the power of compound interest! Looking at the above explanation, you should already begin to see and understand the positive impact of compound interest.
The key here is time. The earlier you start, the bigger it grows. Now that you understand the power of compound interest, try to get on the good side and stick with it for the long haul!
---
Disclaimer: This content is for informational purposes and uses only. It does not constitute and is not intended as financial or investment advice. You are encouraged to consult with competent accounting, financial or investment professionals based on your specific circumstances and needs before making any financial or investment decisions. We do not make any warranties as to accuracy or completeness of this information, do not endorse any third-party companies, products, or services described here, and take no liability for your use of this information. Figures and pictures, where used, are for illustration and explanation purposes only.

You May Also Be Interested In
For enquiries, connect with us online or drop by your nearest Hong Leong Bank Branch.