Hong Leong Bank Cambodia Inks MOU with SME Association of Malaysia to help accelerate SME growth in Cambodia
HONG LEONG BANK CAMBODIA INKS MOU WITH SME ASSOCIATION OF MALAYSIA TO HELP ACCELERATE SME GROWTH IN CAMBODIA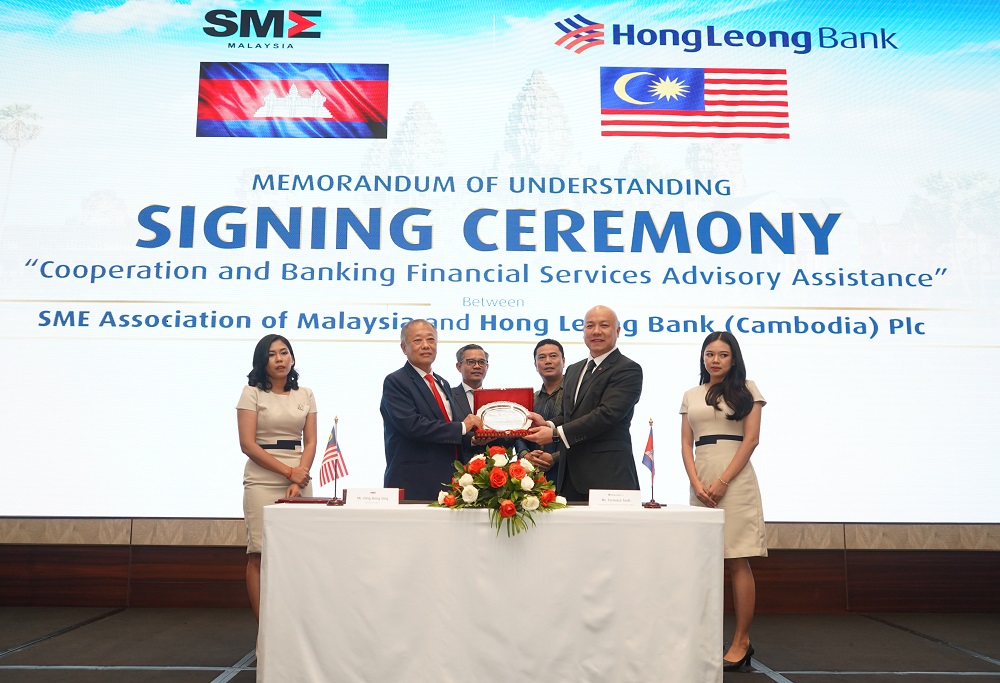 Gentlemen from left to right: Mr. Ding Hong Sing, National Vice President of SME Association of Malaysia; H.E. Cheuy Vichet, Cambodian Ambassador to Malaysia; H.E. Eldeen Husaini, Malaysian Ambassador to Cambodia; Mr. Terrence Teoh, MD and CEO of Hong Leong Bank Cambodia
Phnom Penh, Cambodia, 29 April 2022 - Hong Leong Bank (Cambodia) Plc ('HLBCAM' or the 'Bank') signed a memorandum of understanding (MoU) with the SME Association of Malaysia to establish a collaboration to jointly share knowledge and expertise, as well as provide advisory and business matching opportunities aimed at supporting the growth of small and medium enterprises (SME) in Cambodia. The MoU also aims to facilitate business and investment potentials between Cambodian and Malaysian SMEs.
The MoU was signed by Terrence Teoh, Managing Director and Chief Executive Officer of HLBCAM and Ding Hong Sing, National President of SME Association of Malaysia, witnessed by H.E. Eldeen Husaini, Malaysia Ambassador to Cambodia and H.E. Cheuy Vichet, Cambodia Ambassador to Malaysia.
As a Bank that recognises the vital role of SMEs in Cambodia's economic growth, Teoh reaffirmed HLBCAM's commitment to supporting SMEs to strengthen their business resiliency during the next phase of the pandemic recovery and help them to rebuild stronger and more sustainably through various trade and investment opportunities. SMEs in Cambodia account for 98% of businesses, contributing 73% to employment and 58% to gross domestic product (GDP).
"With SMEs as a key contributor to Cambodia's economic growth, we share the same goal as Cambodia to help spur the enterprise spirit and boost economic development. Through this MoU, I believe our joint capabilities and deep insights of both markets can help our Cambodian and Malaysian SME customers navigate mutual business matching opportunities. We are also able to help them connect with a broader range of business and financial solutions, especially in digital innovation to drive business performance and greater sustainability," said Teoh.
Representing the SMEs community in Malaysia, Ding Hong Sing said that the MoU would open up beneficial opportunities for SMEs from both countries to foster collaboration. "Our common aim is to share industry expertise and know-how through study visits, workshops, and seminars with relevant business partners. By combining forces, we are able to help SMEs realise the full potential and opportunities to be harnessed from the growing Cambodian and Malaysian SME sectors."
H.E. Cheuy Vichet, Cambodia's Ambassador to Malaysia said that the MoU aligns with Cambodia's national aspirations to drive industrial development through economic diversification, enhancing competitiveness and strengthening productivity as outlined in the Royal Government of Cambodia-approved Industrial Development Policy 2015-2025.
"The benefits from this MoU will help Cambodian SMEs expand the entrepreneurial ecosystem to support Cambodia's socio-economic development aim and drive towards sustainable and inclusive high economic growth, and enhance industrial sectors," said His Excellency.
H.E. Eldeen Husaini, Malaysia's Ambassador to Cambodia, reaffirmed the 65-year strong bonds between Cambodia and Malaysia, citing the MoU as a good reflection of both countries' commitment to strengthen ties, especially in bilateral trade.
"Malaysia looks forward to this MoU paving the way for collaborations and opportunities that will mutually benefit SMEs from both countries to strengthen the SME landscape and contribute to enhanced competitiveness in the region," said His Excellency.
The MoU signing ceremony was held in conjunction with the SME forum jointly organised by the SME Association of Malaysia, the Malaysian Business Chamber of Cambodia (MBCC) and the Malaysian embassy in Cambodia. The forum kick-started the knowledge sharing and business matching session to boost trade and investment opportunities.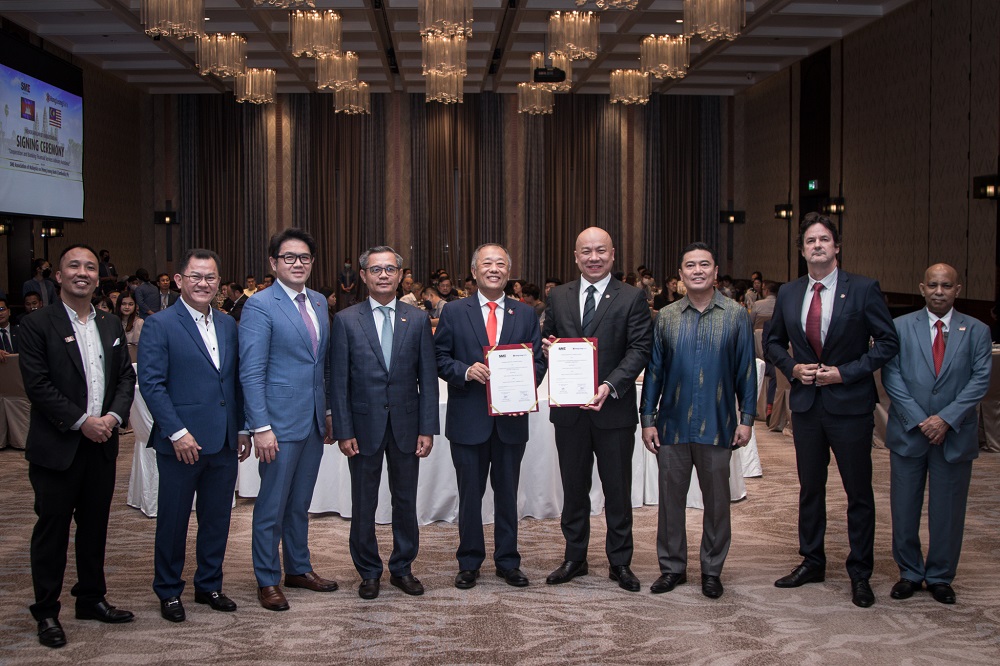 From left to right: Mr Lai Yaeh Tat, National President of the SME Association of Malaysia; Dato Sri Ricky Yaw Chan Choy, Vice President of SME Association Malaysia; Okhna Tan Khee Meng (KM Tan), Managing Partner of Baker Tilly Cambodia and Independent Director of HLBCAM; H.E. Cheuy Vichet, Cambodian Ambassador to Malaysia; Mr. Ding Hong Sing, National Vice President of SME Association of Malaysia; Mr. Terrence Teoh, MD and CEO of Hong Leong Bank Cambodia; H.E. Eldeen Husaini, Malaysian Ambassador to Cambodia; Mr. Matthew Nicholas Rendall, Managing Partner of Sok Siphana & associates (a member of ZICO Law) and Independent Director of HLBCAM; Mr. Mohan Tirugmanasam Bandam, Vice President of the Malaysian Chamber of Commerce
HLBCAM supporting SMEs in Cambodia through challenging times
Since its inception in Cambodia, HLBCAM has demonstrated its commitment to supporting the growth of SMEs in Cambodia by introducing a number of SME programmes such as the SMElite Package which aims to empower Cambodian SMEs' business potential with a flexible financing package that offers financing up to 15 years term at 100% of collateral value.
Moreover, in response to the COVID-19 pandemic, on top of existing loan restructuring programmes and other measures circulated by the regulators to relieve the impact of the COVID-19 pandemic on the economy, HLBCAM has allocated a portfolio package of up to USD50 million for Special Relief Facility (SRF) which is designed specifically to support customers during the pandemic or other disasters as declared by the Government of Cambodia, National Bank of Cambodia or the Association of Banks in Cambodia. By having the programme in place, HLBCAM will continue to support its customers by customising financial assistance packages to specific circumstances so that customers can continue to stabilise their livelihoods and their financial situation.