219 Schools Nationwide and Soup Kitchens Received 76.1 Tonnes of Dry Food Contribution from Hong Leong Bank and Hong Leong Islamic Bank
219 Schools Nationwide and Soup Kitchens Received 76.1 Tonnes of Dry Food Contribution from
Hong Leong Bank and Hong Leong Islamic Bank
HLB's 'Demi Kita, Demi Malaysia' Malaysia Day 2021 campaign touches close to 13,952 individuals and families in need of food aid and meal support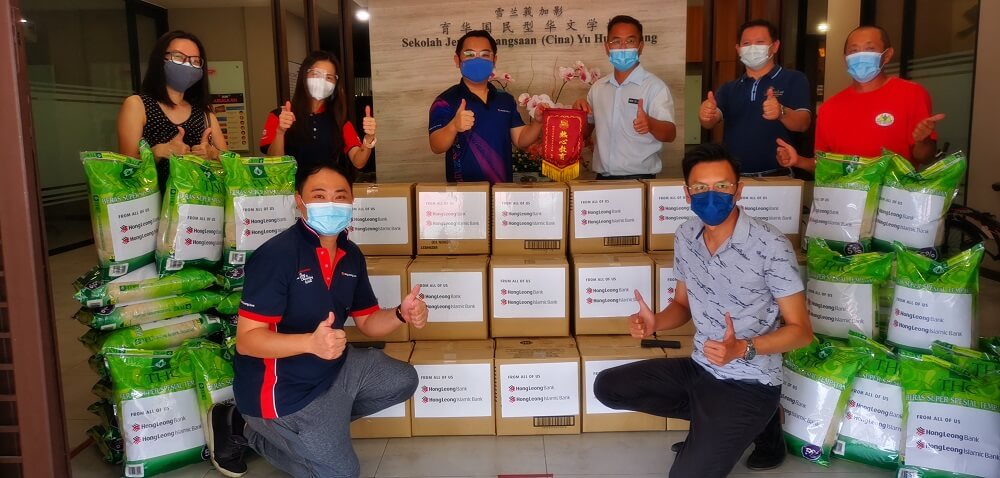 Photo Caption: Hong Leong Bank's branch staff distributing dry food to one of the schools at
Sekolah Jenis Kebangsaan (Cina) Yu Hua Kajang, Selangor, part of HLB's 'Demi Kita, Demi Malaysia' Malaysia Day 2021 campaign.
Kuala Lumpur, 16 November 2021 – A total of 219 schools across the country and 8 soup kitchens based in the Klang Valley had benefited from 76.1 tonnes of dry food contribution from Hong Leong Bank and Hong Leong Islamic Bank ("HLB" or the 'Bank"), which was part of the Bank's 'Demi Kita, Demi Malaysia' Malaysia Day 2021 campaign.
The month-long community focused campaign provided an opportunity for the Bank's employees at its headquarters at Hong Leong Tower, main offices at PJ City and Wisma Hong Leong as well as 242 of its branches nationwide to work together to volunteer their time and effort to provide food aid to communities severely affected by the pandemic and various lockdowns. The campaign reached 4,952 students nationwide, as well as 9,000 individuals in need of food support across eight Klang Valley-based community soup kitchens and meal providers.
According to Domenic Fuda, Group Managing Director and Chief Executive Officer of HLB, in the spirit of Merdeka and Malaysia Day, the Bank decided to make a difference to members of the community who have been disproportionally affected by the pandemic, hence, the outreach to schools and soup kitchens.
"Consequently, for our 'Demi Kita, Demi Malaysia' campaign, we focused on students from lower income groups who are often not the target for aid since they live with their families. In addition, the Bank was keen to support the efforts of community soup kitchens and meal providers in Klang Valley that have been working tirelessly to meet the increased number of people seeking aid for daily meals."
The Bank's branch staff worked closely with headmasters from schools in their respective districts to identify students from each school and their families who required grocery and food support. Through contributions from the Bank as well as HLB staff, we managed to gather and donate a total of 76.1 tonnes of groceries and dry food.

While for soup kitchens, cash donations were provided to 8 soup kitchens - Pit Stop Community Café, SEED Foundation, Dapur Jalanan KL, Need to Feed the Need, Kechara Soup Kitchen, Pertiwi Soup Kitchen, Seso Malaysia and Street Feeders KL which amounted to RM90,000.
Joycelyn Lee, Co-Founder of Pit Stop Community Café shared that they welcome any help with open arms as there is an increasing demand for food aid due to a rise in urban poverty caused by the pandemic.
"The demographic of people we provide meal support too has changed. Pre-pandemic we would aid mostly the homeless. Today, we see more senior citizens living on tighter budgets including those who used to collect recyclables and earn a small income to supplement their pensions, day wagers who are usually sole breadwinners of their families, and those who lost their jobs due to the pandemic. These are people who have odd jobs or homes but can't afford to put three meals on the table. Food insecurity is unfortunately now a reality for many more people due to the prolonged pandemic."
Zalman Zainal, Chief Marketing and Communication Officer of HLB said, "The COVID-19 virus does not discriminate and we've all seen how the economic fallout has affected every level of society at varying degrees. On the streets, the soup kitchens are not spared. Contributions from the public have dwindled, but this does not deter the soup kitchens in continuing their social cause to feed the homeless and the underprivileged communities. They are truly our unsung heroes. We hope our contributions will bring some relief to the identified eight soup kitchens and at the same time help create awareness of their plight. We also thank the participating schools nationwide for collaborating with us to ensure the right type of aid reaches their students in need."
'Demi Kita, Demi Malaysia' is HLB's yearly CSR driven campaign, which aims to support fellow Malaysians during the current challenging times. This year, the month-long campaign focused on raising awareness on the plights of the financially burdened communities and families caused by the prolonged pandemic.