Hong Leong Bank Launches Program e-Duit Desa in Bagan Nakhoda Omar, Spearheading Digital Transformation Throughout the Community
Hong Leong Bank Launches Program e-Duit Desa in Bagan Nakhoda Omar, 
Spearheading Digital Transformation Throughout the Community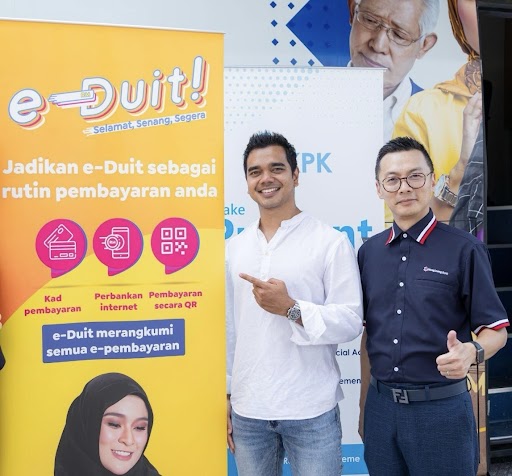 HLB Brand Ambassador, Alif Satar at the launch event with HLB Managing Director of Personal Financial Services, Andrew Jong
Kuala Lumpur, 25 October 2023 - As part of its commitment to spearheading community investment, promoting digitalization, and championing financial inclusion, Hong Leong Bank Berhad ("HLB" or the "Bank") has launched the Program e-Duit Desa in Bagan Nakhoda Omar, Sabak Bernam, Selangor ("BNO"), and catalyzing a holistic digital transformation throughout the region.
The program, which sees HLB providing residents and businesses with access to e-payment services as well as advisory and other financial solutions, is in support of Bank Negara Malaysia's objective of accelerating the uptake of cashless transactions, leading to increased financial inclusivity among the public. By integrating a cashless ecosystem in BNO, the Bank looks to further empower communities to adapt to rapid digitalization and urbanization in the country, and help local businesses expand by offering a safe, secure, and convenient way of receiving financial transactions.
Andrew Jong, Managing Director of Personal Financial Services at HLB said the program was a reflection of the Bank's dedication to go to great lengths in championing financial inclusion and uplifting communities, in line with the Bank's brand promise of being "Built Around You".
"Bagan Nakhoda Omar is the northernmost and westernmost point of Selangor, and forms an important part of the consumer value chain. This is a testament to our commitment to serving and investing in our communities, especially entrepreneurs and SME businesses who serve as the backbone of our economy. By introducing digital payment tools to the community, we hope to empower local businesses to expand their income streams and cater to more customers quickly and efficiently.
As an entrepreneurial bank that is Digital At The Core, we look to implement a digital-centric mindset in the way we give back to the community. Since launching our cashless transformation initiatives in Penang before the pandemic and our flagship HLB @ Kampung program in Sekinchan, we are always looking for new ways to uplift local communities and businesses via digital means, and hopefully becoming a catalyst for future widespread growth. Looking ahead, we hope to continue this digital transformation in more towns around Malaysia, with plans to enable cashless ecosystems in Pasar Tamu Donggongon di Sabah, and the Kinta and Manjung districts in Perak."
Alif Satar, HLB's Brand Ambassador, also commented on the significance of a program like this for local residents and businesses.
"I frequently come to Bagan Nakhoda Omar on my cycling trips, and I usually cannot have too much cash on me. Enabling local businesses to accept cashless payments will not only make transactions more secure, but also make payments quicker and more convenient for visitors like me who are passing through BNO. From an entrepreneurial point of view, I have seen how simple tools like QR codes or cashless payment terminals can help a business grow because of the convenience and security that it provides to customers. I know firsthand how digitalization and implementing cashless payments can improve efficiency of operations, which in turn improves sales and expands business opportunities. With all this, I am sure that the residents and businesses of BNO will benefit greatly from this program, and I can't wait to see how this town will benefit from this initiative."
Aligned with the Bank's ESG aspirations to improve financial literacy among the public, the program also provides the community with access to tangible financial products and services that are needed to inculcate a holistic understanding of finances in our community. Through Program e-Duit Desa, HLB has facilitated the opening of bank accounts and issued debit cards for the BNO community, without the need for them to visit a bank branch. For local businesses, the Bank has equipped them with HLB DuitNow starter kits, which include a DuitNow QR code that allows them to accept contactless QR payments from mobile banking apps and eWallets. It also includes an All-In-One Payment Terminal that accepts both card and QR payments.
Previously, HLB introduced cashless payment solutions in 75 schools across the country last financial year through its HLB @ School program. Alongside that, its HLB DuitSmart program also sees the Bank running tailor-made financial literacy workshops for primary, secondary, and tertiary institutions, which has benefitted over 1600 students in the past financial year.
About Hong Leong Bank Berhad please visit www.hlb.com.my
For enquiries, connect with us online or drop by your nearest Hong Leong Bank Branch.