Hong Leong Bank Sustainability Round Table: Best Practices in Sustainability Transformation
HONG LEONG BANK LAUNCHES 'SUSTAINABILITY ROUNDTABLE' TO ENGAGE INDUSTRIES ON BEST PRACTICES IN SUSTAINABILITY TRANSFORMATION
At HLB, sustainability is a priority to us and we want to empower our clients to not only adopt and assimilate ESG considerations as part and parcel of their business strategies and operations, but also help them to innovate and turn their sustainability risks into opportunities. We recognise that moving towards sustainability is a big change for our clients and they will require partners to help in their sustainability transformation - from the right financing from the Bank to knowledge of best practices from leading companies in their industries. To this end, we have adopted an inclusive approach where we work closely with them to support them as a financial and business partner which includes assisting in risk assessment and mitigation in their transformation journey. The 'Sustainability Roundtable' will hopefully provide our clients with insights on opportunities in sustainability transformation which can contribute to long-term competitive advantages as well as for the betterment of society and environment.
For more information, click here: https://www.linkedin.com/feed/update/urn:li:activity:6767705421642915840
Hong Leong Bank Sustainability Round Table
February 3rd, 2021
Plastics Manufacturing: Industry Outlook and Preparing for A Sustainable Future
With growing demands for businesses to drive sustainability in protecting the natural environment, human and ecological health, while driving innovation and common prosperity for all, Hong Leong Bank ("HLB" or the "Bank") hosted its inaugural virtual 'Sustainability Roundtable' on February 3rd, 2021 as a platform to engage its SME and Corporate clients undergoing sustainability transformation within their own organisations. This platform aims to raise awareness and inspire change with regards to best practices and the challenges faced by several key industries as they embark on their sustainability journey.
The 'Sustainability Roundtable' was kicked off with Plastics Manufacturing: Industry Outlook and Preparing for a Sustainable Future with key opinion leaders from the Plastics Manufacturing industry, with presentations from Datuk Lim Kok Boon, President of the Malaysian Plastic Manufacturer Association, Alvin Ang, Executive Director of Thong Guan Industries and Jazlyn Lee, SEA Regional Coordinator of WWF-Malaysia. The session was moderated by Dr. Adam Ng, Sustainable Finance Expert form WWF-Malaysia.
Quotes from panelists during the session: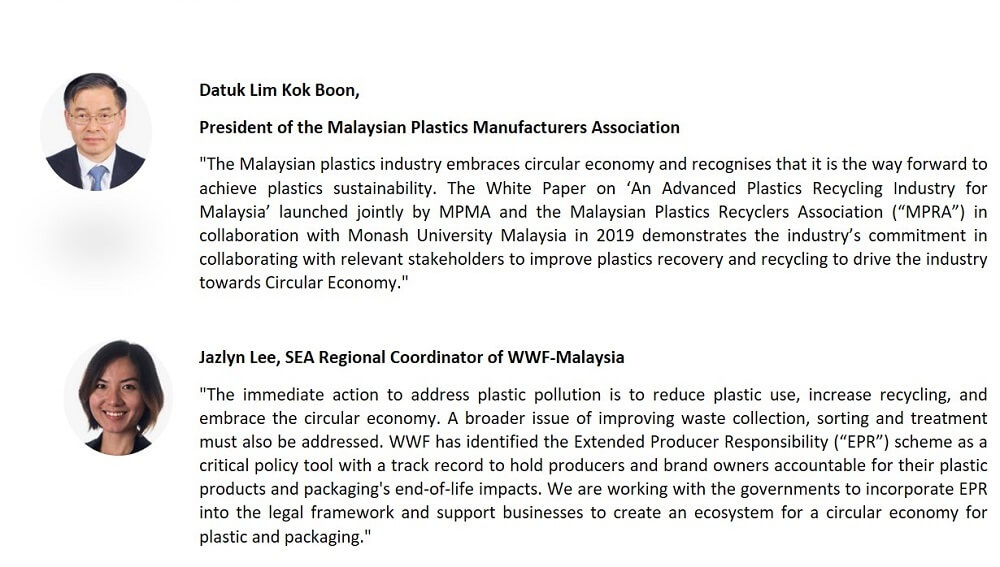 The Bank will be organizing more roundtable sessions with industries in manufacturing of rubber, chemicals, metals, forestry, agriculture, palm oil, and mining or quarrying in the pipeline throughout the rest of the year.
For enquiries, connect with us online or drop by your nearest Hong Leong Bank Branch.