Hong Leong Bank Wins Asian Banking & Finance (ABF) Best SME Bank Award in Malaysia, 2 Years in a Row


Hong Leong Bank Wins ABF 'Best SME Bank in Malaysia' Two Years in a Row; Recognised for Its Community-Centric Approach and Focus on Innovation and Sustainability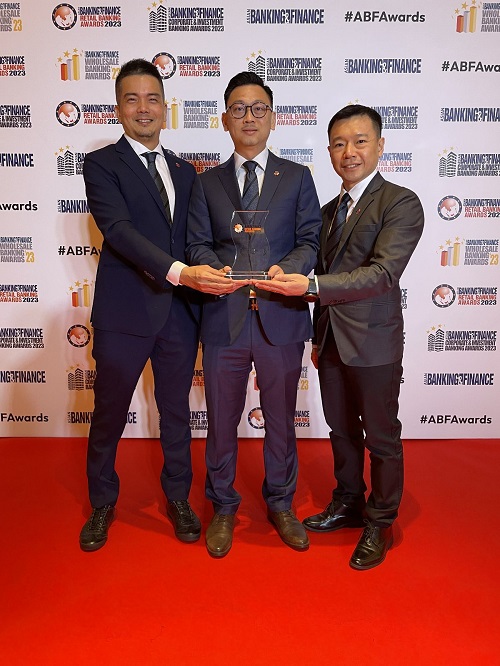 From Left: Andy Yeoh, Head of Sales and Business Development, SME Banking, Hong Leong Bank; Kevin Ng, Head of SME Banking, Hong Leong Bank and Daniel Mun Kok Leong, Head of SME Business Transformation, Hong Leong Bank
Kuala Lumpur, 26 July 2023 - Hong Leong Bank's ("HLB" or the "Bank") continuous dedication to growing and supporting Small and Medium-sized Enterprises ("SMEs") in Malaysia has won the Bank the prestigious title of "Best SME Bank in Malaysia" for the second consecutive year. The eminent award, which was awarded by Asian Banking & Finance ("ABF") at their Retail Banking Awards 2023, recognizes exceptional industry leaders who introduce innovation and transformation within the SME space, providing cutting-edge products, services, and solutions that lead to positive growth for its customers.
HLB's win is a testament to the Bank's dedicated focus on SME banking and the impact it has made within the SME sector. In the past financial year, the Bank has seen its overall SME loan/financing portfolio grow 16% year-on-year ("YoY") to RM30.1 billion, attributed to its strong commitment in deploying new technologies to provide customers with a seamless banking experience.
Kevin Lam, Group Managing Director and CEO of HLB, commented that the award was a testament to the Bank's dedication to a customer-centric, community-focused digitalisation strategy, leading the Bank to be at the forefront of bringing digital transformation and tailor-made financial solutions to the SME space in Malaysia.
"We are truly honoured to be acknowledged by Asian Banking & Finance, which reaffirms our steadfast commitment to being valuable partners to our SME customers and community, providing them with specific, tailor-made offerings and advisory. At HLB, we believe that everything we do revolves around the customer, remaining true to our "Built Around You" brand promise by catering and designing our products and services to our customer's specific needs. We employ a personalized approach with each SME, empowering each customer with digitalization, innovation, and ESG considerations, equipping them with a competitive advantage in both domestic and international markets."
In providing support and tailor-made financial solutions to SMEs, HLB has built strong relationships with key players in various industries, which lead to the forging of fruitful collaborations. One of its most successful partnerships is with the Malaysia Motorcycle & Scooter Dealers Association ("MMSDA"), which started 4 years ago and aims to bolster the domestic motorcycle and scooter industry. This partnership saw the creation of a tailor-made financial programme called the Motorcycle Dealers Programme ("MDP"), offering up to RM5 million of clean working capital financing for Auto Loan Packages and digital business solutions. Since inception, 240 dealers have come on board, and over the past 3 years, the MDP experienced a 25% growth, going from RM113 million to RM449 million in value. As of May 2022, the programme recorded RM591mil in total loans, signifying a noteworthy increment of 150%.
Kevin Ng, Head of SME Banking at HLB commented on the Bank's commitment to building long-lasting partnerships and providing support to SMEs.
"As a bank with a strong entrepreneurship heritage, we take pride in having a deep understanding and insight into the challenges that SMEs face in growing their business, thanks in part to a strong team of Community Business Managers ("CBM") and Cash, Trade & FX ("CTFX") specialists embedded among the SME business community nationwide. We believe that as a financial institution, we are in a prime position to partner with our SME customers in futureproofing their operations with innovation, sustainability, and a comprehensive expansion blueprint".
Besides that, HLB also has strategic collaborations with key industry partners such as the SME Association of Malaysia ("SME Malaysia") and the Small and Medium Enterprises Association ("SAMENTA") that help provide SMEs with business knowledge, networking opportunities, and innovative solutions.
HLB has a longstanding ongoing partnership with SME Malaysia, and regularly participates in their nationwide roadshows that make digitalization and SME banking services more accessible to businesses across the country. Moreover, the Bank is the main sponsor of the SME Malaysia's Platinum Business Awards 2023, which aims to foster and incentivize an environment that encourages innovation and transformation amongst the SME community.
Most recently, the Bank hosted an exclusive edition of the HLB Sustainability Roundtable in collaboration with SAMENTA, where industry experts gave their insights and advice on implementing green supply chains and other ESG considerations into SME operations.
For more information, please visit: https://www.hlb.com.my/en/business-banking/group-sme-banking.html