Hong Leong Bank Wins ESG Leadership Award for Impactful Sustainability and CSR Initiatives


Hong Leong Bank Wins ESG Leadership Award for Impactful Sustainability and CSR Initiatives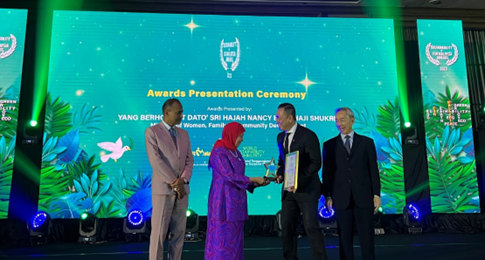 Zalman Zainal, HLB Chief Marketing & Communications Officer (3rd from left) accepting the ESG Leadership Award from YB Dato' Sri Hajah Nancy binti Haji Shukri, Minister of Women, Family and Community Development (2nd from left). Also present were Dato' R. Rajendran, Chairman & CEO of CSR Malaysia (1st from left) and Lee Seng Chee, Co-chairman & Managing Editor of CSR Malaysia (1st from right).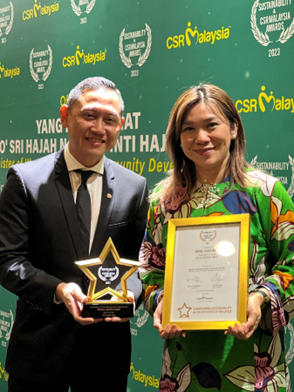 Zalman Zainal, HLB Chief Marketing & Communications Officer (left) with Vivian Tan, General Manager of Corporate Communications & CSR at HLB (right)
Kuala Lumpur, 28 July 2023 – In recognition of its commitment to community investment through impactful sustainability and corporate social responsibility ("CSR") initiatives, Hong Leong Bank ("HLB" or the "Bank") has been awarded the "Bank of the Year - ESG Leadership Award" at the Sustainability & CSR Malaysia Awards 2023. This marks the fourth time that HLB has been recognized by these awards, and the first time under the Environment, Social, and Governance ("ESG") category.
In its award citation, the Awards organiser praised HLB for being "a role model for other organisations in Malaysia", and noted its "innovative and impactful initiatives that have made a real difference to the lives of Malaysians".
Kevin Lam, Group Managing Director and CEO of HLB, attributed the award to its innovative community-driven programs, as well as the Bank's mission to continue investing in the communities it operates in:
"As a bank with a deep-rooted heritage of over 120 years in Malaysia, we are committed to investing in the community around us with programs that bring long term value and sustainable impact, benefitting the people and society with meaningful initiatives that centre around our brand promise of being "Built Around You". In order for a community to thrive and develop, everyone in the ecosystem, from individuals and microbusinesses to big corporations, have to be able to contribute to its economy and society. By designing and developing our community initiatives, our mission is to empower all stakeholders to be a part of the bigger picture and play a significant role in our dynamic economic landscape.
The success of our programs and initiatives would not be possible without our passionate team behind the scenes who constantly push the boundaries of what we can do for others. Therefore, this award is dedicated to everyone involved in our CSR and ESG initiatives who are not content with empty gestures, but genuinely want to make a difference among the community now and in the future."
As a community-centric bank that wants to build a sustainable future for all demographics, the Bank focuses on specific, high-impact initiatives that are proven to deliver long-lasting, on-ground results. HLB's CSR and sustainability initiatives are mainly focused on promoting Financial Literacy, Financial Inclusion, and driving the transition to a Low-Carbon Economy.
In promoting Financial Literacy, the Bank aims to raise a generation with a strong foundation of financial knowledge under its flagship CSR platform - HLB DuitSmart. The Bank conducts interactive financial literacy workshops for students and the Orang Asli community, as well as through publishing social media content about scam awareness.
In driving Financial Inclusion, the Bank provides digital banking products and services to small towns through HLB @ Kampung, transforming them into a "Cashless Kampung". Moreover, HLB Jumpstart supports budding entrepreneurs and social enterprises with resources and guidance to start their own businesses.
HLB is also focused on building climate resilience, with emphasis on transitioning to a Low-Carbon Economy. The Bank integrates ESG and sustainability practices into all layers of operations and business, committing to achieve net zero carbon emissions by 2050.
Over the past financial year, HLB has achieved significant milestones in their ESG and CSR journey. Here are a few key highlights: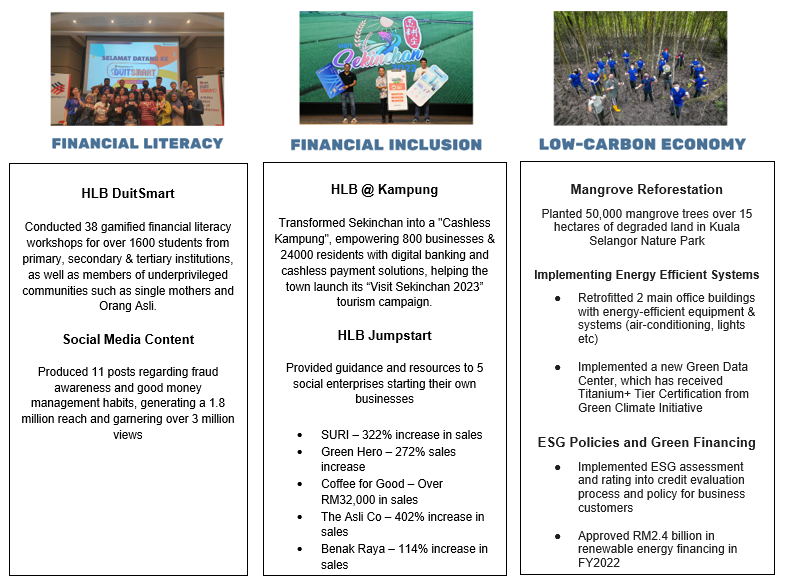 Zalman Zainal, HLB's Chief Marketing & Communication Officer and Co-Chair of its Sustainability Committee, reflected on the Bank's unwavering devotion to create long-lasting impact through tangible initiatives that foster community and employee participation:
"To invest in a community means addressing its concerns on the ground and designing solutions that are catered to their needs. Through our various ESG and CSR initiatives, we want to empower and uplift the underserved communities, future-proofing them with high-impact programs which ensure they are equipped with the right tools, become more sustainable, and will be "Here For The Long Term". We are proud that our initiatives have created systemic change, leading to meaningful impact towards ensuring future growth for our communities."
Previously, HLB has won three awards from this organiser, being named as Company of the Year (Banking) 2022, Company of the Year (Banking) for Excellence in COVID-19 Support & Community Welfare 2021, and Company of the Year (Supporting Social Enterprises) 2019.
For more information, please visit
https://www.hlb.com.my/en/personal-banking/about-us/sustainability.html?icp=hlb-en-all-footer-txt-sustainability