Public Awareness on Ink-Staining Technology
Do Not Accept or Attempt to use Ink Stained Money!
Ink Stained Money is likely to be stolen money.
Banks in Malaysia including Hong Leong Bank has begun to implement the ink-staining technology (IST) at the Automatic Teller Machines (ATMs) and Cash Recycling Terminals (CRTs) to reinforce the security of these machines against thefts and robbery attempts.
Introduction to Ink-Staining Technology
The Ink-staining technology is a series of high-tech measures installed in ATMs and CRTs to effectively deter robbery attacks or any brute force attempts to steal money from these machines. Once an attack is detected, for example drilling, oxy-torching, explosion and carting – the IST will immediately be activated. All the banknotes in the machine will be stained with an indelible security ink.
The staining would make the banknotes identifiable as stolen and rendering such stained notes as totally valueless and not legal tender.
How to Identify Ink-stained Malaysian Banknotes?
• The indelible security inks usually come in few colours -Red, Blue or Green.
• Light smell of paint.
• In general, the notes are stained with at least 20% front and back.
• When handled without gloves, fingers may be stained when contact is made.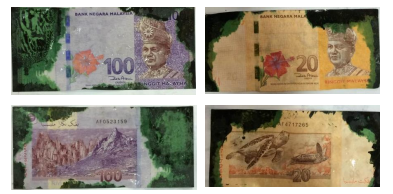 The sample of ink-stained banknotes
The Handling of Ink-Stained Malaysian Banknotes
Do not accept or attempt to use any ink-stained Malaysian banknotes. The ink-stained banknote is worthless. Always check your banknotes when you receive them to ensure none is stained with ink. If in doubt, contact your nearest Bank branch or Bank Negara Malaysia
Should you happen to be in possession of any ink-stained Malaysian banknotes:
• Confirm the banknotes with visual inspection and lodge police report.
• You may also refer to the nearest Hong Leong Bank's branch/Bank Negara Malaysia to seek clarification on the affected bank notes.
Do NOT attempt to deposit ink-stained notes in any Cash Deposit Machines or Cash Recycling Terminals. These notes will be rejected and the depositors may be tracked down for questioning. If in doubt, always contact your nearest Bank branch or Bank Negara Malaysia.
If you have more questions, please refer to the FAQ at Bank Negara Malaysia's website or contact Bank Negara Malaysia at:
Tel: 1-300-88-5465 (1-300-88-LINK)
(Overseas: +603-2174-1717)
Fax: +603-2174-1515
E-mail: bnmtelelink@bnm.gov.my
For enquiries connect with us online or drop by your nearest Hong Leong Bank Branch.