Launch of Cashless Sekinchan to Appeal to Digital-Savvy Sightseers and Boost Town's Tourism Activity

Launch of Cashless Sekinchan to Appeal to Digital-Savvy Sightseers and Boost Town's Tourism Activity
Hong Leong Bank's efforts to transform Sekinchan into a Cashless Community readies town to reap economic benefits from 'Visit Sekinchan 2023'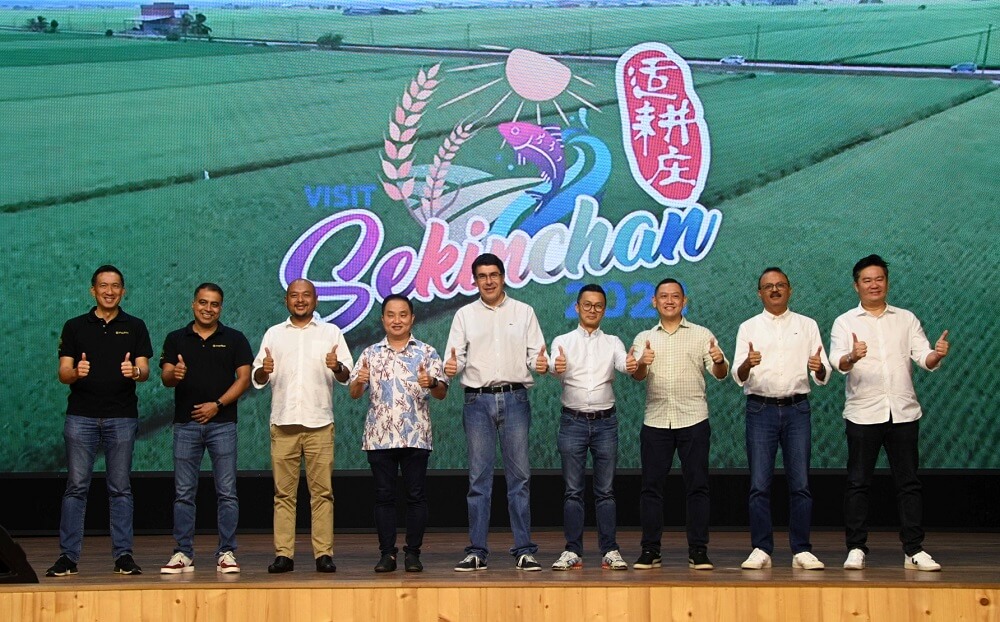 Sekinchan becomes first cashless kampung in Malaysia and launches Visit Sekinchan 2023 through collective efforts by
Hong Leong Bank, PayNet and Sekinchan residents and businesses.
Sekinchan, 14 January 2023 – Sekinchan, the first cashless kampung in Malaysia, is ready to provide cashless convenience to urban and digitally-savvy tourists with the launch of the 'Visit Sekinchan 2023' campaign, thanks to the support and effort of residents and businesses who have started using the digital payment tools rolled out by Hong Leong Bank ("HLB" or the "Bank") in partnership with Payments Network Malaysia Sdn Bhd ("PayNet").
The 'Visit Sekinchan 2023' campaign was officiated by Yang Berhormat Ng Suee Lim, Selangor State Assemblyman of Sekinchan; Domenic Fuda, HLB Group Managing Director and CEO; and Farhan Ahmad, Group CEO of PayNet at SMJK Yoke Kuan.
HLB has been supporting the 24,000 residents and businesses in Sekinchan by helping them open bank accounts, issue debit cards and connect with the bank digitally without them needing to visit a bank branch. The Bank has been progressively equipping the 800 businesses in Sekinchan with a HLB DuitNow starter kit for the business community as well as schools. The kit includes a DuitNow QR Code for businesses to accept contactless QR payments from mobile banking apps and eWallets, as well as the All-in-One Payment Terminal that accepts both card and QR payments.
Yang Berhormat Ng Suee Lim, Selangor Assemblyman for Sekinchan, said that while the scenic fishing town was already an alluring spot for visitors, its popularity is set to rise even more, with digital payment convenience establishing it as a full-fledged holiday destination for locals and foreigners alike.
"The 'Visit Sekinchan 2023' campaign is an important milestone for us, not only in recognizing the significance of going digital in our financial management and payment transactions, but the value it brings to the socio-economic growth of the town. It will also spur local development as our small businesses can now explore other digital business options, such as e-commerce and expand their products further afield," said Ng.
One of the key observations noted by HLB during the rolling-out of the initiatives was that while vendors and businesses did understand the importance and convenience of providing cashless options, especially for visitors, they were not confident that they could handle the tools and transactions as they believed they were not "tech-savvy". On this end, HLB has deployed staff to "turun padang" to observe and listen to the challenges faced by the vendors and businesses and build solutions and services to address their concerns and boost their confidence when using digital tools.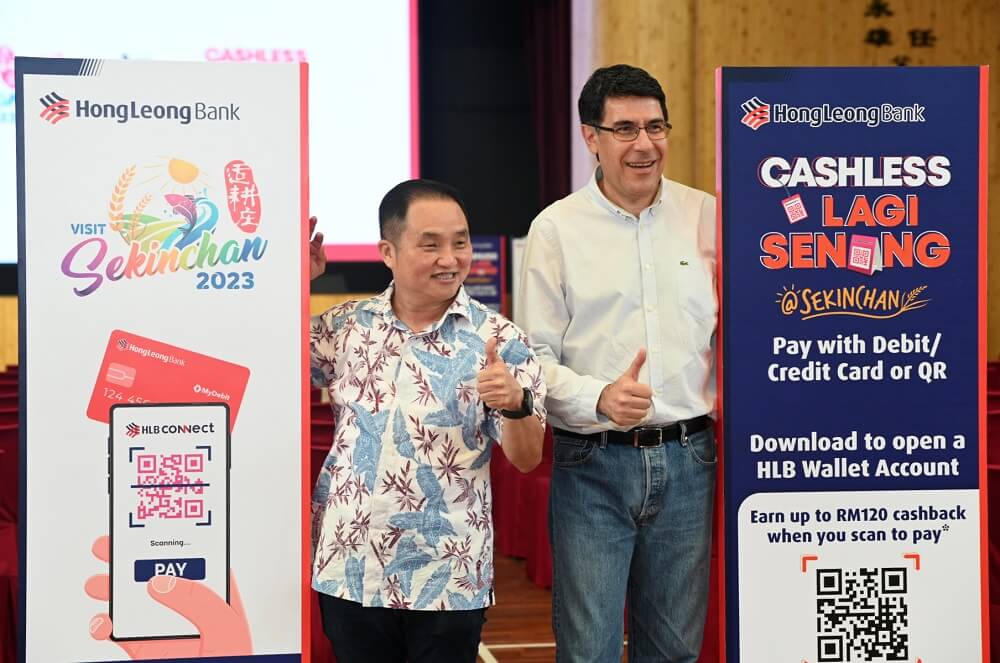 YB Tuan Ng Suee Lim, ADUN of Sekinchan (left) and Domenic Fuda, Group Managing Director and CEO of HLB (right) at the official launch of Visit Sekinchan 2023
Domenic Fuda, Group Managing Director and CEO of HLB, said, "As a community bank, we see ourselves as the catalyst for positive change whether it's in digital payments, online banking or sustainability in general. Part of our ESG commitments is our dedication to closing the digital gap between urban and non-urban areas, and ensuring all communities benefit from digital and financial inclusivity, which is key to fostering progress and development for the country. Beyond providing the digital tools and hardware, our team has been on ground assisting the Sekinchan community to cope with the technological learning curve as well as helping them realize the potential that comes with having digital and cashless payment options in our HLB Connect App. We believe that when the community is confident with the ease of use and the value of digitalization, they will be able to accept and advocate for others to do the same."
"We have seen how cashless payments can help increase the value of sales for vendors as customers are likely to spend a little bit more without worrying about looking for an ATM machine in case they've run out of cash in hand. We hope that now, with the added convenience of being cashless-enabled, it will rejuvenate domestic tourism, entice foreigners to visit as well as provide an opportunity to expand the business via eCommerce," added Fuda.
Apart from business, places of worship have also adopted cashless payment, including the famous Pantai Redang Datuk Kong Temple, well-known for its wishing tree adorned with red ribbons with wishes from temple visitors. According to the temple management, temple visitors are delighted to be able to make their donations via DuitNow QR code, not only for its convenience but also the discretion it provides. For the temple, it saves them the hassle of managing the donation box and preventing theft.
To showcase the best of Sekinchan and support local businesses, the small town will also run a fun-filled digital Treasure Hunt called "SekinGo", so the public and tourists can truly experience the small town firsthand across 20 locations. These locations, or 'SekinStops', span from famous sightseeing destinations like Pantai Redang and the Wishing Tree, to local spots like Pasar Awam Sekinchan and other hidden gems. At each 'SekinStop', visitors can earn 'SekinCoins' by scanning the QR code, and win up to RM15,000 worth of prizes. The "SekinGo" Treasure Hunt will run until 30 April 2023.