Riam Road Secondary School Goes Cashless with 'HLB@School'
Riam Road Secondary School Goes Cashless with 'HLB@School'
As part of the vision to promote a digital lifestyle and financial literacy to students, Riam Road Secondary School has partnered with Hong Leong Bank to provide a cashless ecosystem for students, including reloadable debit cards, cashless payments in canteens, and JomPay biller services for school fees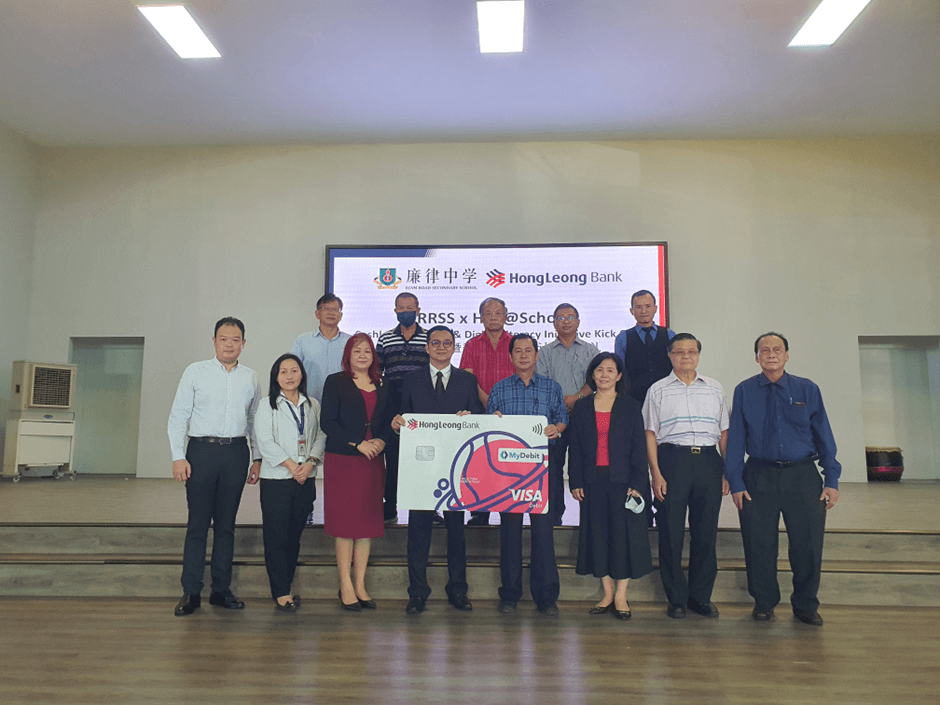 Front Row L-R: Ryan Siew, Business & Sales Development Assistant Manager, HLB, Caren Huong, Deposit Relationship Manager, HLB, Yu Ngik, Miri Branch Manager, Ting Sing Chee, Regional Branch Distributor Head, HLB, Voon Hon Kong, Board of Director, Treasurer, RRSS, Dr Pauline Ho, CEO, RRSS, Datuk PGBK Hii Teck Yun, Board of Director, RRSS and Richard Liu Si Choong, Assistant Chief Executive Officer
Back Row L-R: Board of Directors RRSS - Councillor ABK Kueh Chie Tiong, Lau Siu Tiong, ABK Liew Han Ping, Councillor ABK Ernest Goh Khick Seng and James Ting Ang Chui, Principal RRSS.
Miri, 12 September 2022 – As we move past the COVID-19 pandemic, it is apparent that cashless and contactless payments have become more widely accepted, and sometimes even necessary, in financial transactions across the country. In keeping with this new norm, the students of Riam Road Secondary School as well as Riam Institute of Technology and Riam Hill International School in Miri will soon be part of this cashless "ecosystem", and will no longer need to bring cash to school for their daily needs. Instead, their school will now be equipped with a cashless payment system that accepts debit cards as a payment method, thanks to the school's collaboration with Hong Leong Bank ("HLB" or "the Bank") under the 'HLB@School' program.
Piloted in October 2020, the HLB@School program will provide the school with cashless payments and digital banking tools for students, cashless payment terminals at the school canteen, and a digital collection solution for school fees. This is in addition to the bank's financial literacy program which will be introduced to the students to familiarise them with the idea of going cashless and digital banking to children.
Over 1000 Riam Road Secondary School students will start using the HLB 3-in-1 Junior Account, which includes a savings account and a reloadable debit card. On top of that, it comes with access to the HLB Pocket Connect platform, the first in-market interactive digital banking platform for young children and their parents. The HLB Pocket Connect is a simple mobile banking platform with in-built Earn, Save and Spend features that aim to teach children financial literacy and incorporate and facilitate parents' guidance as well. The students will be able to easily track their own pocket money, expenditure and savings, giving them a deeper understanding of the value of money which empowers them to take charge of their finances. Similarly, parents will be able to manage and monitor their children's bank accounts anytime, anywhere through the HLB Connect online and mobile banking platform.
On collaborating with schools, Galvin Yeo, HLB's General Manager of Personal Financial Services for Deposits & Digital said, "We look forward to having more collaborations with schools where we can provide services that cultivate financial literacy amongst students. We hope to introduce children to the digital banking experience as early as possible by using simple, seamless, cashless payment tools. This initiative to introduce these modern financial skills in schools is also in keeping with the swift acceptance and adoption of cashless payments by businesses and consumers, especially after the pandemic."
Under the 'HLB@School' program, the school canteen will be equipped with the Bank's All-in-One Point of Sale ("POS") terminal which allows students to make cashless payments with their reloadable debit cards. In addition, Riam Road Secondary School will benefit from the JomPay biller service through HL ConnectFirst FastCollect, a quick and convenient method to collect school fees. This will provide parents with payment flexibility and make it easier for them to manage their children's school fees digitally.
To make the partnership even more comprehensive, the HLB team was on the ground to conduct its HLB DuitSmart Financial Literacy Program for the school as well. The program benefited close to 600 students, ranging between Form 3 and Form 5, who were exposed to making financial decisions in simulated situations. This is part of HLB's commitment to empowering more Malaysians, especially young children, to start having a positive relationship with money and develop money management skills.
When asked about the new updates to the school, Dr Pauline Ho, Chief Executive Officer of Riam Institute of Technology said, "Running a school during a pandemic has pushed us to rethink how we can approach education. We are using more digital elements and strategies as we adjust and adapt to the new normal. We are excited to work with HLB to help kickstart the implementation of a cashless ecosystem in our school. We hope that this will improve digital and financial literacy amongst our students and minimise contact risk at the canteen. From an administrative perspective, it will also help us digitally streamline the payment collection and reconciliation process.
"In addition, this pandemic has taught us that we must be multi-literate to adapt to ever-changing circumstances. In today's digital-centred world, digital and financial literacy is as important as learning to read, write and count. We highly support this partnership between the school and HLB because at its core, understanding the use of technology and money matters have become an important life skill. The 'HLB@School' program will empower our children to cultivate a healthy relationship with their finances, as well as learn to manage their pocket money and expenditures in a fun and engaging manner."