Spreading "Kesyukuran" this Raya with Hong Leong Bank
Spreading "Kesyukuran" this Raya with Hong Leong Bank
· The Bank's Raya campaign 'Lebaran Penuh Kesyukuran' centers on thankfulness shown through the act of giving back to the community
· HLB employees volunteered time to help clean welfare homes while the Bank donated household items as well as new Baju Raya so that residents of the homes can celebrate Hari Raya to the fullest this year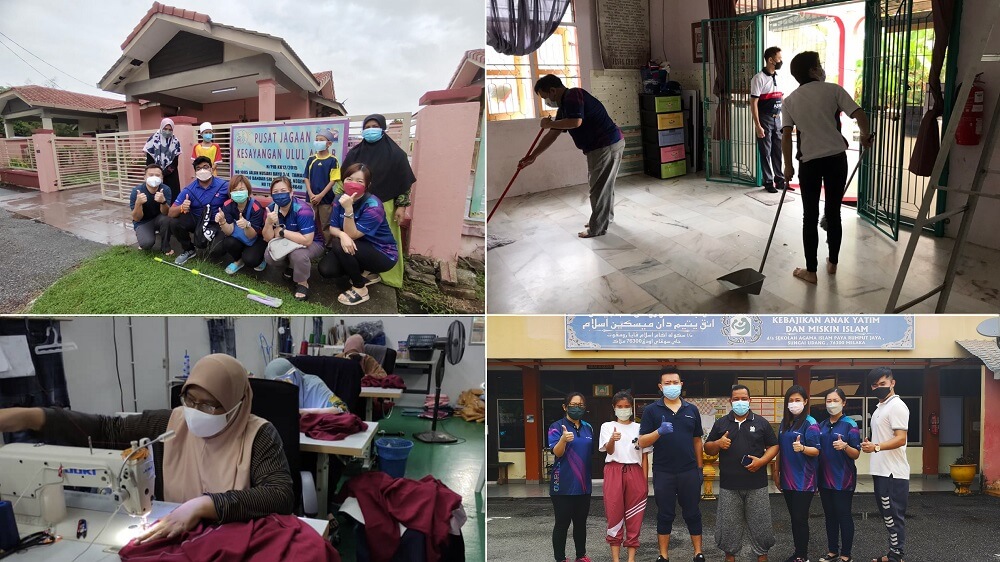 Kuala Lumpur, 27 April 2022 – This year's Hari Raya Aidilfitri celebration is much-anticipated and will be celebrated in full swing as the nation transitions to the endemic phase. Remembering the challenges of the past two years, Hong Leong Bank and Hong Leong Islamic Bank ("HLB" or the "Bank") invites everyone to embrace the celebration with a spirit of thankfulness as reflected in the Bank's Hari Raya campaign themed 'Lebaran Penuh Kesyukuran'.
Domenic Fuda, Group Managing Director and Chief Executive Officer of HLB expressed that with the progressive lifting of restrictions, there is much to be grateful for as Malaysians return to a sense of normalcy with renewed optimism.
"As a Community Bank, we strive to ensure that we do our part to help communities in need so that they are also able to once again celebrate a vibrant and cheerful Raya. To bring some cheer and in sharing our good fortune in such times, we are supporting 14 welfare homes across the country with new household appliances such as washing machines and refrigerators to make their homes more comfortable. Our employees are also volunteering their time to help clean the homes and organising Raya makan-makan for the residents," shared Fuda.
The Bank also worked with social enterprises SURI Lifestyle (SURI), a denim upcycling social enterprise and alumni of HLB Jumpstart, as well as Komuniti Tukang Jahit to provide new Baju Raya, sewn by single mothers for the welfare homes. Collaborating with social enterprises for this CSR initiative is part of the Bank's endeavours to positively impact and provide more income opportunities to communities outside of the welfare homes.
In bringing the spirit of 'Lebaran Penuh Kesyukuran' to life, the Bank has released a festive Raya video showing a heart-warming tale of elements that make every Raya celebration a unique moment to remember.
Zalman Zainal, Chief Marketing and Communication Officer of HLB said, "When we thought about creating our Raya video this year, we wanted to evoke a sense of nostalgia of being able to balik kampung and being together with your loved ones. We also included all the quirks of family gatherings such as funny family photos and the joys of sleepovers that make each Raya truly special and memorable to us. The core message that we want to deliver through this video is that regardless of how things work out, perfectly as planned or otherwise, moments shared together are what we are thankful for."
To watch HLB's 'Lebaran Penuh Kesyukuran' festive video, please visit https://youtu.be/3x5aHATkjVs.
To find out more information on how you too can make the most of your Hari Raya with HLB, do visit our campaign page at www.hlb.com.my/raya.
The 14 welfare homes HLB supported are:
1. Pertubuhan Kebajikan Dan Perlindungan Nur Qaseh Malaysia, KL
2. Pusat Jagaan Cahaya Kasih Bestari, Selangor
3. Pertubuhan Kebajikan, Kesihatan Dan Pendidikan Nur Nusari, Negeri Sembilan
4. Lembaga Pengurusan & Kebajikan Anak Yatim Miskin (PAYASUM), Melaka
5. Pertubuhan Pusat Jagaan Kebajikan Kesayangan Abadi, Johor
6. Rumah Kanak-kanak Sultanah Hajjah Kalsom (Penor), Pahang
7. Persatuan Jagaan Kesayangan Mumtahanah, Kelantan
8. Rumah Kebajikan Anak-Anak Yatim Al Hijrah, Terengganu
9. Yayasan Anak Yatim Darussakinah, Perak
10. Pertubuhan Kebajikan Rumah Anak Yatim Mak Teh, Perlis
11. Sunshine Cottage Welfare Society, Kedah
12. Pertubuhan Rumah Kebajikan Seri Cahaya, Pulau Pinang
13. Rumah Anak Yatim & Asnaf Kudat (Baitul Hidayah), Sabah
14. Pusat Jagaan Anak Kesayangan Kami, Sarawak