Change the way you manage your transactions with Connect App
Beginning 18 December 2019, you will be guided to enable AppAuthorise and Mobile Alerts the next time you log in to your Connect App. We advise that you keep these features enabled on your main device to avoid any disruption to your banking transactions.

AppAuthorise is a security feature on Connect App that allows you to authorise non-favourite payments or transfers of RM10,000 and above, performed on Connect Online Banking. A notification will be sent to your mobile device where you will be able to view transaction details and Authorise or Reject the transaction. This further protects your bank account from unauthorized access.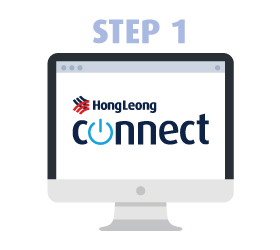 Initiate a RM10,000 and
above payment/ transfer to
non-favourite recipients on
Connect Online Banking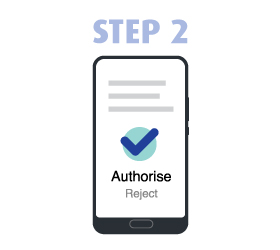 Review details
Authorise or reject the
transaction on Connect App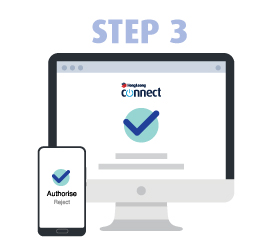 Transaction status
Check transaction status on
Connect Online Banking
Note: Moving forward SMS TAC will only be used for transactions below RM10,000.

If you have Connect App on

AppAuthorise will be auto-enabled
on the mobile device once you log in
to Connect App.

You will be prompted to enable AppAuthorise
on the mobile device that you log in from.
You may choose which devices that you
want to have it enabled.

Reminder:
AppAuthorise can ONLY be enabled on ONE device. If you wish to enable AppAuthorise on a second device, you must first disable it from the first device. Refer to the FAQ below for the step-by-step guide.

Mobile Alerts will be auto-enabled on the mobile device that you log in from, starting 18 December 2019.
All your post transaction notifications, for transaction performed on Connect Online Banking and Connect App, will now be sent to your app inbox instead of via SMS.
This makes it easier for you to find them when you need to. Just tap the bell icon on the top left corner of your app login screen.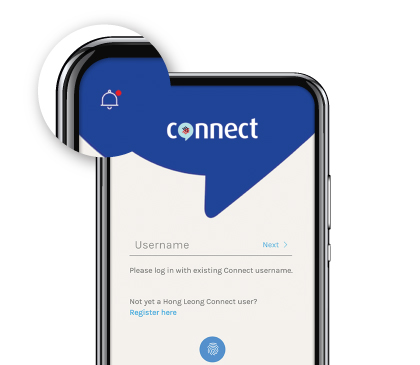 Mobile Alerts
must be enabled on at least one mobile device.


If you have Connect App on multiple devices,
when you log in from a device where you
have not enabled this feature, that mobile
device will be auto-enabled for Mobile Alerts.

If you have already enabled Mobile Alerts,
continue to enjoy the convenience of having
all your post transaction notifications
in one place!

Don't have Connect App? Download it now at