Hong Leong Bank Clinches Top Honours for Strong Digital Transaction and Payments Growth at the Malaysia e-Payments Excellence Awards 2023


Hong Leong Bank Clinches Top Honours for Strong Digital
Transaction and Payments Growth at the Malaysia e-Payments
Excellence Awards 2023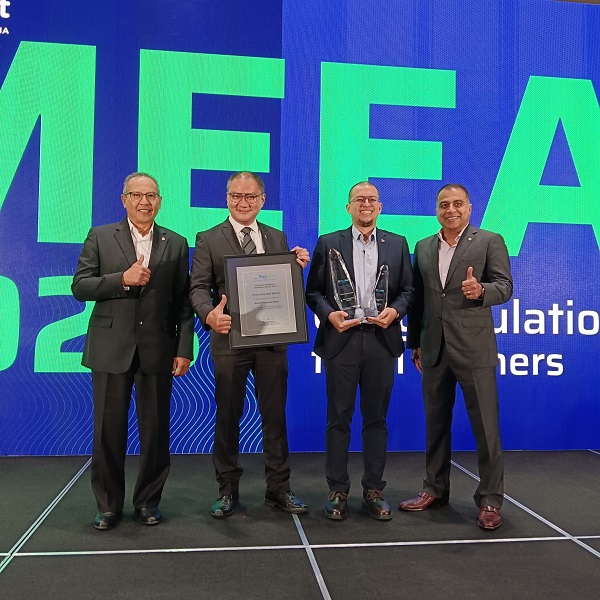 From Left: Datuk Ahmad Hizzad bin Baharuddin, Chairman of PayNet Board; Albert Tho, Head - Personal Financial Services (Business Development & E-Commerce), HLB ; Enoch Chhabra, Head - Personal Financial Services (Merchant Acquiring), HLB ; Farhan Ahmad, Group CEO of PayNet
Kuala Lumpur, 7 September 2023 – Hong Leong Bank ("HLB" or the "Bank") today announced that it has won two prestigious awards at the Malaysia e-Payments Excellence Awards ("MEEA") 2023 from Payments Network Malaysia ("PayNet"). The Bank was named "Best e-Payments Bank" and "Best e-Payment Acquirer Bank," solidifying its commitment to supporting customers, financial inclusion and driving digital payments growth and adoption in the country across different communities.
Staying true to HLB's customer-centric ethos, the Bank has evolved and positioned digital banking solutions for businesses in daily, high volume consumer categories like pharmacies, convenience stores, supermarkets, petrol stations, and cashless parking facilities. This has led to the Bank winning the "Best e-Payments Acquirer Bank" award, with the highest transaction volume and transaction growth of 86% from 2021-2022 through a comprehensive array of services, including MyDebit, DuitNow QR, FPX, DOBW, MyDebit CNP, JomPAY, DirectDebit, RTP, and eMandate.
Besides that, HLB also secured the "Best e-Payments Bank" award after recording the highest growth in volume of digital transactions from 2021-2022, with a 24% increase in digital transactions sent and a 47% increase in digital transactions received.
Kevin Lam, Group Managing Director and CEO of HLB commented, "At the heart of banking is providing solutions that solve a customer's pain points. Guided by our brand promise of being "Built Around You", we have embraced a customer-centric approach in finding ways to make even the smallest daily financial transaction seamless, secure and simple for our customers. Through providing personalized digital solutions, we are able to support our MSME customers in their digital and cashless transformation, enabling them to provide e-payments based on their specific needs and preferences while at the same time, helping them implement digital banking infrastructures in their operations.
One example of this is our HLB@Kampung initiative, which has transformed the tourist town of Sekinchan, Selangor into the first "Cashless Kampung'' together with PayNet. Through this program, we rolled out DuitNow QR Codes and All-In-One Payment Terminals to over 200 local businesses, helping them transform their operations and serve the growing demand for digital payments, especially from out-of-town tourists. This initiative is now being rolled out in more small towns across the country, ensuring we power up local business communities, no matter the size and location."
Echoing the importance of customer-centric digital banking solutions, Andrew Jong, Managing Director of Personal Financial Services at HLB shared that the Bank's strong digital banking momentum is a direct result of addressing customers' specific needs with the right initiatives, solutions and strategic partnerships.
"What drives our growth is the understanding that digital banking solutions need to be agile and dynamic, adaptable and highly beneficial to the individuals and businesses that will be using them. We take into account customer behaviours, frequency of visits, user base, type of business, how the business runs its operations, and even preferred languages when designing our digital solutions to provide customers with convenience and ease-of-use."
For more information about e-payments services at HLB, please visit https://www.hlb.com.my/en/personal-banking/hlb-connect.html