Hong Leong Bank Onboards Sarawakian Social Enterprise 'Benak Raya Enterprise' to its CSR Platform 'HLB Jumpstart'
Hong Leong Bank Onboards Sarawakian Social Enterprise 'Benak Raya Enterprise'
to its CSR Platform 'HLB Jumpstart'
Benak Raya Enterprise is the fifth social enterprise under HLB Jumpstart with a goal to preserve the heritage of traditional Simanggang rice and, uplift the Iban community involved in rice farming by providing them with a sustainable income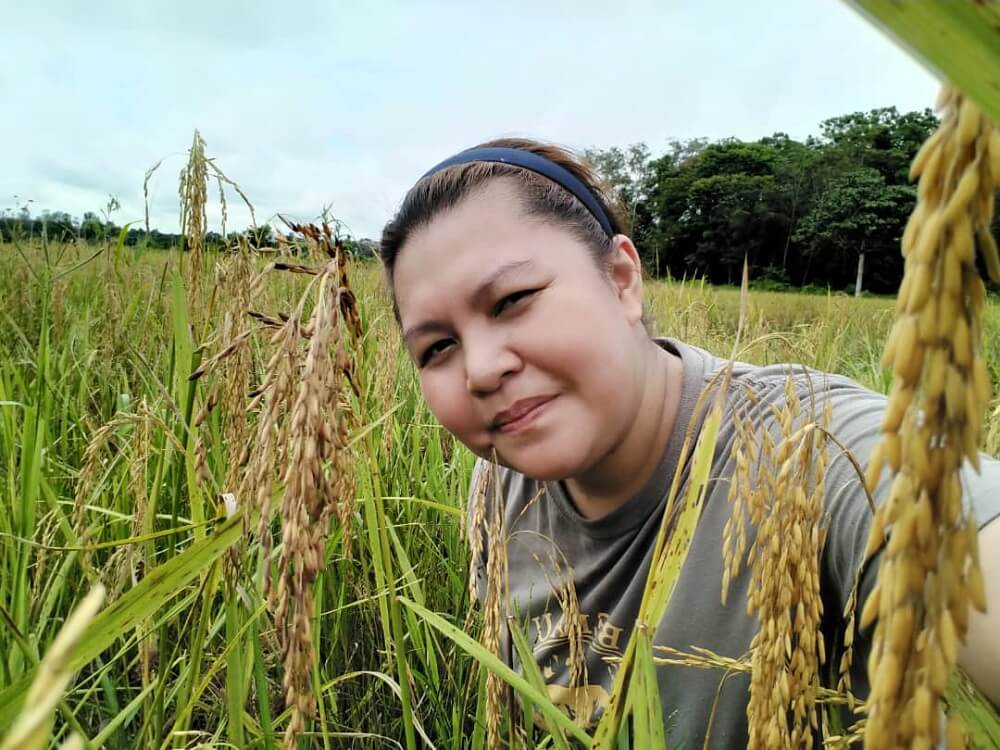 Kuala Lumpur, 24 June 2021 – Hong Leong Bank ("HLB" or the "Bank") announces a new collaboration with 'Benak Raya Enterprise' ("Benak Raya"), an Ibanese led agricultural social enterprise under the Bank's 'HLB Jumpstart' CSR platform, making it the fifth social enterprise to be onboarded since its launch in 2018. This CSR platform is part of the Bank's sustainability 'Community Investment' core focus pillar, which focuses on establishing partnerships with promising social enterprises that empower and drive community development.
Through HLB Jumpstart, the Bank will assist Benak Raya to build a scalable and sustainable business through mentorship, networking as well as equipping them with business tools and skills. These include logistics management, digital adoption, expansion of distribution network to West Malaysia and strengthening its brand awareness through marketing.
Benak Raya was founded in 2017 by Imelda Bragie Anak Jamie, an Ibanese based in Sri Aman, Sarawak. Imelda's goal is to retain her family's tradition in Simanggang rice farming, with a long-term goal to uplift the Ibanese community in Sri Aman from poverty. Through Benak Raya, she currently employs 16 villagers from the community to help them earn a sustainable living and aims to provide more job opportunities to her community.
The Sarawakian social enterprise produces three types of Simanggang rice varieties – white, red and black and have since diversified into a range of rice-based products including edible rice straws, face scrubs and hand sanitisers made out of fruit extracts. Benak Raya's invention of edible rice straws made from Simanggang rice aimed at reducing the usage of single-use plastic straws won the Shell LiveWire Top 10 Innovators Awards in 2019, a truly outstanding achievement for a small enterprise.
With the nation spending over a year battling the COVID-19 pandemic, Benak Raya faced numerous challenges in selling their products and earning an income as it relied on trade expos and pop-up events to market and sell their products in Peninsular Malaysia. As events were cancelled due to movement restrictions imposed under the various Movement Control Orders ("MCO"), this resulted in Benak Raya not being able to pursue income opportunities as they did pre-MCO.
Domenic Fuda, Group Managing Director and Chief Executive Officer of HLB said, "In line with our core values of entrepreneurship, sustainability and social responsibility, we look forward to supporting Benak Raya, our very first social enterprise from East Malaysia helmed by a strong female entrepreneur who is passionate about building up her community by providing them a sustainable living through rice farming. At the same time, striving to preserve an agricultural heritage that is integral to their own culture. We are impressed by Imelda's innovative approach to not only diversify rice-based products beyond the standard rice meal into drinks and beauty products but also inventing new and sustainable products with rice by-products to reduce plastic straw consumption, for example. We hope through our collaboration, Benak Raya will be able to do more R&D to create new products that can contribute towards environment sustainability."
Zalman Zainal, Chief Marketing and Communication Officer of Hong Leong Bank said, "The pandemic has forced businesses of all sizes to move towards digitalisation. However, smaller and micro businesses including social enterprises may not have the right resources to make this digital shift. With our digital at the core strategy and entrepreneurial DNA, we believe we are in the right position to support Benak Raya with our expertise, best practices and relevant solutions to help them with their go-to-market strategy. Right now, one of their biggest obstacles is having a dependable logistics provider at a competitive pricing. Without a base in Peninsular Malaysia, the social enterprise is often faced with the issue of incurring high delivery cost for orders coming from Peninsular Malaysia."
"As a start, we will help Benak Raya digitise their business operations to include a seamless digital payment system and build an e-commerce platform that will incorporate suitable logistic solutions. Subsequently, we will be looking into widening their sales and distribution channels in Peninsular Malaysia at supermarkets and convenience stores, as well as refreshing its current brand look and feel," added Zalman.
Imelda Bragie Anak Jamie, Founder of Benak Raya Enterprise expressed her enthusiasm and eagerness to work with HLB to further create productive opportunities that will benefit the members of village she grew up in, while preserving her family's agricultural heritage.
"The tradition of Simanggang rice farming is integral and representative of my culture as an Orang Iban. As the 10th generation taking over my family's tradition of Simanggang rice farming, I see this heritage as a huge potential to improve the livelihoods of my community and uplift them out of the poverty cycle through this small business. We are confident that working with HLB through HLB Jumpstart will enable us to regenerate our business during these trying times and subsequently, allow us to help more Ibanese villagers to earn an income", said Imelda.
HLB Jumpstart was launched in September 2018 and works closely with Malaysian social enterprises with the aim of helping them build sustainable businesses through five pillars: Financial Knowledge, Tools and Digitisation, Branding and Marketing, Commercialisation and Volunteerism. Within a year of being established, the CSR platform received recognition at the CSR Malaysia Awards 2019 for its strong support on the ecosystem of local social enterprises. Just recently, the Bank has also been recognized internationally by Global Good Governance (3G) Awards 2021 for its good governance, transparency and social responsibility commitment in social welfare.
Through HLB Jumpstart, the Bank has worked with four other social enterprises. These are The Asli Co., an impact driven social enterprise that empowers Orang Asli mothers to earn a sustainable living through making artisanal handicrafts; SURI, an award-winning denim upcycling social enterprise that works with single and underprivileged mothers by providing them financial opportunities and essential livings skills; Green Hero which focuses on eradicating food wastage in the country as well as Coffee for Good which aims to uplift B40 youth through an on-the-job barista training program.
Companies interested to distribute Benak Raya's products in Peninsular Malaysia can write in to capr@hlbb.hongleong.com.my. For more information on our CSR initiatives, visit https://www.hlb.com.my/en/personal-banking/about-us/csr.html
For enquiries, connect with us online or drop by your nearest Hong Leong Bank Branch.