HLB x Smart Reader® Worldwide "DuitSmart Kids" Enters Malaysia Book of Records for "Most Students Graduated From A Financial Literacy Programme"

HLB x Smart Reader® Worldwide "DuitSmart Kids" Enters Malaysia Book of Records for "Most Students Graduated From A Financial Literacy Programme"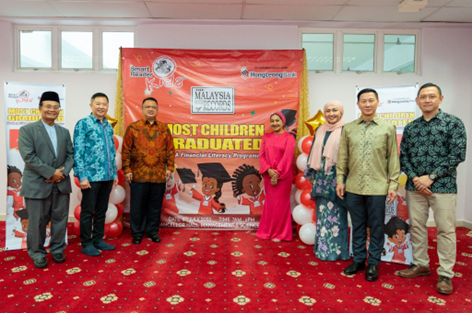 Witnessing the ceremony were Duli Yang Maha Mulia Pemangku Raja Perlis, Tuanku Syed Faizuddin Putra Ibni Tuanku Syed Sirajuddin Jamalullail (3rd from left) and Duli Yang Teramat Mulia Raja Puan Muda Perlis, Tuanku Dr. Hajah Lailatul Shahreen Akashah Khalil (4th from left). Also present were Tuan Haji Zaharuddin bin Alias, Chairman of KOPUTRA; Dato' Sri Dr. Richard Ong, CEO of Smart Reader ® Worldwide (1st & 2nd from left); Zalman Zainal, Chief Marketing & Communication Officer of HLB; Kevin Lam, GMD/CEO of HLB; and Dafinah Ahmed Hilmi, CEO of HLISB (1st, 2nd & 3rd from right)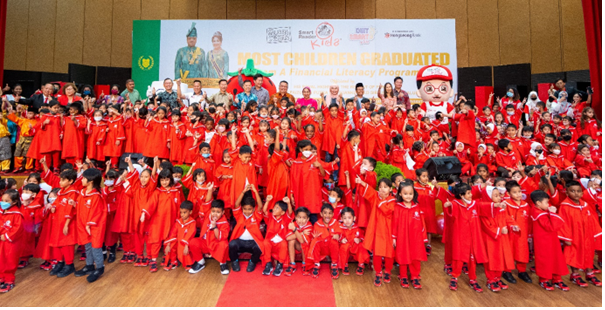 A record-breaking 1789 students graduated from the DuitSmart Kids financial literacy programme. Their achievements were celebrated across two ceremonies, in Kuala Lumpur and Kuching, Sarawak.   
KUALA LUMPUR, 10 JULY 2023 – Hong Leong Bank ("HLB" or "The Bank") and Smart Reader ® Worldwide witnessed the graduation of 1789 students from its flagship financial literacy programme, DuitSmart Kids, celebrating the remarkable achievements of its students and a significant milestone in expanding financial literacy across the country.
The event, which was held last Saturday (8 July 2023) at the Chancellor Hall of the Management and Science University (MSU), has also made history by officially entering the Malaysia Book of Records for the "Most Students Graduated from a Financial Literacy Programme".
The DuitSmart Kids financial literacy programme is an expansion of the HLB DuitSmart platform, designed to equip students with essential financial knowledge and money management skills, which will help cultivate and instill good financial habits. The curriculum focuses on young children aged four and seven and comprises 10 video-based lessons, with HLB providing its expertise as a financial advisor, and was used during school hours at all Smart Reader Kids® centres nationwide.
This collaboration signifies the commitment of both HLB and Smart Reader® Worldwide to empower children through education and inclusion, preparing them to navigate the complex world of personal finance now and in the future.
Kevin Lam, Group Managing Director and Chief Executive Officer of HLB, commented, "As a financial institution, we want to play an active role in promoting financial literacy and inclusion, as well as provide tailor-made tools that help children on their financial education journey. Being a community bank that is "Built Around You" means that we ensure each programme is uniquely tailored to meet every community's real-life needs. We want everyone, no matter their situation, to have the same opportunity to learn about money management and take control of their finances. Through DuitSmart Kids and other programmes, we look forward to empowering the next generation with the knowledge and tools to build their own secure financial futures."
Apart from financial literacy and inclusion programmes, HLB has also designed specific products to empower customers to practice good money management at an early age Through its HLB 3-in-1 Junior Account, the Bank offers young savers and their parents an innovative digital banking platform HLB Pocket Connect children manage their pocket money and savings in an engaging way. It has components that allow parents to be involved in their financial journey – from savings to spending and even earning, where children can ask for tasks to earn pocket money. The HLB Pocket Connect also has an Earth Hero feature, which features interactive tasks to teach kids about both money and the environment. This initiative, a first of its kind, ensures that young users are not only money-wise but also environmentally conscious.
Dato' Sri Dr Richard Ong, CEO of Smart Reader ® Worldwide, also added, "We believe that today's students will benefit the most from having a holistic education experience, and financial education is definitely a vital component in future-proofing the next generation. By teaching our students about finances at an early age, we are preparing them for a lifetime of financial well-being. Through the DuitSmart Kids programme, our students learn to appreciate and understand the value of money through 4 key concepts – Earning, Saving, Spending and Sharing. With this, they learn to make more informed financial decisions, and are aware of certain pitfalls and risks that come with managing their finances. By raising a financially literate generation, we lay the foundation for a stronger economy and a more prosperous society."
To commemorate the momentous occasion, the graduation ceremony was graced by esteemed guests and dignitaries, including His Royal Highness the Regent of Perlis Tuanku Syed Faizuddin Putra Ibni Tuanku Syed Sirajuddin Jamalullail, and Her Royal Highness the Raja Puan Muda of Perlis Tuanku Hajjah Lailatul Shahreen Akashah Khalil. Representatives from Hong Leong Bank and Smart Reader ® Worldwide were also present
Launched in 2019, the HLB DuitSmart platform is a flagship initiative from the Bank to provide financial literacy and inclusion workshops to various segments of society, including students from primary to tertiary level, as well as underserved communities such as single mothers, Orang Asli communities, and the visually impaired. The Bank also uses this platform to push out financial literacy information on social media platforms, covering money management tips, scams, and fraud prevention.
To know more about the HLB DuitSmart financial literacy programmes, visit https://www.hlb.com.my/en/personal-banking/campaigns/duitsmart.html