Beware of financial scams and fraud calls
Watch these videos to learn how to safeguard yourself against scams.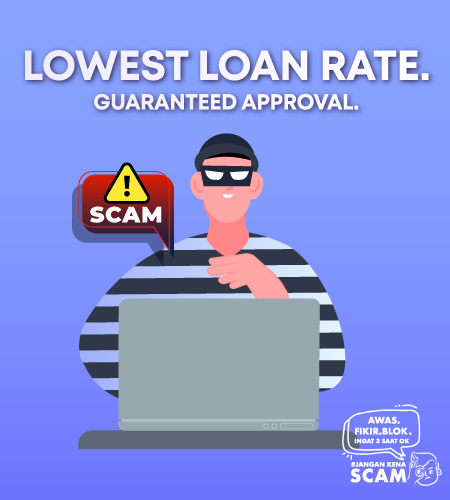 If you receive an offer of lowest loan rate with guaranteed approval and without credit check, it's likely a loan scam. Ignore it.
You may even be asked to pay an upfront fee to release the approved loan amount.
Here are some tips to protect yourself from loan scams:
DO NOT click on any links from unsolicited social media posts, emails or text messages even if the offer is extremely attractive.
DO NOT share any personal information or data e.g., IC numbers to the person offering the loan.
DO NOT make upfront payment in exchange for a loan. Banks or official Financial institutions do not ask for upfront payment to release a loan.
When in doubt, verify the offer/ information with the bank or company that the employee or agent claims to represent.

REMINDER: Visit here to learn more about how to report a scam / fraud.
Visit BNM's Facebook Page to learn more about "Amaran Scam".
For enquiries, connect with us online or drop by your nearest Hong Leong Bank Branch.