Beware of financial scams and fraud calls
Watch these videos to learn how to safeguard yourself against scams.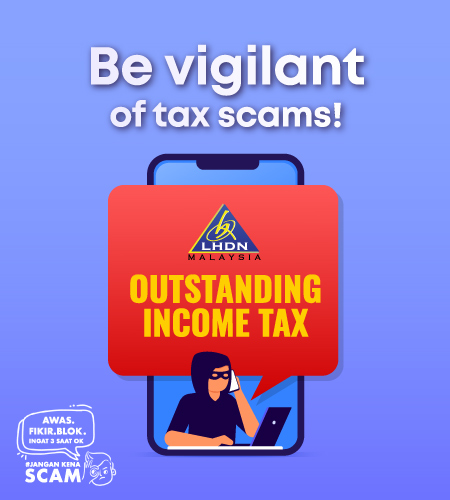 Beware of scammers posing as Lembaga Hasil Dalam Negeri (LHDN) officers through messages, phone calls, letters or emails regarding collection of taxes/outstanding tax arrears.

Here are some red flags:
They claim you have an unpaid tax or are involved in money laundering/tax evasion
They threaten you with arrest/legal action or account blacklisting if their instructions are not followed immediately
They request you to download an app which could be a fake Bank Negara Malaysia (BNM) mobile app
They request you to provide bank login credentials or transfer money to a third-party account temporarily for investigation
When in doubt, contact LHDN for verification.
Useful link: https://www.hasil.gov.my/
REMINDER: NEVER click on suspicious links or disclose any personal details/bank login credentials. Stay alert and protect yourself.


Visit BNM's Facebook Page to learn more about "Scam Notices" @ https://www.facebook.com/amaranpenipuan
With these few tips, you can enjoy the convenience of shopping online with peace of mind:
· Shop and pay through trusted online platforms
· Prior to purchase, check the seller's testimonials or read reviews to hear what others say
· Use the PDRM CCID "Semak Mule Portal" to look up a seller's bank account or phone number. Useful link: https://semakmule.rmp.gov.my/
For enquiries, connect with us online or drop by your nearest Hong Leong Bank Branch.