Beware of financial scams and fraud calls
Watch these videos to learn how to safeguard yourself against scams.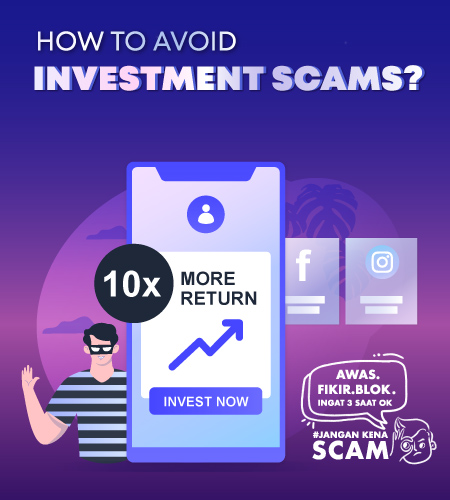 Scammers will lure you with the promise of big returns and quick payouts by investing in products/services/schemes that could be fake.
Here are some red flags:
Promises of high returns over a short period
Unrealistically high referral commission to bring your friends and families into the scheme
Pressures you to make a decision immediately
Claims to be regulated. For any financial investment, you are advised to exercise due care when investing in any entity or financial scheme. Useful link: https://www.bnm.gov.my/financial-consumer-alert-list
REMINDER: Be wary when receiving unsolicited offers via social media, email or chat platforms. If an investment sounds too good to be true, it is most probably a scam.
Visit BNM's Facebook Page to learn more about "Scam Notices" @ www.facebook.com/amaranpenipuan
For enquiries, connect with us online or drop by your nearest Hong Leong Bank Branch.